The world's coolest detective, Batman turned 75 this year, and he's still going strong. He's relentlessly fighting criminals, living the life of Bruce Wayne, punching Joker in the face… so you know, just the usual stuff. In celebration of the Dark Knight's 75th birthday, we collected some of the best Batman statues out there. There are a lot, so it wasn't easy to pick out only a few of them: we tried our best, and we are sure that you will love these Batman figurines. Watch out though: you better prepare yourself, because if you continue to read, there's a high probability that you will have to buy every one of them. We warned you…
1. Zombie Batman Statue
Which geek doesn't like Batman AND zombies, right? Well that's probably what DC Comics thought when they created the Batman Black and White comic series. Based on Neal Adams' zombie version of Batman who appeared in the comics, Erick Sosa sculpted this awesome piece. One glance is all it takes to see this one is pretty unique: its grotesque posture and creepy face put most of today's zombies in shame. This zombie Batman figurine made its debut in October, and it costs around $70. It's definitely not the most expensive Batman statute, so it's a pretty nice deal if you want a unique figure in your collection.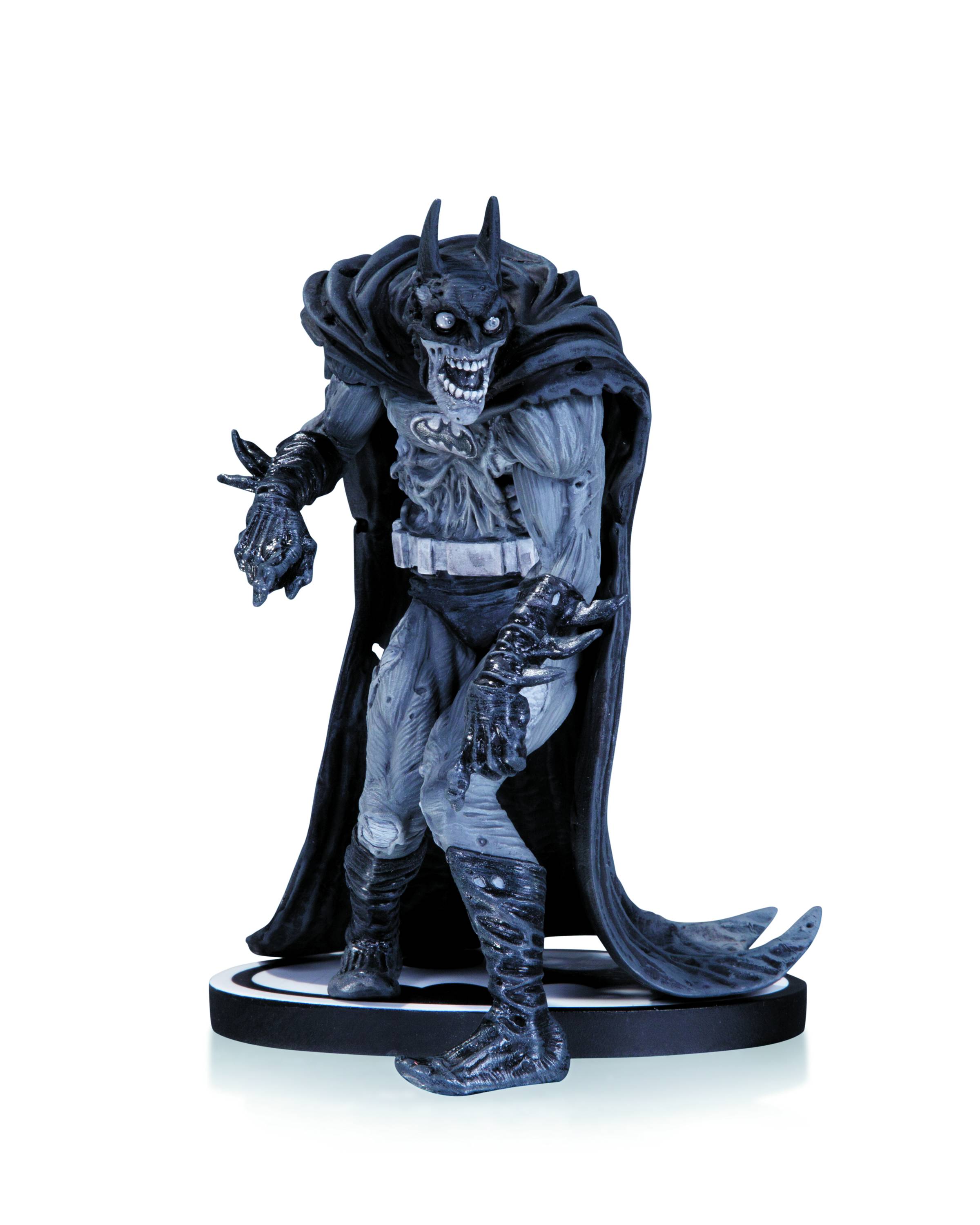 2. Batman and Catwoman Kiss Statue
In our opinion, Hush is one of the best Batman comic series out there, so this is one of the Batman toys which takes a special place in our heart. Based on Jim Lee's art, this huge statue depicts Batman and Selina Kyle (aka Catwoman) kissing. Made by the talented sculptor Tim Bruckner, this state of the art statue doesn't lack the smallest detail. For example, Batman's cape looks exactly like in the comic, as well as his outfit. Of course, this one costs much more than the zombie Batman statue: you will have to pay around $250 if you want to see this in your room.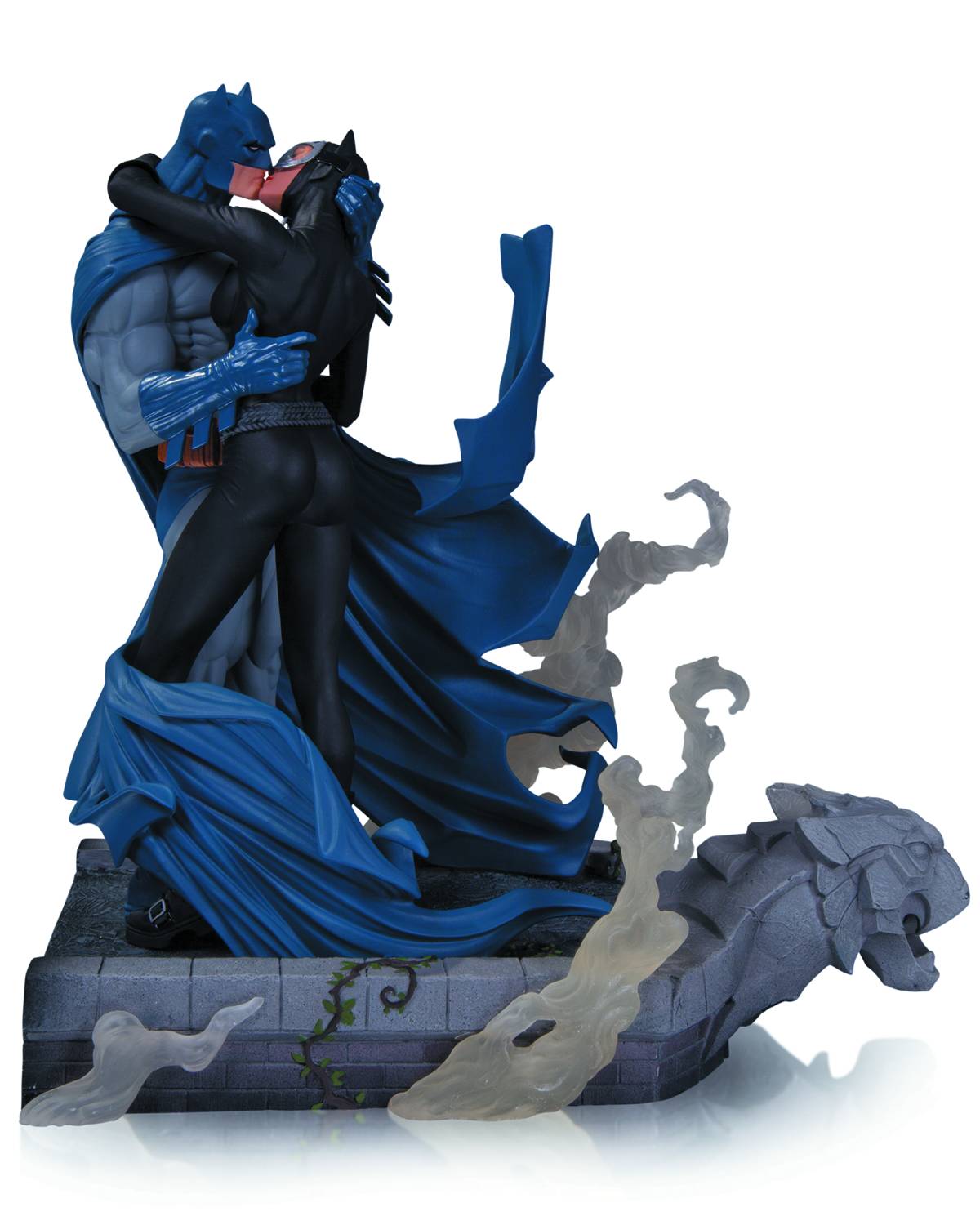 3. Batman vs. Killer Croc Statue
It's another statue where our favourite grumpy detective isn't alone. But instead of kissing, he's now fighting Killer Croc, one of Batman's most ancient (and ugliest) enemies. The approximately 16.5" high statue depicts an epic battle between the two characters, which makes it a very spectacular piece of every collection. It's also not one of the cheapest Batman collectibles out there, since it costs around 250-300 US dollars. But hey, if you want a truly badass statue, this one is definitely a perfect choice for you.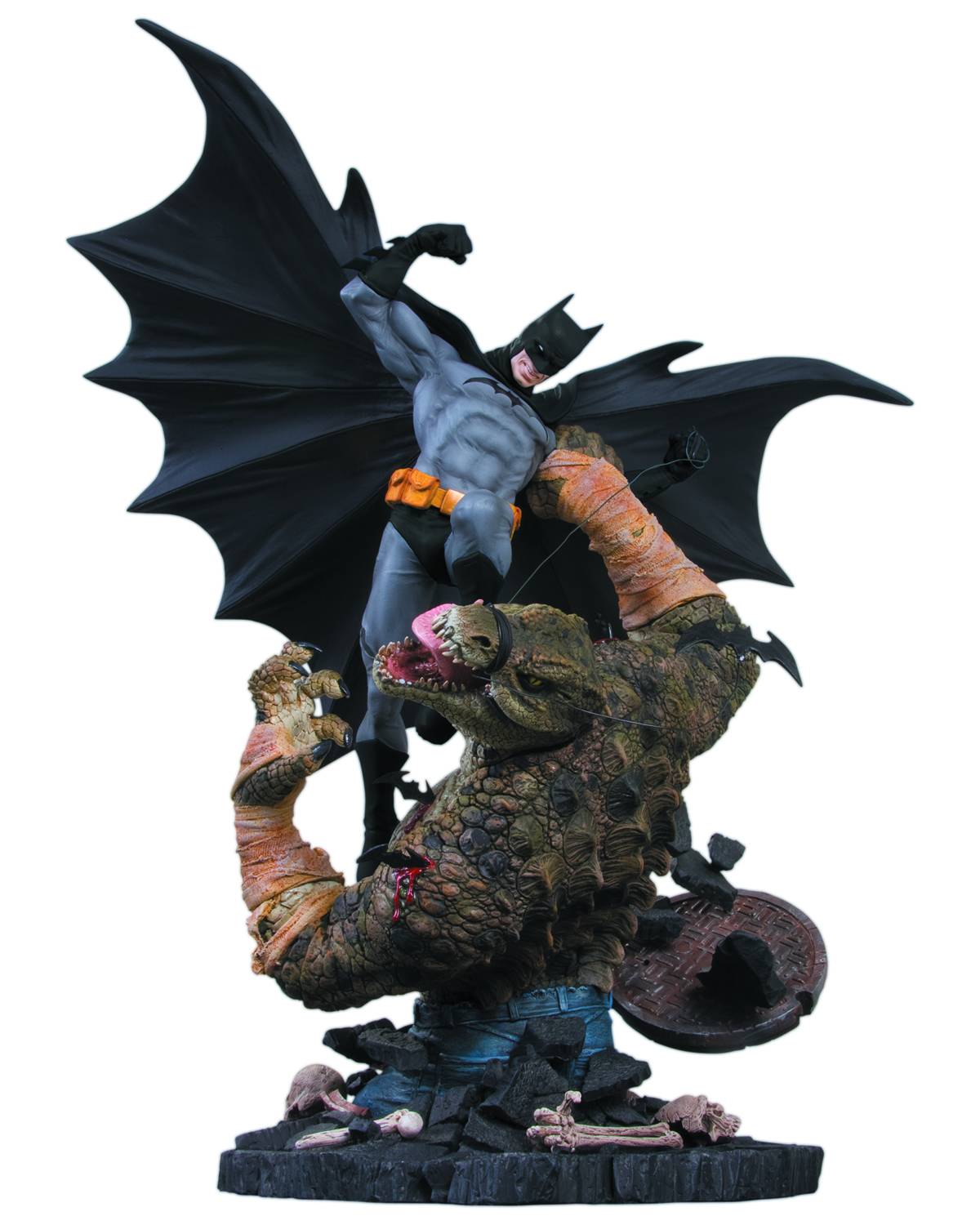 4. The Dark Knight Returns: A Call to Arms Statue
Okay, this Batman statue is pretty badass. Not only it depicts Batman riding a horse, but the character design based on Frank Miller's iconic series, Batman: The Dark Knight Returns. Sculptors Tony Cipriano and Josh Sutton did a really good job perpetuating the unique characteristics of Miller's bulky Batman. This Batman statue is also very rare: there are only 1000 of them in the whole world.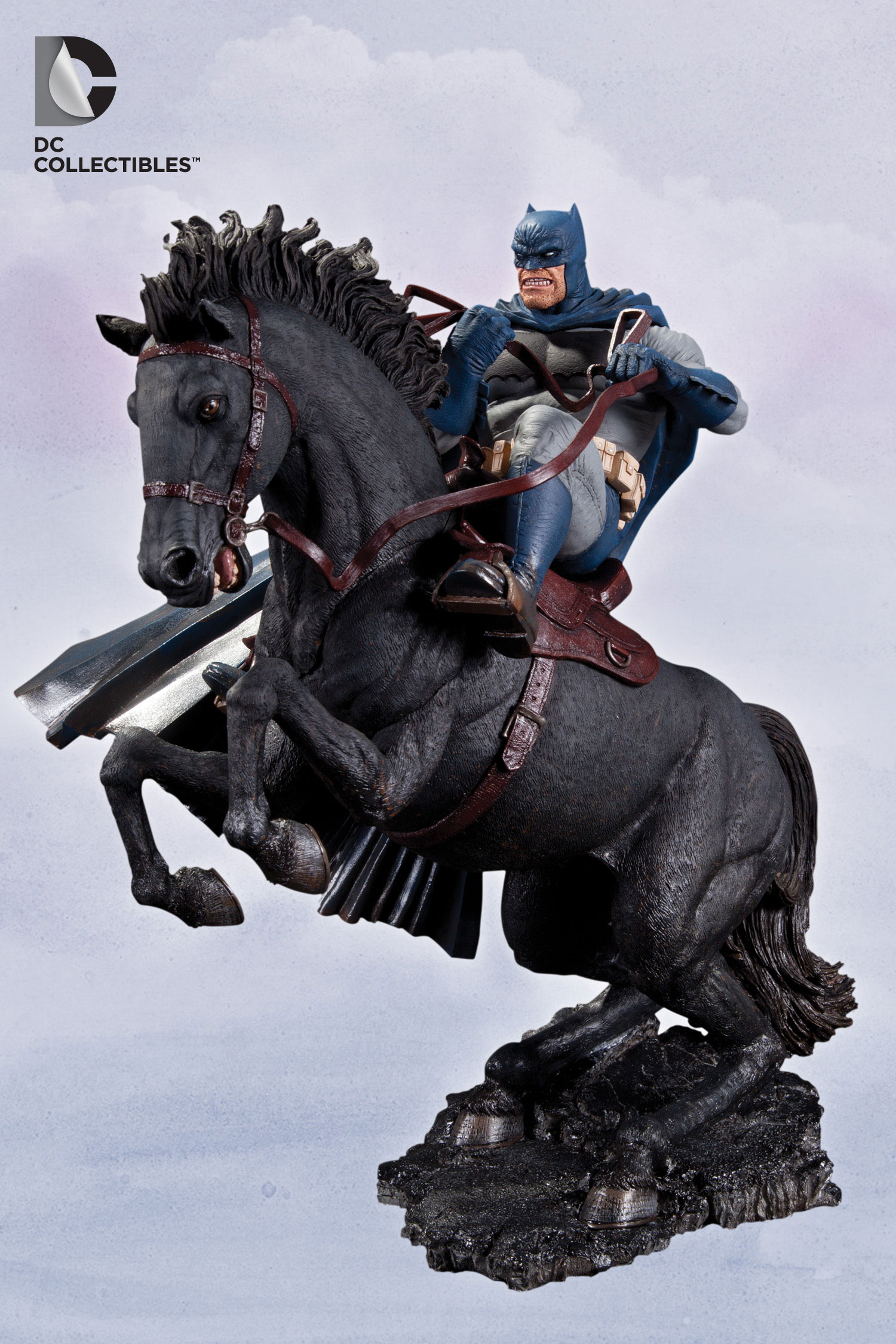 5. 1966 Batman Statue
Do you like the classic Batman from the 1960s? Then this one is most definitely for you. Based on Adam West's oldschool Batman, this 30cm tall figure really takes you on a nostalgic ride. You can almost hear the catchy opening song of the show ("Na na na na…Batman!"), which became the favourite of many people back in the day. This Batman statue comes with various costume parts and weapons, such as a batarang, a huge bomb and a shark repellent spray.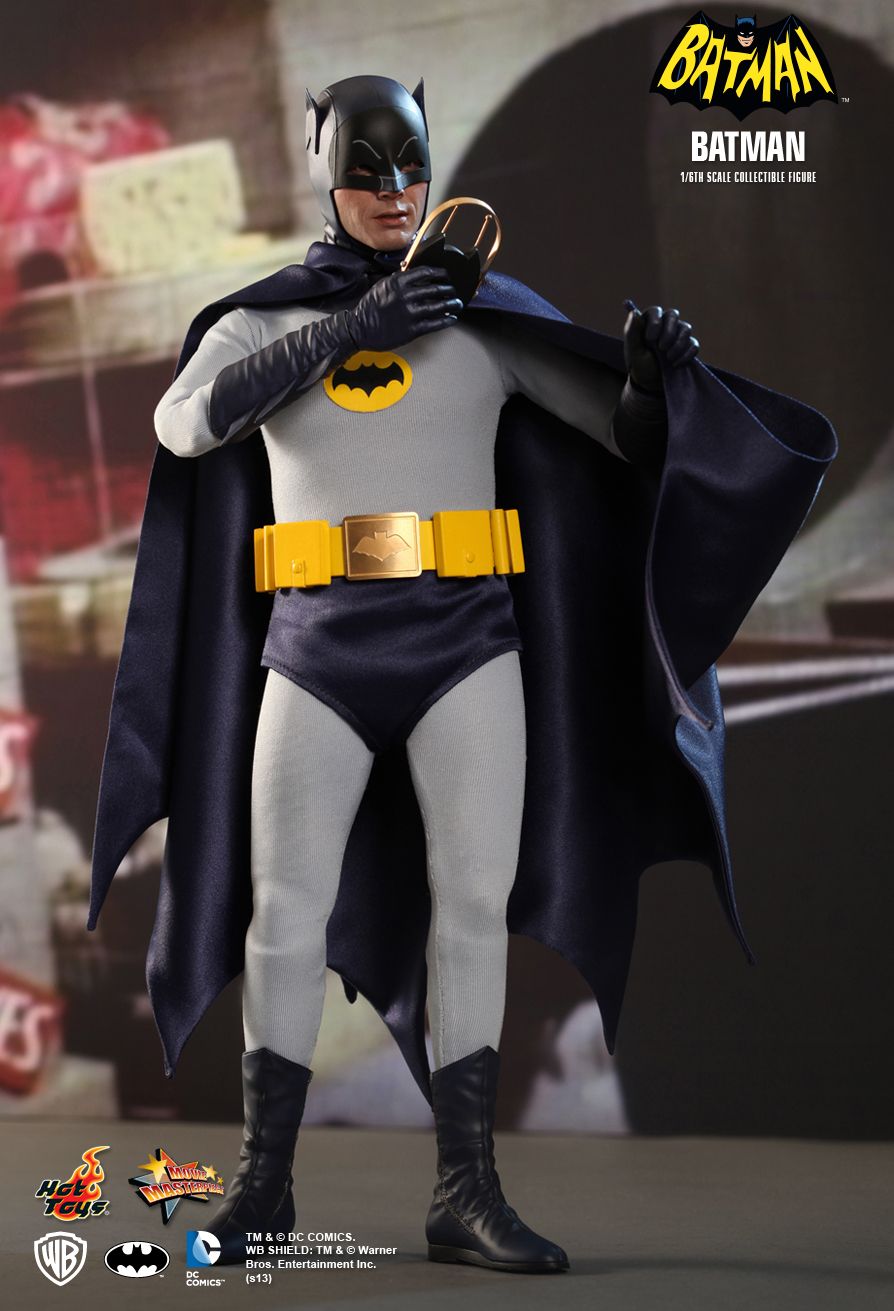 6. Batman: Black & White Statue by Mike Mignola
It's enough to take a look at this picture, and you can already tell how unique this statue is. It has an extraordinary style, and the original version was only available in very limited quantity. Mike Mignola's approach makes Batman very unusual, but in a good way. The style mostly hinges on shadows, so it's surprising that this looks so great in 3D. The original version came out in 2006, and it's one of the rarest Batman collectibles. However, in 2012, a re-released version also appeared, which is much easier to get (unfortunately, it has inferior painting).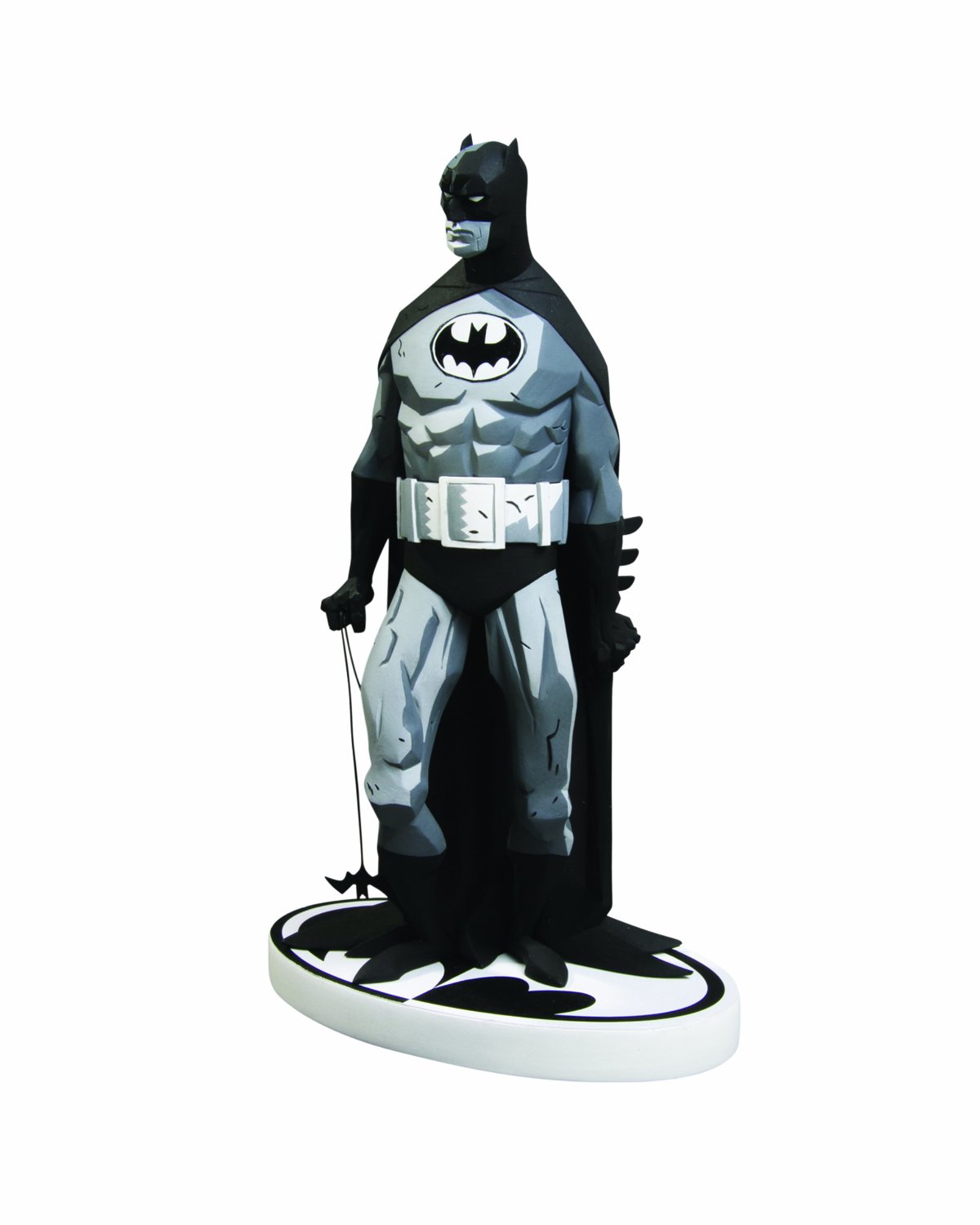 7. Batman Arkham City Collector's Edition Figurine
There is a really cool Batman figurine which you can't buy separately. It comes with the collector's edition of Batman: Arkham City, and it was also made by Kotobukiya, so you won't have any complaints about the quality. It's also a really heavy figurine thanks to it's high-quality materials, but it's really not a big price if you consider how cool this statue will look in your collection.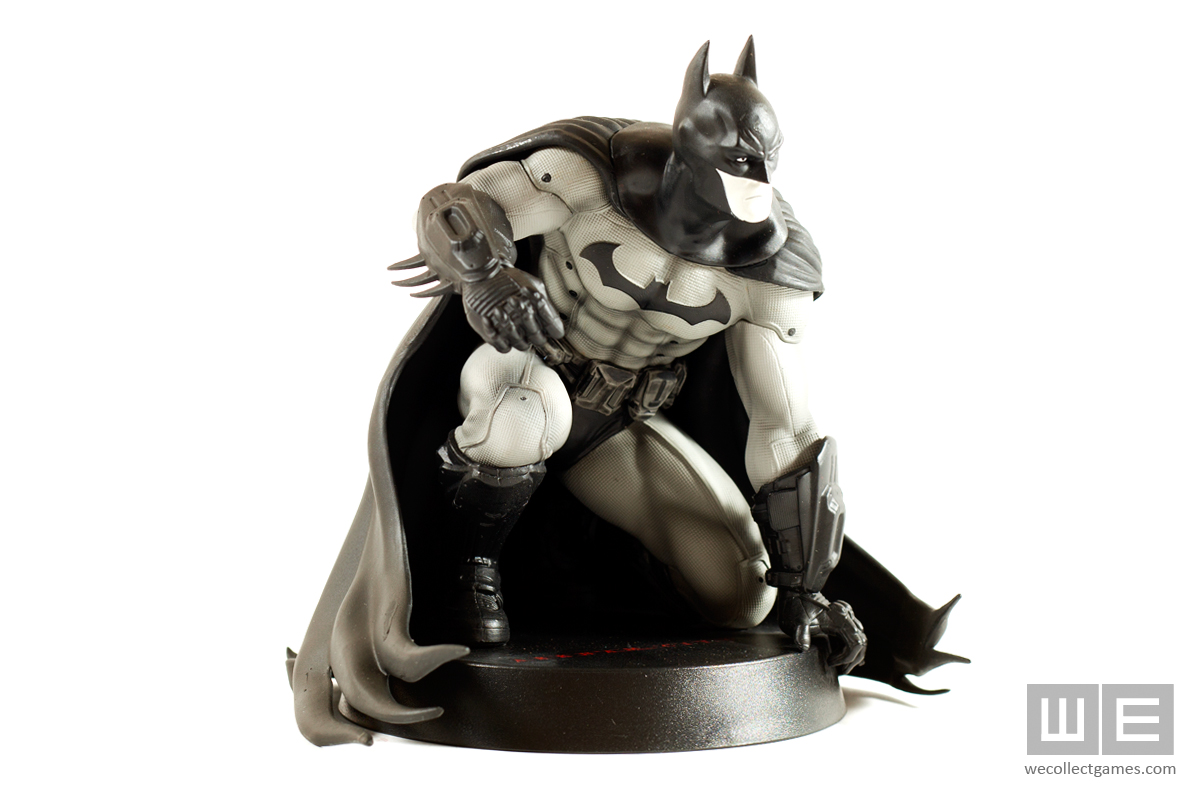 8. Tim Burton Batman Hot Toys Statue
Another great one from Hot Toys. This statue is based on Tim Burton's Batman movie, which was released in 1989. Although the character design is over 20 years old, it still looks awesome. The approximately 30 cm tall figurine comes with various accessories and interchangeable parts, so it basically never gets boring. There is no doubt that this Batman statue is a must have for everyone who loves the Michael Keaton version of Batman.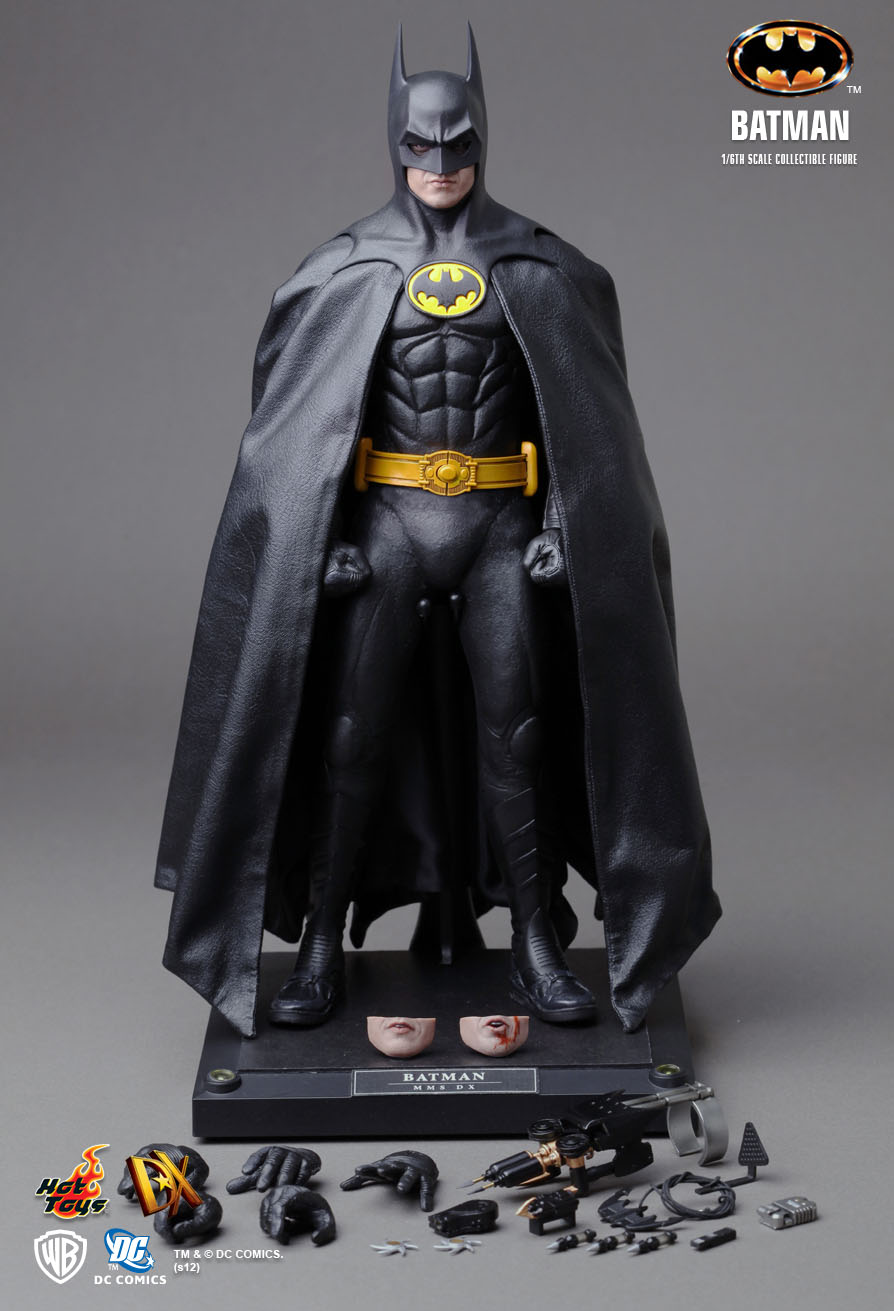 9. Jim Lee Artfx Batman Figurine
If you're a huge fan of Jim Lee's Batman design, then you're absolutely going to love this 11 inches tall statue, which is made by Kotobukiya. Thanks to its pose and little details, the figurine is full of life, and looks really great even if you take a look at it up close.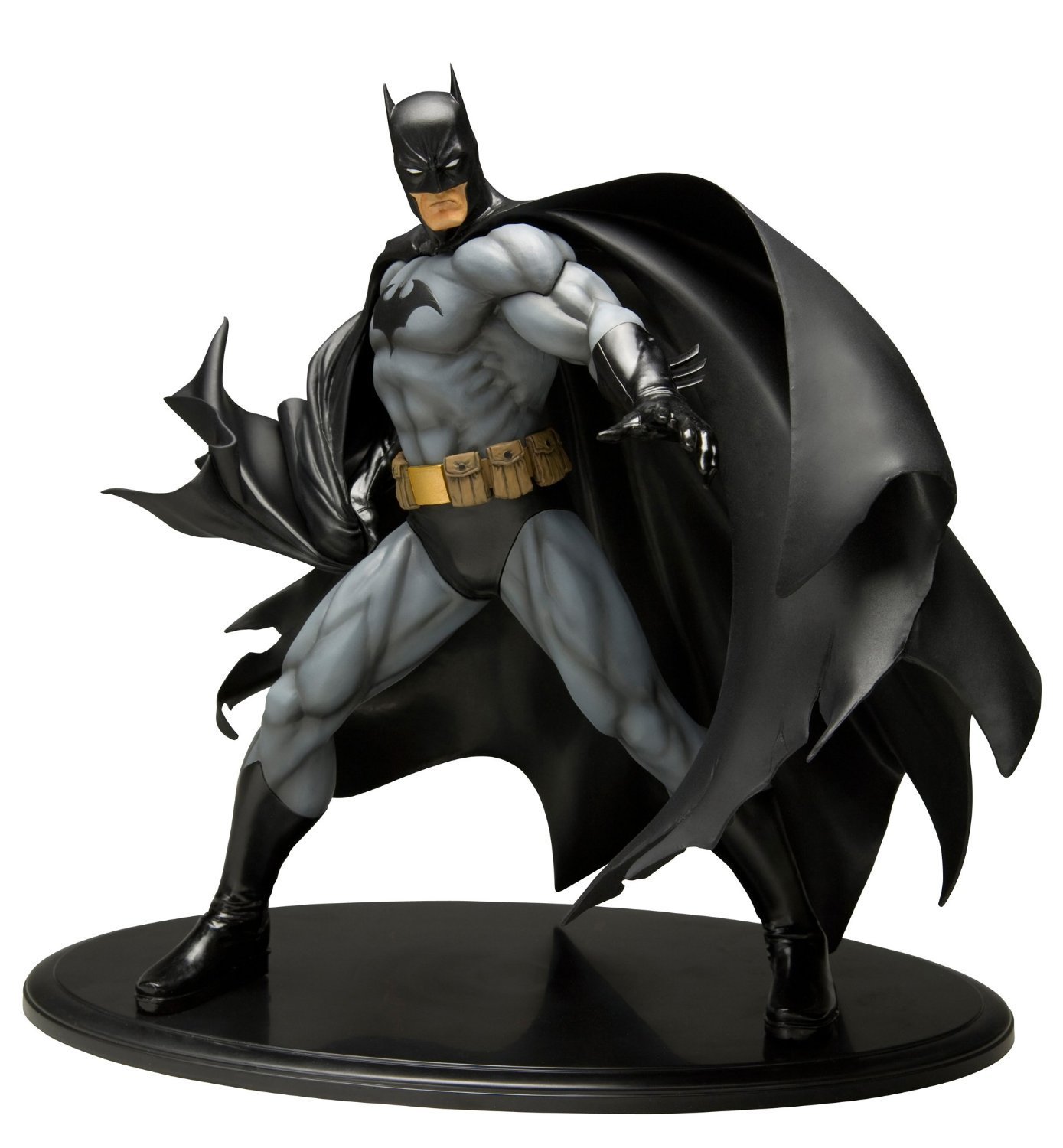 10. Batman: Black & White Statue by Jae Lee
Lastly, we didn't want to leave out Jae Lee's Batman: Black and White statue, which is a personal favorite of ours. There only 5200 of this cool looking figurine, so it's quite rare. But if you manage to find one for a good price, you really shouldn't hesitate for long, since someone will quickly get it, there is no doubt. It's 7.8 inches tall, so it's not one of the highest Batman statues out there, but it compensates with its outstanding quality.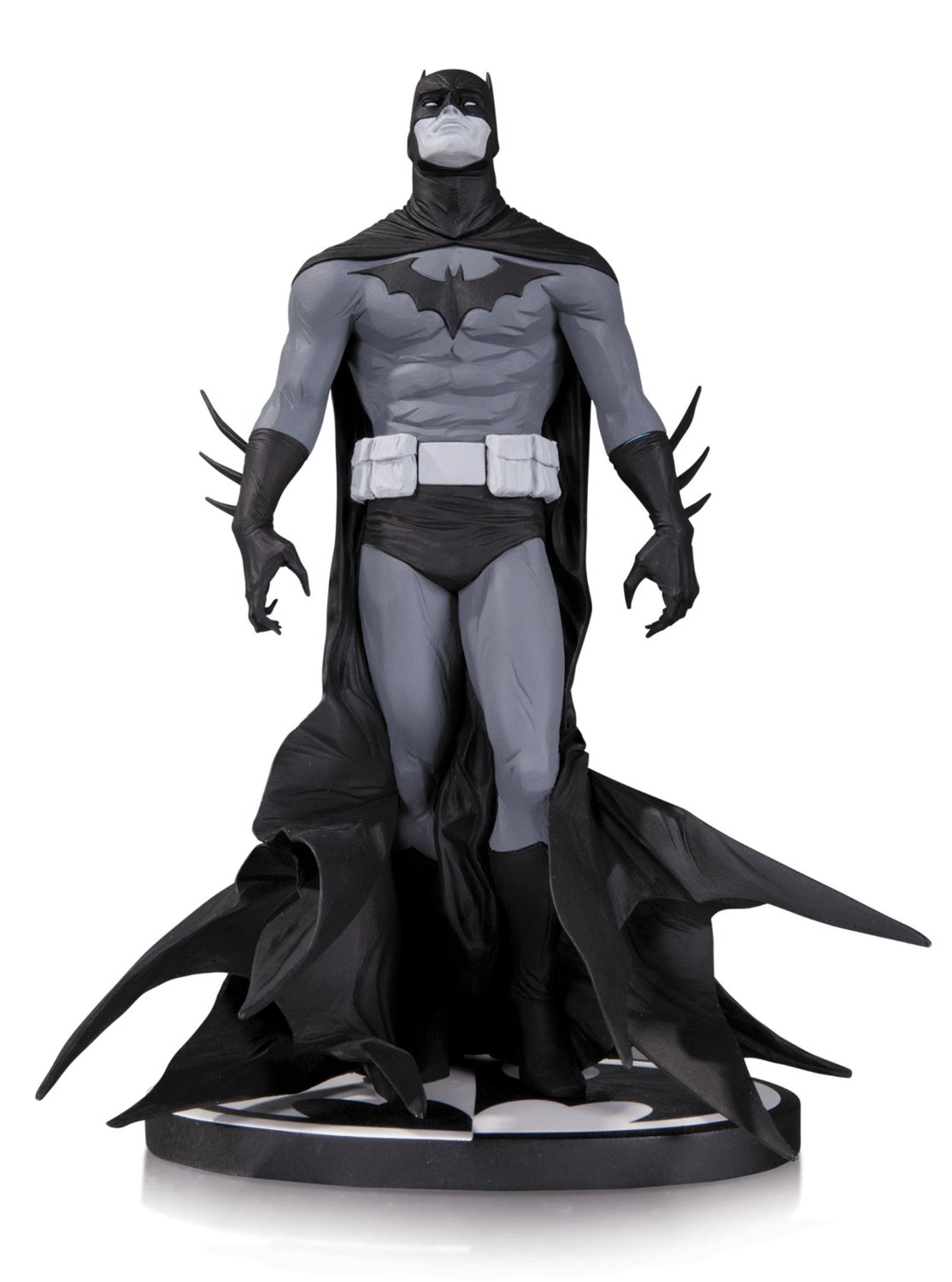 11. Batman Armory with Bruce Wayne and Alfred
This 759.90 dollar set belongs to the more realistic statues, but it's not surprising since it's from Hot Toys. Bruce Wayne and his reliable butler, Alfed is incredibly detailed, as well as the Batman armor itself. WE really like this set, since it shows the human side of the Caped Crusader, but you don't have to give up on the cool armor. It's a great choice for everyone who likes Christian Bale as the Dark Knight, since this statue is based on him (while Alfred is based on Michael Caine). It's good to know that a lot of parts are interchangeable, so these statues won't get boring anytime soon.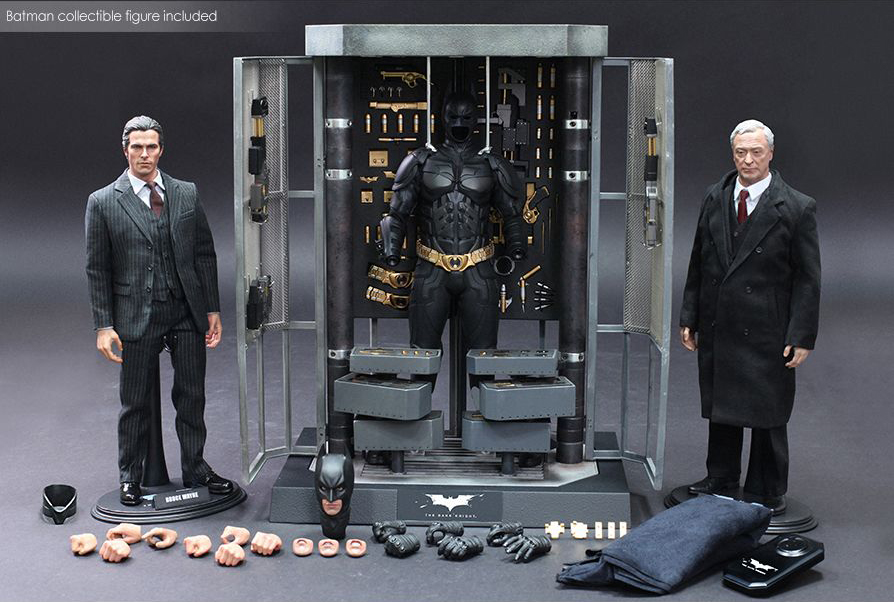 12. Batman: Black & White Statue by Simon Bisley
It wouldn't be a hyperbole if you called this 79.99 dollar Batman statue grotesque, since it really is. However, for some reason that is the main reason WE find it interesting. This statue almost depicts Batman as a villain, or at least someone who is scary as hell. If you think about it, it's not too far from the truth, since the Dark Knight has dark side too, which was shown several times in the comics. The build of this statue is really creepy, and while we're happy that Batman doesn't look like this most of the time, WE still think it's a cool and unique piece for every collector's room.
13. First Appearance Batman Statue
Batman changed so much over the years that many of us don't even remember how he looked in his early years (which is not surprising, considering his first appearance was in 1939). This statue is a tribute ti the original Batman, and similarly to the New 52 Batman collectible, it was also made by Kotobukiya, and it's one if the cheaper collectibles. It's important to know that this is an extremely limited statue, so if your goal is to make a truly unique collection, you can't miss this out for $55.78.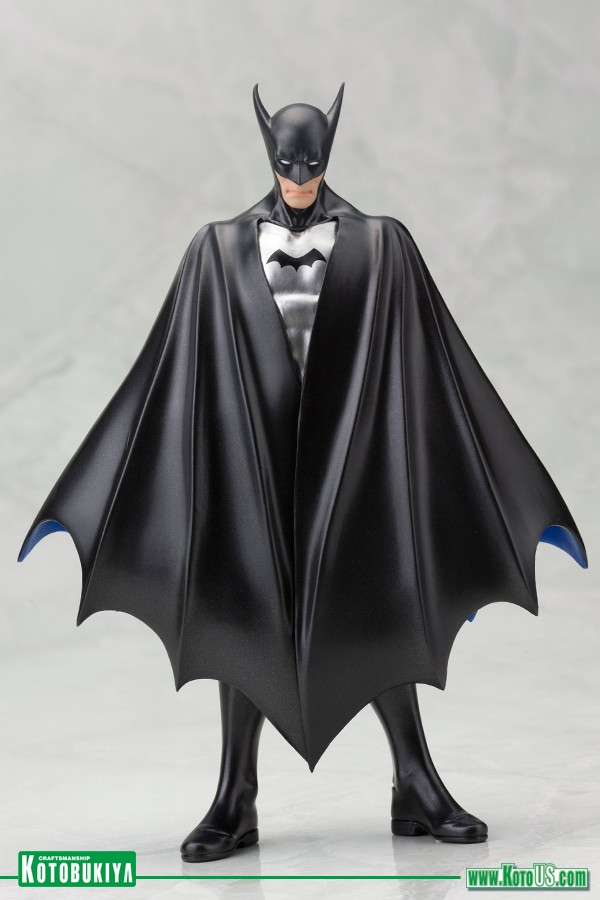 14. Batman Black & White Statue by Sam Keith
Still can't get enough of bizarre Batman toys? Well here's another one! While it's not as scary as Simon Bisley's version, it's still a bit unnerving to look at, and we wouldn't like to meet the real version of this Batman in a dark alley. Despite the fact that Batman doesn't kill criminals, there he looks like someone who's ready to kill his prey at any moment. Fortunately, this version is still less creepy: if you want it in your collection, you can get it for $129.99.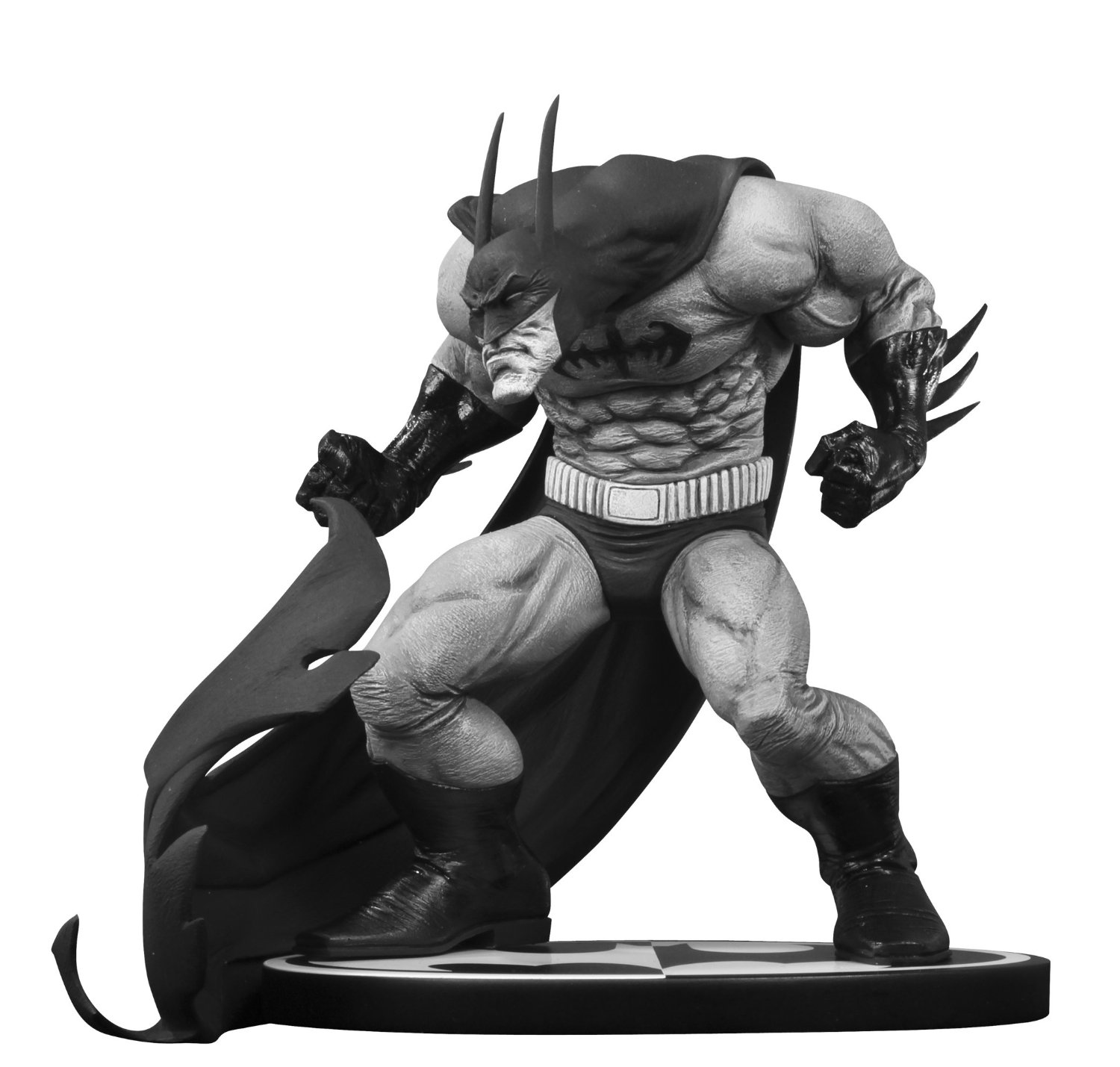 15. New 52 ArtFX+ Batman Statue
If you love the New 52 series, this is a perfect piece for your collection for $48.99. Made by Kotobukiya, this statue doesn't lack quality, yet it still has a good price. This nearly 8 inches tall Batman collectible was sculpted by master artist Goutaro Takeuchi, and one the coolest things about it is that the statue has magnets in his feet, and also comes with a base, so you don't have to worry about stability.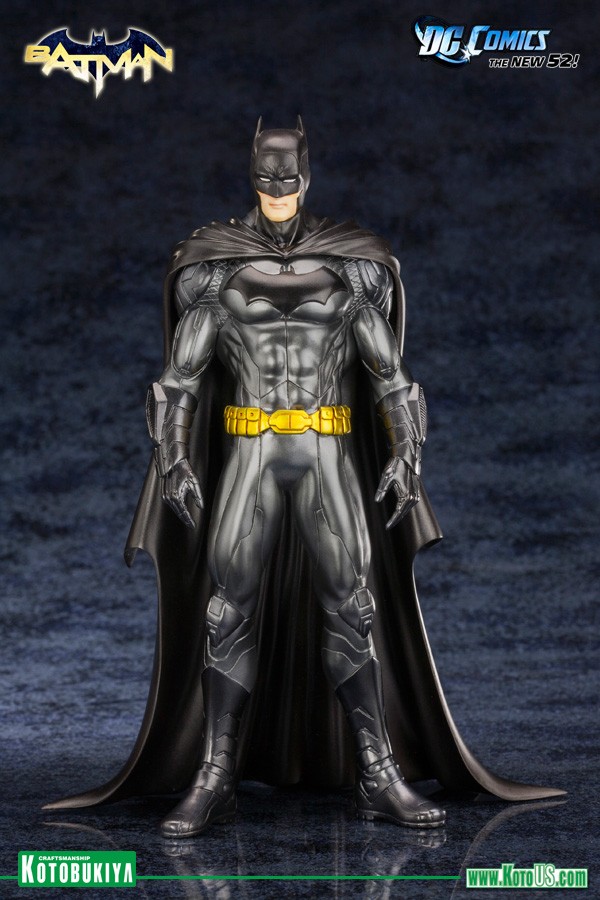 16. Batman Black & White: Earth 2 Collectible
This 6 inches tall statue features a very unique Batman costume for $79.99. It was designed by Nicola Scott and sculpted by Mat Brouillard, who made several quality statues for other franchises, such as Star Wars and Indiana Jones. The design was based on the Earth-2 series, in which Batman wears a rather unusual outfit. In addition he holds weapons in both hands, and thanks to its pose, this figurine looks very alive. Fans of the Earth-2 series should definitely get this collectible.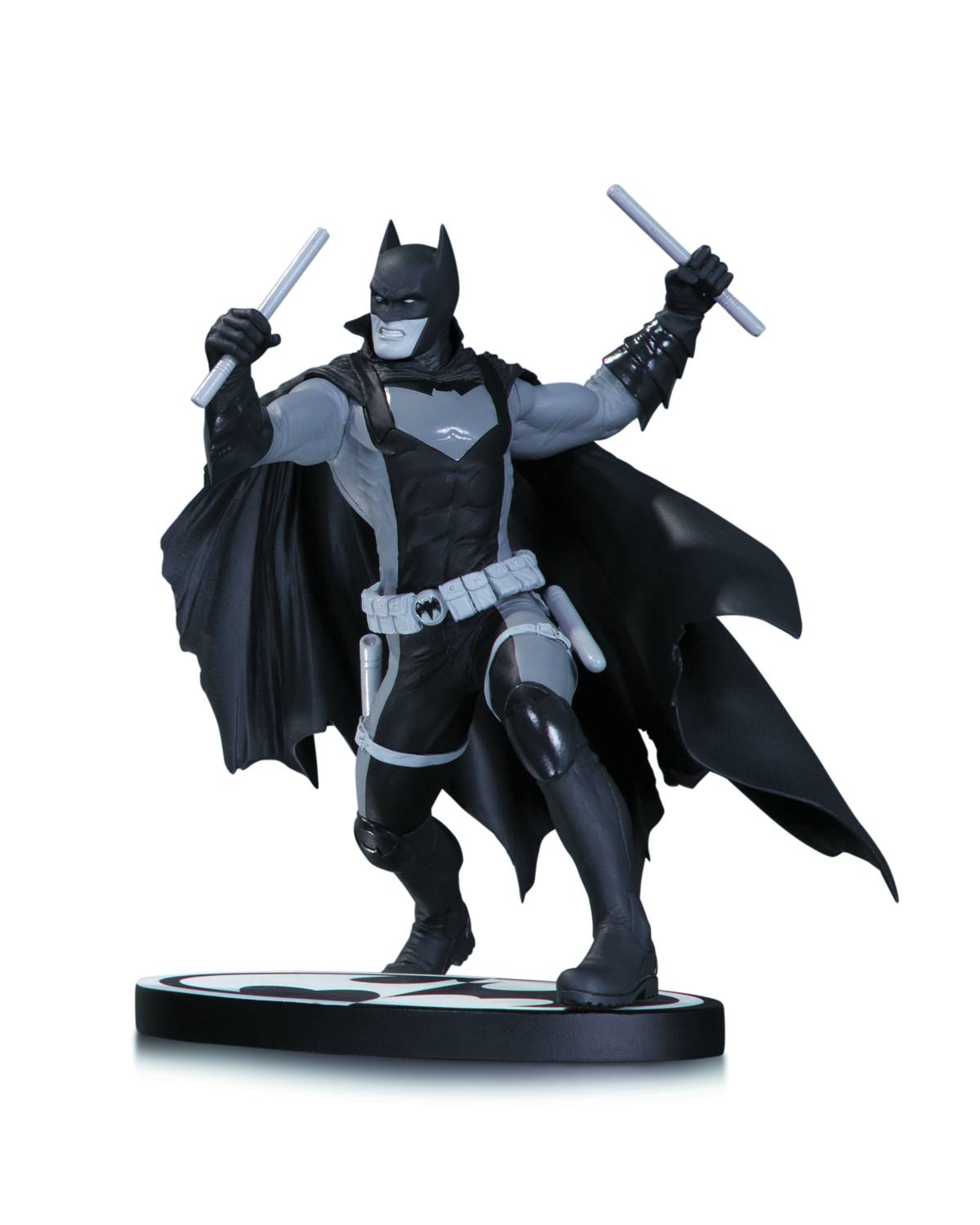 17. Batman on Gargoyle by Randy Bowen
If you read Batman comics before, you know how well the Dark Knight and gargoyle statues go together. Gotham City has several of those, and there are a lot of scenes where Batman stands on one of them, observing the city, so this collectible definitely depicts an iconic scene. You would be surprised how old this outstanding statue is: it was sculpted by Randy Bowen in 1991. Yep, it's 23 years old, but still one the coolest Batman statues out there.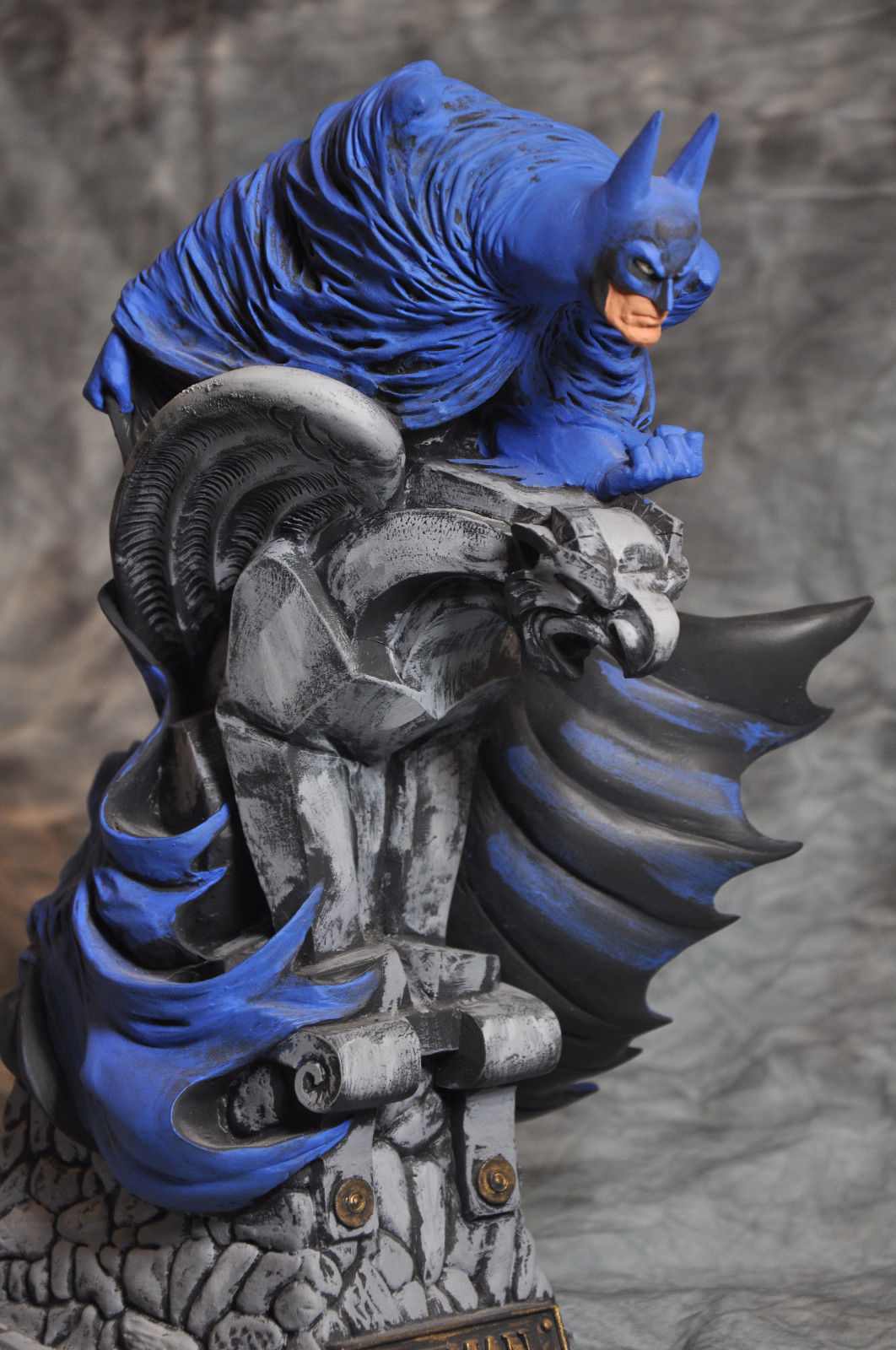 The article continues on the next page...