18. Batman Begins Bronze Sculpture
This is not your regular Batman toy by any means. Based on the movie called Batman: Begins, this sculpture was made entirely by using bronze. Thanks to this, it's quite heavy for a 11-inches tall collectible. The pose of the sculpture is really eye-catching, since Batman looks like he's gliding in the air (which is, in our opinion, one of the best features of the cape). It's available in limited quantity for £333.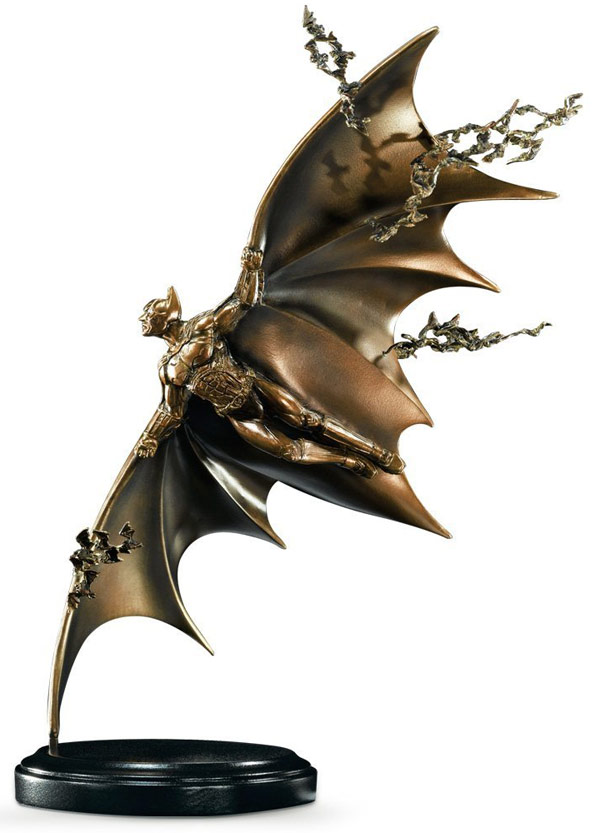 19. Batman Premium Format Figure
There is no doubt that this is one of the most expensive Batman collectible, since it costs $615. Of course, the great price comes with great quality. The body and the cape are fully sculpted, while the costume itself was made from cloth, which is quite rare among statues. The face and other body parts are also greatly detailed, which makes this statue outstanding even if you look at it up close. WE can only hope that Sideshow Collectibles will make other great collectibles like this, even if it's pricey.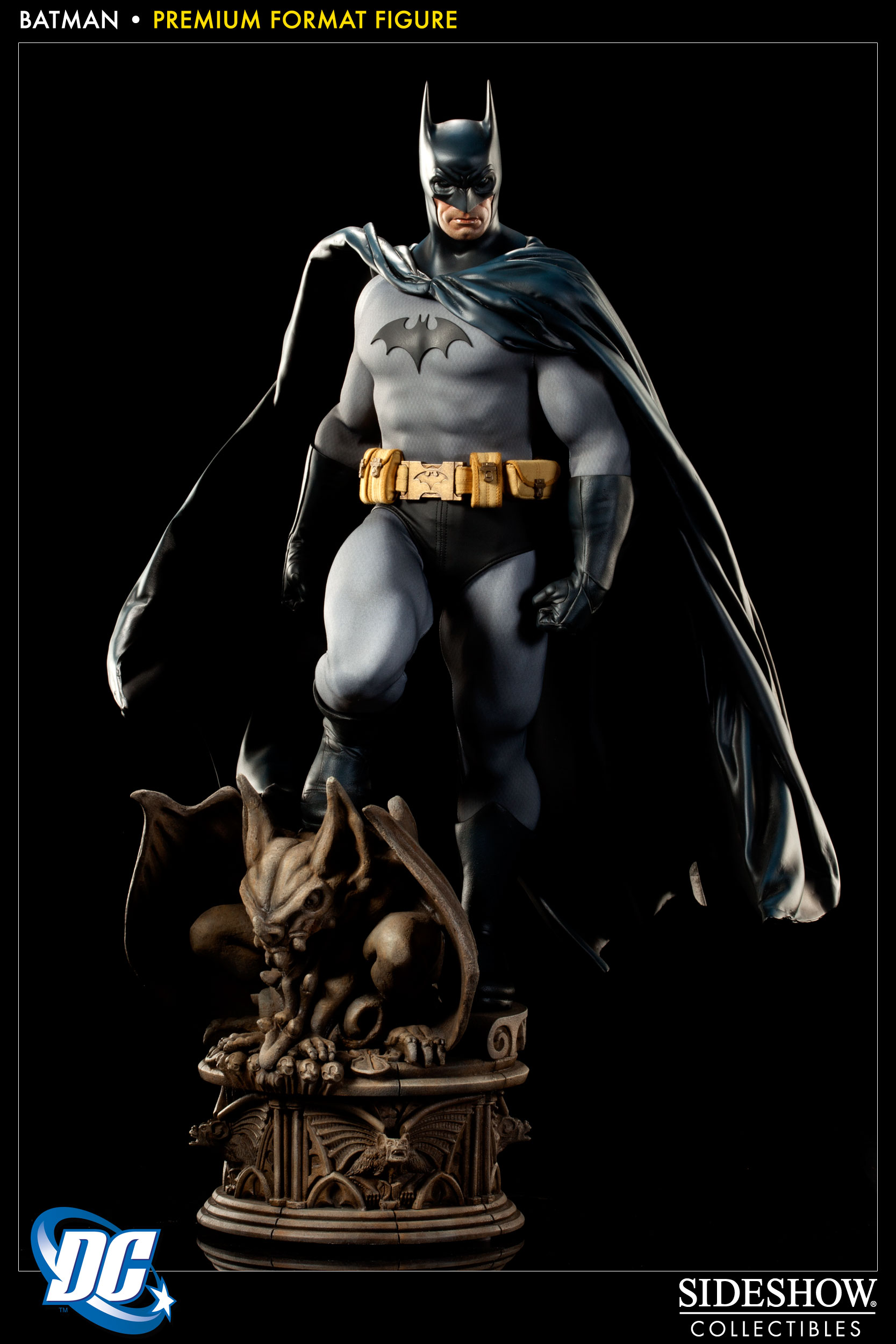 20. Batman Black & White: Dick Grayson as Batman by Jock
Yes, you read the title right: this Batman is actually not Bruce Wayne, but his fellow sidekick and the first Robin, Dick Grayson. In the "Black Mirror" storyline he is the one who wears the costume of the Dark Knight. But this doesn't change the fact that how awesome this Batman figure looks. Since it's from the Black & White series, the collectibles was made with a monotone approach. You can currently get this from Amazon for $144.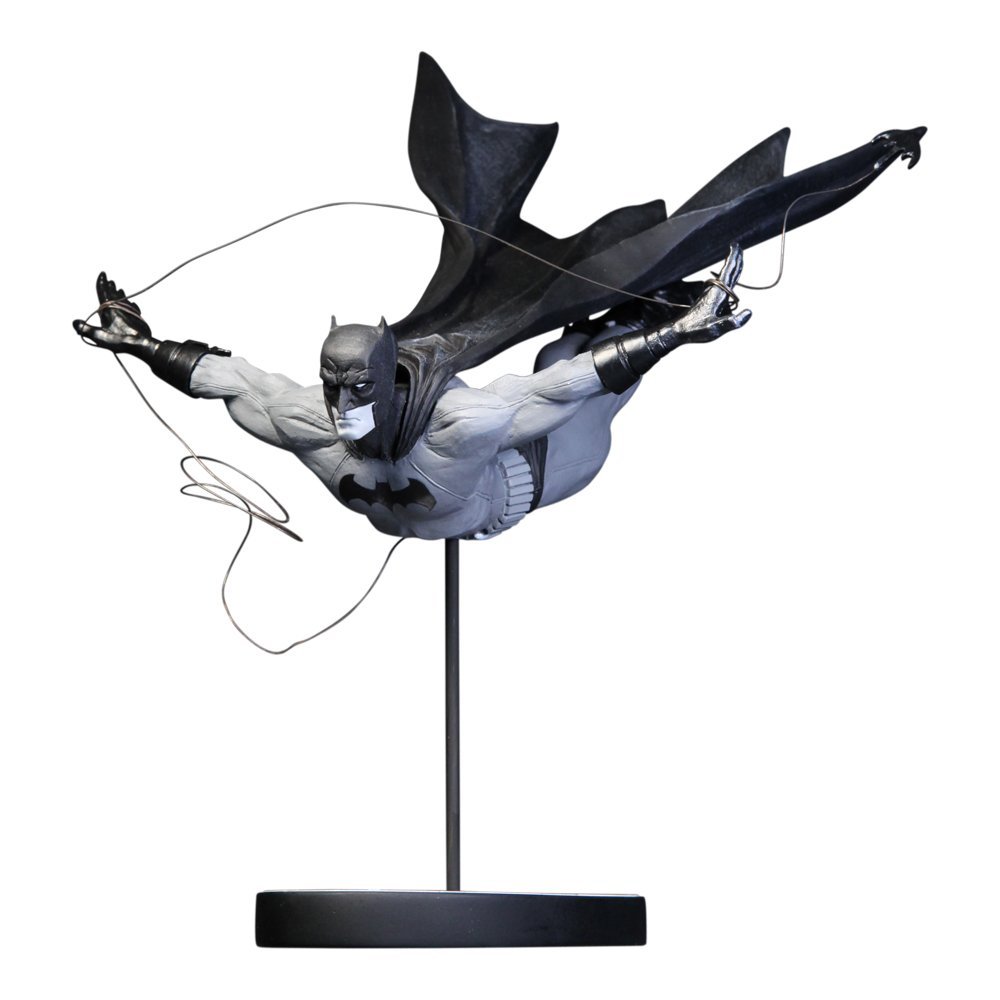 21. Batman: The Dark Knight Rises ArtFX Statue by Kotobukiya
Kotobukiya's attempt to recreate Christopher Nolan's Batman as a statue turned out pretty great. While it's certainly not the biggest, it's a well-detailed figurine: our favorite part of it is the belt, which looks great. The gadget in Batman's right hand is also a nice addition, just like the rock which he stands on. You can currently get this Dark Knight Rises Batman statue around $120, so WE can't say it's the cheapest collectible out there. However, it you like this version of the Caped Crusader, it's a nice choice.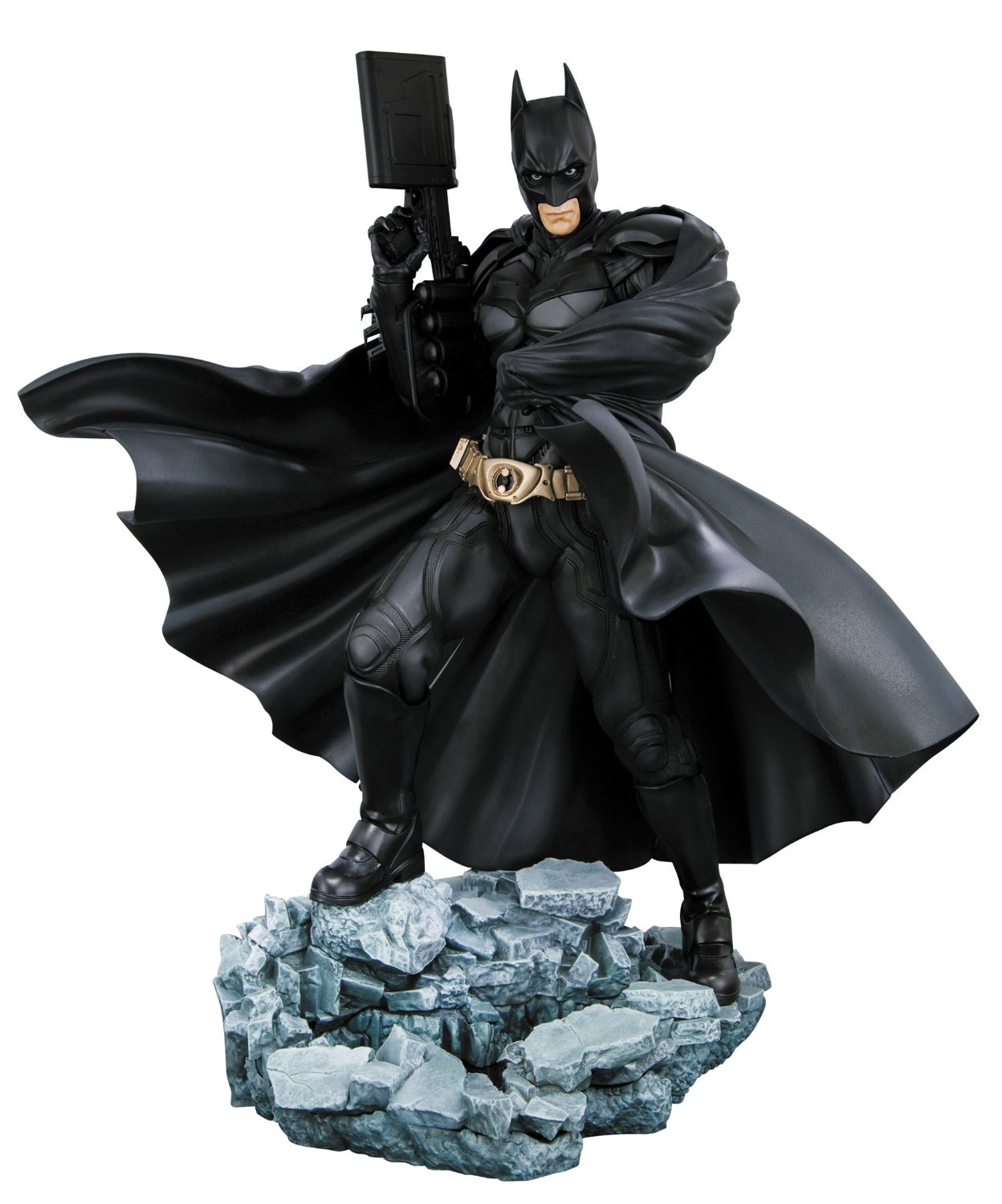 22. Batman: Arkham Origins UK Exclusive Collector's Edition Statue
Can you even count how many times Joker pissed off Batman when they met each other? WE think it's impossible to remember every single occasions, but here's a statue which finally depicts the scene. This statue was part of the Batman: Arkham Origins Collector's Edition in the UK, but fortunately for collectors, they can get it separately for about $115. Both Joker and Batman look great, especially the latter if you liked how he looked in the prequel game.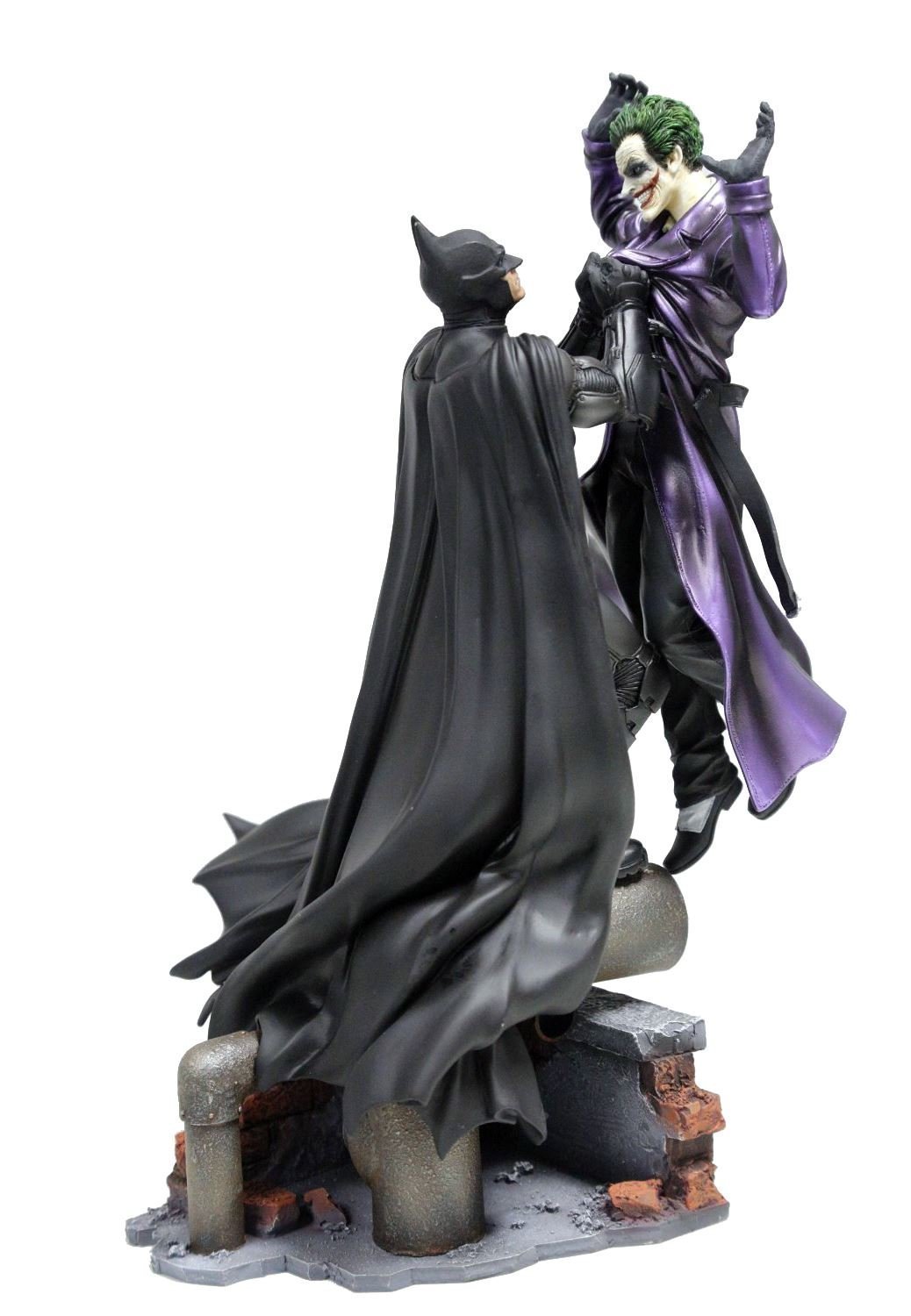 23. Batman: Black & White Collectible by Michael Turner
Here's another great collectible from the Black & White series. This Batman has longer ears than most versions, so it can be a bit divisive for certain collectors. However, it's not the most important part of the statue. Just look at the awesome cape! WE think this is one of the statues with the coolest cape, mainly because of how it floats left. It looks really realistic from certain angles. The statue itself costs around $75.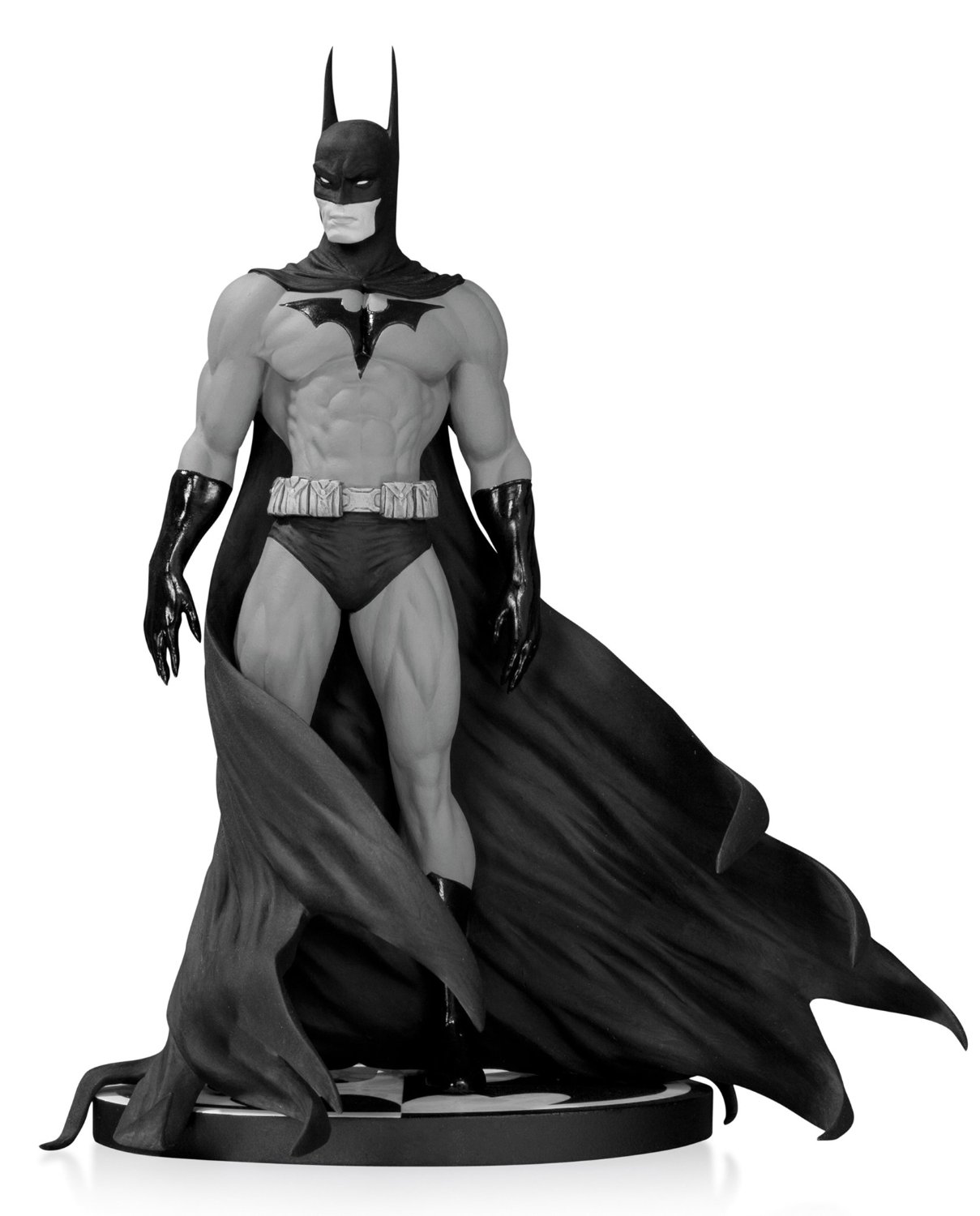 24. Batman Armored Collectible Figure by Square Enix
Okay, this is easily the most bulletproof Batman WE have ever seen. Just look at his armor, it looks impenetrable. It's part of the Play Arts Kai lineup, so the quality is really good. Even if you prefer more the classic Batman design, you have to admit that Square's approach on the Caped Crusaders is pretty awesome. The armor is highly detailed, and the set will come with various extra parts, such as a gun-shaped multi-device. The statue is expected to ship on March, 2015, and it will cost $99.99.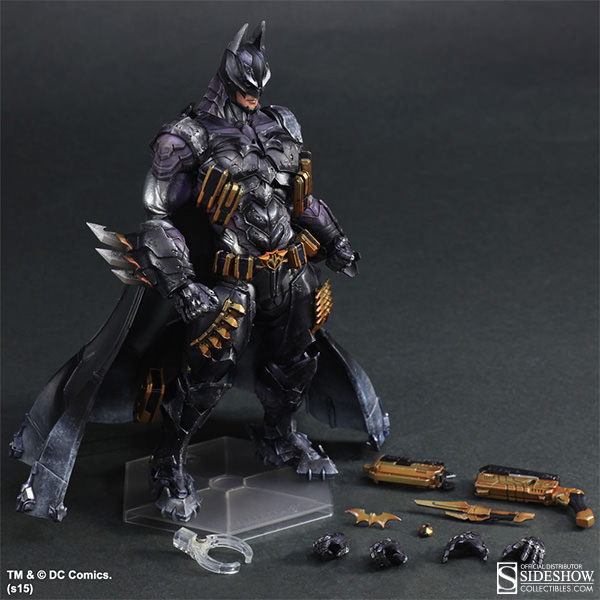 25. Batman Statue by Tetsuya Nomura
Did you know that the famous Final Fantasy designer Tetsuya Nomura has designed a Batman statue? It's not surprising the result looks like it came straight out from the Final Fantasy universe. However, WE think this interesting approach on Batman is actually good. Of course it's way to unique and divisive, so not everybody will like it and this is perfectly fine. If you thought that the previous Batman's armor was a bit overkill, you will be shocked when you see statue. The statue was first revealed on the San Diego Comic-Con 2014, and it got famous really fast. Even those who aren't a Batman fan have heard about it. The figure will be part of an upcoming line of Square Enix. The armor is simply brutal, while the bizarre arms on the back of Batman makes him very dark.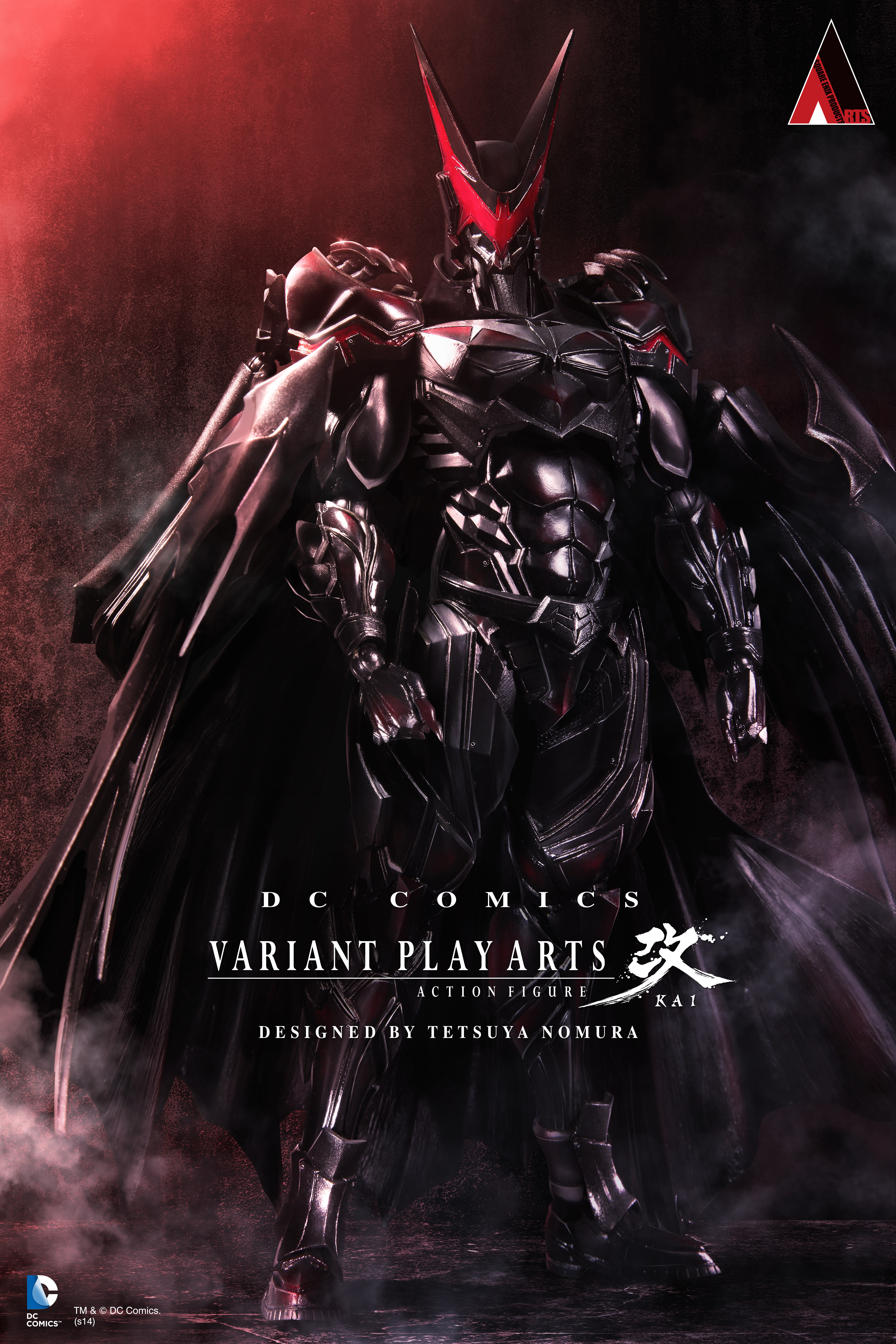 26. Batman Sixth Scale Figure by Sideshow Collectibles
WE really like the cape on this one. The design of Batman is pretty basic, especially when you compare it to the previous two versions. However, if you prefer the simple versions more, it definitely a good choice for you, not to mention the quality is great. The blue and grey Batsuit is completely hand-tailored, which is quite rare even on the most expensive Batman statues. It goes really well with fully articulated muscular body design. Clearly, Sideshow Collectibles put a lot of effort into this Batman figure, which is a great addition for $199.99 to every Batman fan's collection.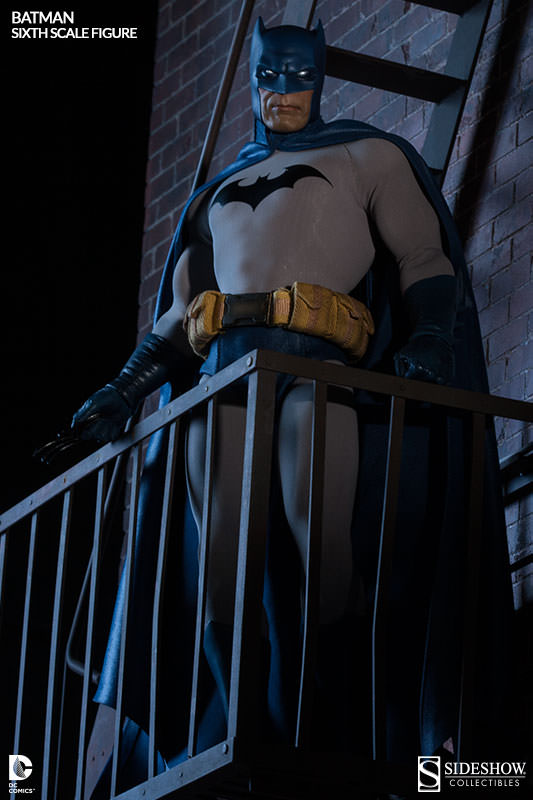 27. Batman: Modern Age Life-Size Bust by Sideshow Collectibles
This Batman statue is a bit different from the rest, and WE guess you probably already know why. It's not a classic statue, but a life-size bust with incredible details on the face. There are only 750 of it, so it's not surprising that it's insanely expensive. Only the biggest and most dedicated Batman fans will get it for $679.99, but they will be very proud of it. Towering at over 29 inches tall, the design of the bust is based on Batman's appearance in the "Modern Day" comic.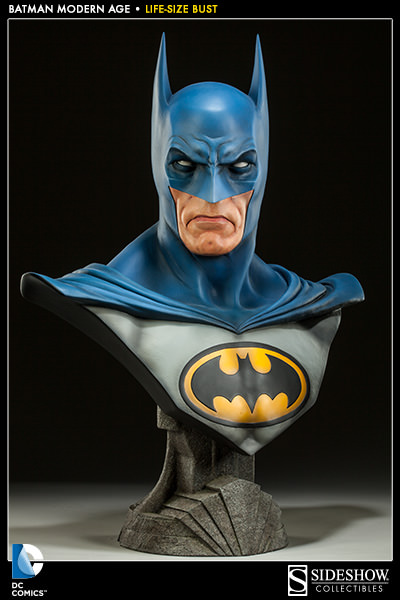 28. DC Collectibles: Arkham City Batman Statue
Based on Batman's appearance in Arkham City, this statue for $98 is a solid collectible from sculptor Dave Cortes. The statue was made in monochromatic styling: the only exceptions are part of the hands and Batman's batarang, which are covered in red. The approximately 10 inches high figure even has a batarang-shaped stand, so you don't have to afraid that the statue will fall down your shelf or table.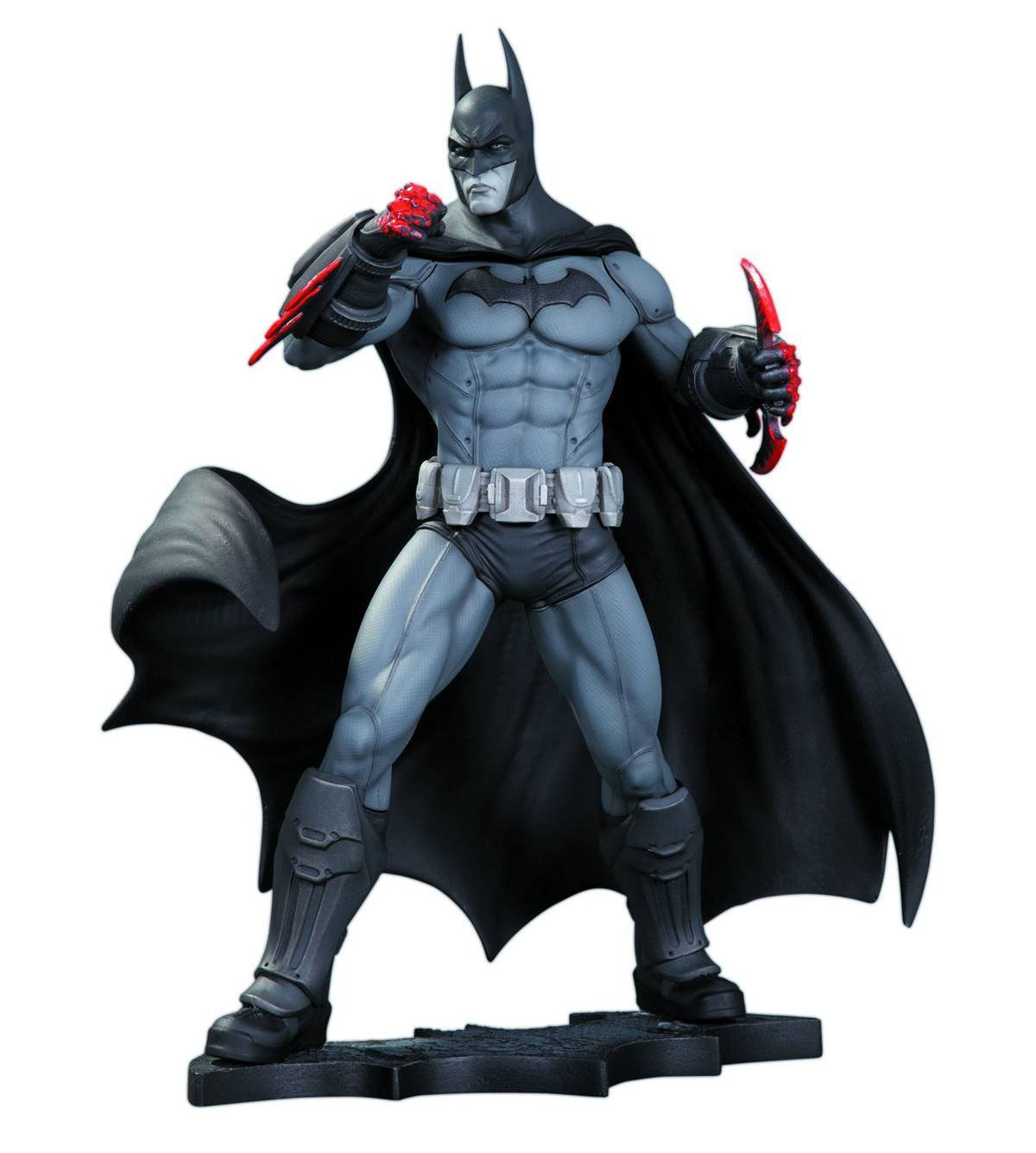 29. Vampire Batman Figure
You've already seen Batman as a scary zombie – now it's time for a vampire version! Yes, the Dark Knight even has a vampire version in a few alternate storylines. This Batman statue was based on artist Kelley Jones' work from his Batman "Vampire Trilogy". The figurine looks really bizarre to say the least, with its unnatural build and pose. The statue even has wings and red eyes: if you combine this with the look on the face, the result is quite scary. However, if you think about it, the whole vampire theme goes really well with Batman: he mostly operates at night, he has a quite dark nature. Whether you like it or not, you have to admit that it's a pretty unique Batman statue. Right now, it's available on Amazon for around 90$.
30. Black & White Batman Statue by Sean Murphy
This limited statue is the 50th of the popular Black & White series. Designed by Sean Murphy and sculpted By Jonathan Matthews, the figure depicts Batman in a rather unusual and acrobatic pose. Just like every statue from the Black & White series, it only features these two colors, but this is all it needs to look badass. The statue is 8.2 inches high, and has one of Batman's more regular costumes, so it's perfect for fans of the original design. Want this in your collection? You can buy the statue from $165.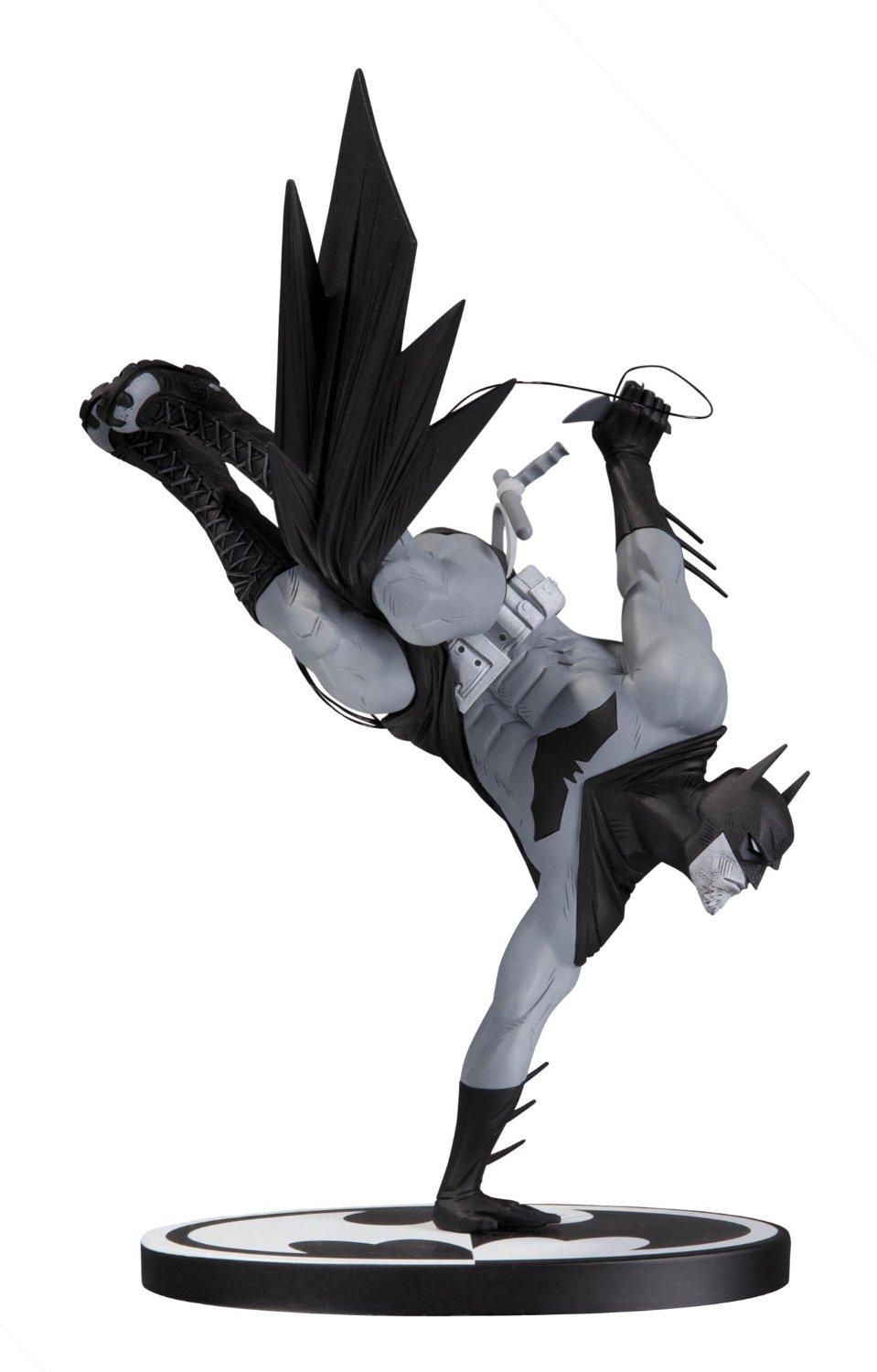 31. DC Comics Variant Play Arts Kai Batman: Timeless – Wild West Action Figure
Ever wanted to see Batman in a western setting? WE have good news for you: your dream came true! There are many unusual Batman statues out there, but this wild west action figure variant definitely takes the cake. While the design is extraordinary, one thing hasn't changed: Batman looks really badass. But instead of his classic suit, now he wears cowboy suit and a hat, and the cape is also present. The statue also comes with a grapnel gun and tomahawk along with interchangeable hand parts. You can get this amazing statue for $118.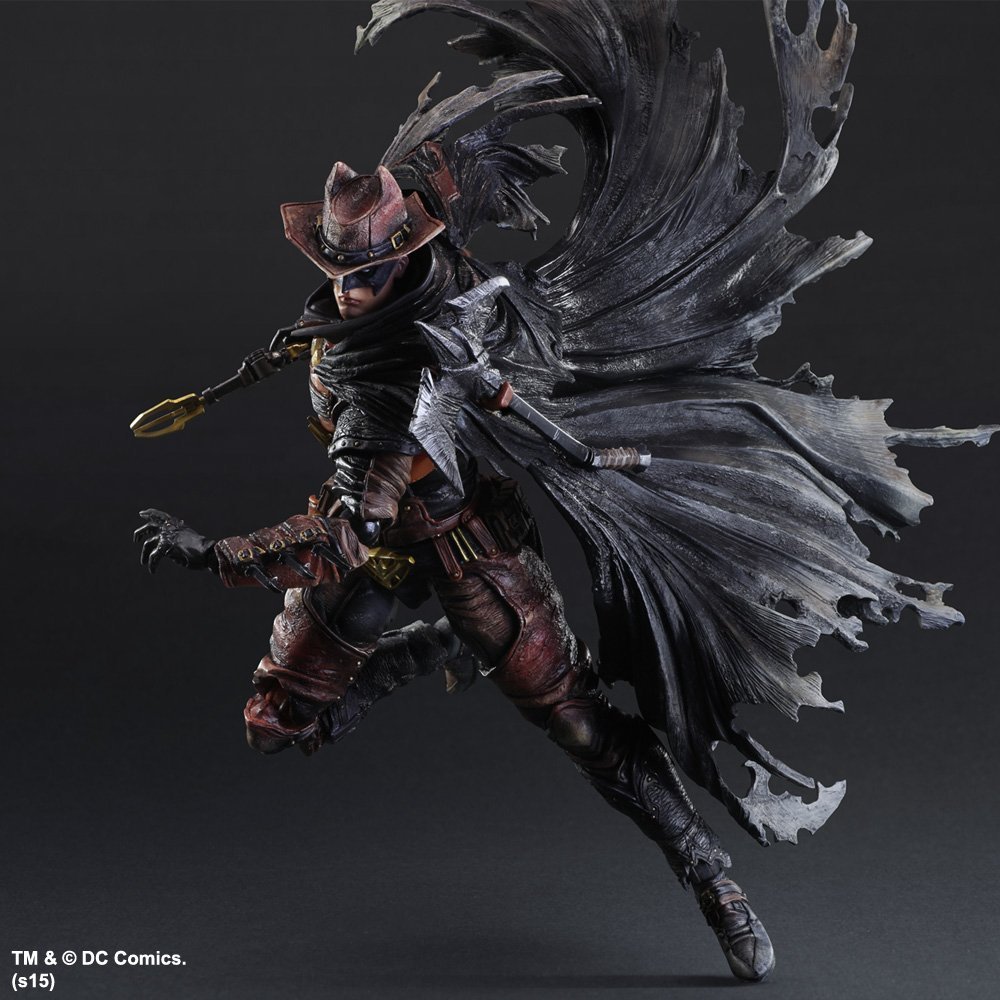 32. DC Collectibles Batman: Arkham Knight: Batman Statue
Batman always looks cool, but WE especially like his suit in Rocksteady Studios' latest game, Batman: Arkham Knight. Sculpted by Gentle Giant Studios, this statue is great for those who loved the game and Batman's character design in Arkham Knight. The collectible is approximately 9.5 inches tall and each part is well-detailed. While this statue is limited, it doesn't cost too much: you can get it from Amazon for $80 which is a pretty good price for this item.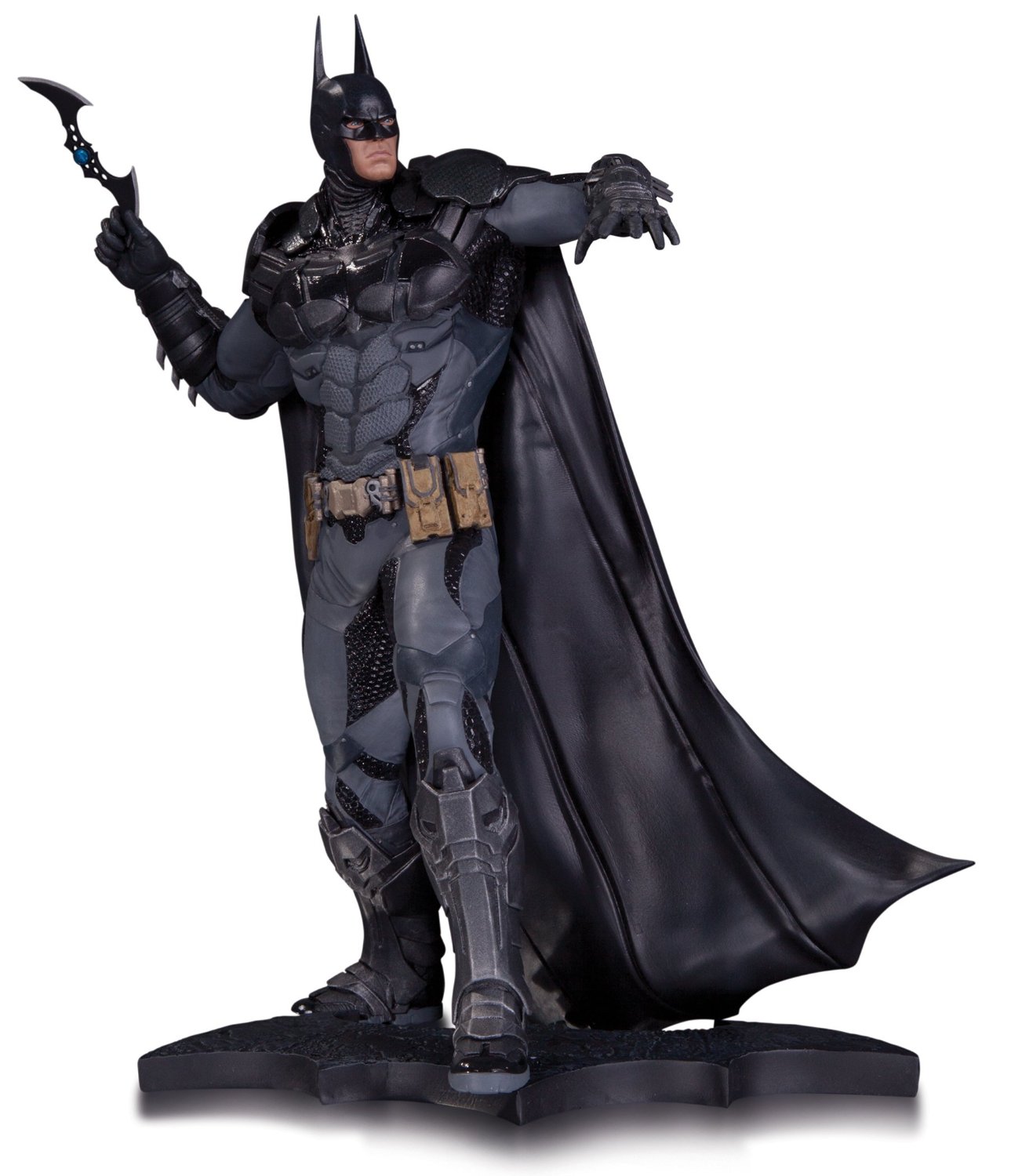 33. Batman v Superman Dawn of Justice Armored Batman Figure
Are you ready for Batman v Superman: Dawn of Justice? WE definitely are, and WE can't wait to get our hands on this cool armored Batman figure, available from June 21, 2016. It's a long wait, but it will be worth it: its design is based on the upcoming movie that is directed by Zack Snyder. It's hard to tell if Ben Affleck will be a good Batman or not, but his suit definitely looks amazing and you can tell that its extremely powerful. If you don't want to miss this amazing collectible, you can pre-order it now for $199.99.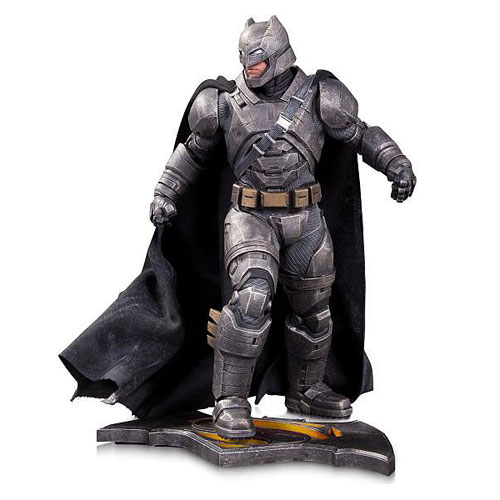 The article continues on the next page...