What is a gaming chair?
Whether you're a pro or casual gamer, you can see more and more of these so called gaming chairs. A lot of Twitch streamers use them, and they're also common sight nowadays at eSports events. Basically, these chairs were designed with gamers and long play sessions in mind. A good gaming chair can stay comfortable even after hours of playing, and they force you to keep good posture while sitting. If you watch streams on Twitch or follow gaming tournaments, you probably already know how a typical gamer chair looks like. But what are they exactly? Why do pro gamers love it? Why is it becoming more and more popular even among casual gamers? Obviously, there are reasons why these computer chairs became so popular in the last few years, but the pros and cons usually aren't instantly apparent. This post was made to help you learn more about these seats, so you can decide whether you need one or not. The post also introduces you to the various brands that make the best gaming chairs.
DXRacer

It's not a coincidence that DXRacer is the first brand WE want to talk about. Many famous pro gamers and eSports teams like Navi Gaming and FaZe Clan use their seats, not to mention a lot of well-known streamers on Twitch. When you see a streamer using a gaming chair, you can almost be sure that it will be from DXRacer. They make many different products, and they have four major product lines when it comes to their gaming chair lineup: the Formula Series, Racing Series, King Series and the Tank Series. Famous teams that use DXRacer seats: Ninjas in Pyjamas, Denial eSports, Team Complexity, FaZe Clan, Navi Gaming and Copenhagen Wolves. [Official website]
DXRacer OH/FE57 ($339.00)
This seat comes from DXRacer popular F-series that offers many different benefits to its user. When the goal is to get a chair for gamers, you should look for a seat that helps you keep good posture during playing. The OH/FE57 is definitely capable of doing this, because its backrest was designed to support your entire spinal column. You basically can't sit wrong in this chair thanks to its design. Of course, you get a lot of other functions that heighten your gaming sessions, including the adjustable armrests. You can move those up and down and adjust them to your size, so you can make sure they're comfortable for you. Another cool thing about this seat that you can recline the backrest so much that you can even sleep in it!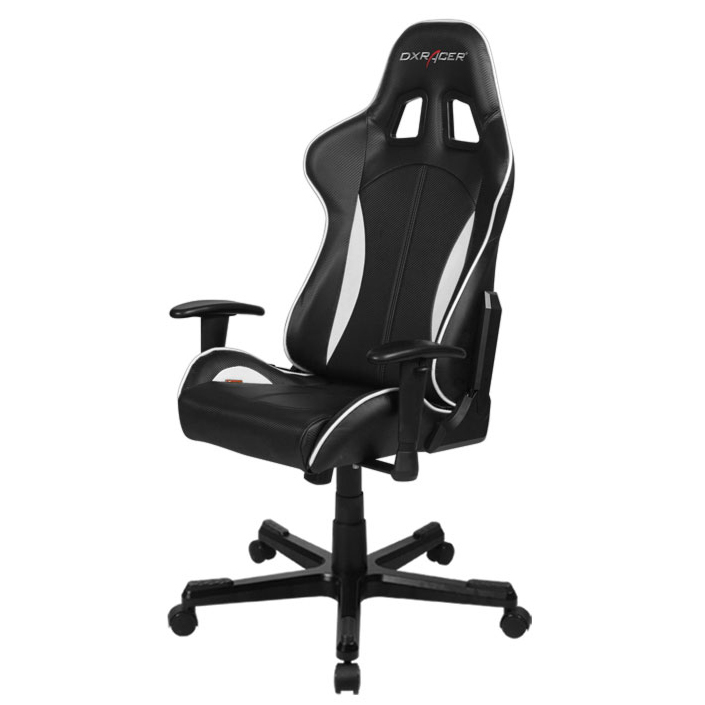 DXRacer OH/FE57 main features:
Adjustable arms and conventional tilts mechanism
Adjustable angle up to 170 degrees
Aluminium base
Easy to assemble
Maxnomic

Maxnomic is another well-known brand among professional gamers and Twitch streamers. They offer various gaming chairs that are perfect for both gaming and office work. While their chairs are pricey, Maxnomic is really proud of the high quality seats they produce. Not only they talk about the quality components and materials, but they also put them to the test: they ripped open and compared their products to other seats [link]in order to prove that they work use the best components that can last for years. After all, when you spend a few hundred dollars on a chair, you don't want to throw it out after one year, right? Organizations that use Maxnomic seats: HyperX, Red Bull Gaming, Cloud 9, Evil Geniuses, Team Liquid and Team SoloMid. [Official website]
Maxnomic Dominator ($369.00)
The Maxnomic Dominator comes from the company's pro-gaming and office lineup (however, they also have specific chairs for casual gamers, offce workers and pluz-size people). For $369, this gaming chair not only provides elegant design, but also a lot of options to adjust the seat, so you can feel as comfortable as possible when using it. You can move the armrests back and forth easily, and of course, you can also adjust the height. The backrest tilts up to 67 degrees which means you can basically lie on it. It's perfect if you decide to rest a bit after a long gaming marathon. The chair itself is easy to assemble, with the instruction you can be done with it in under 30 minutes. Another cool extra is the head and lumbar cushions that come with the chair. These are great for making your play sessions even more comfortable.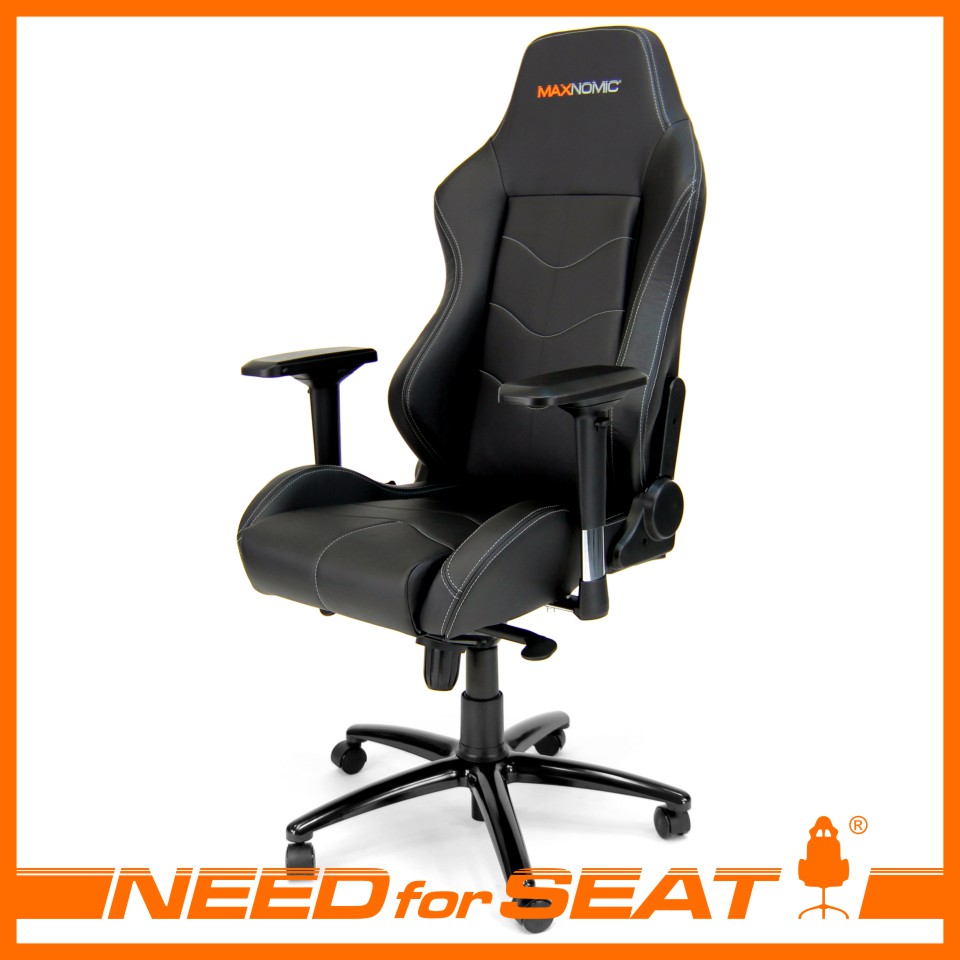 Maxnomic Dominator main features:
Sturdy steel frame
Comfortable tilt mechanism
4D armrests
High quality foam padding that ensures good posture
X Rocker

The X Rocker gaming chairs are special, even among the best gaming chairs that are already pretty unique. But why are X Rocker's lineup is different than the rest? The reason why these seats are special is not mainly the comfort – although they are certainly not bad in that department – but the built-in speakers. Yes, that's right: the X Rocker chairs combines comfort with high quality audio in order to create a full immersion when you're playing games. X Rocker has many different chairs you can choose from, so in order to avoid confusion, let's start with one that's great for everyone. [Official website]
V Rocker SE Wireless ($94.31)
While the design is different than the gaming chairs of Maxnomic and DXRacer, the V Rocker SE Wireless is perfect for long gaming sessions. The padded headrest and the form of the seat helps you keep good posture. The seat has two forward facing speakers and a very powerful subwoofer so you won't have any complaints about the sounds. There is a panel on the side of the chair that lets you adjust the volume, bass, and you can also connect your headphone to it.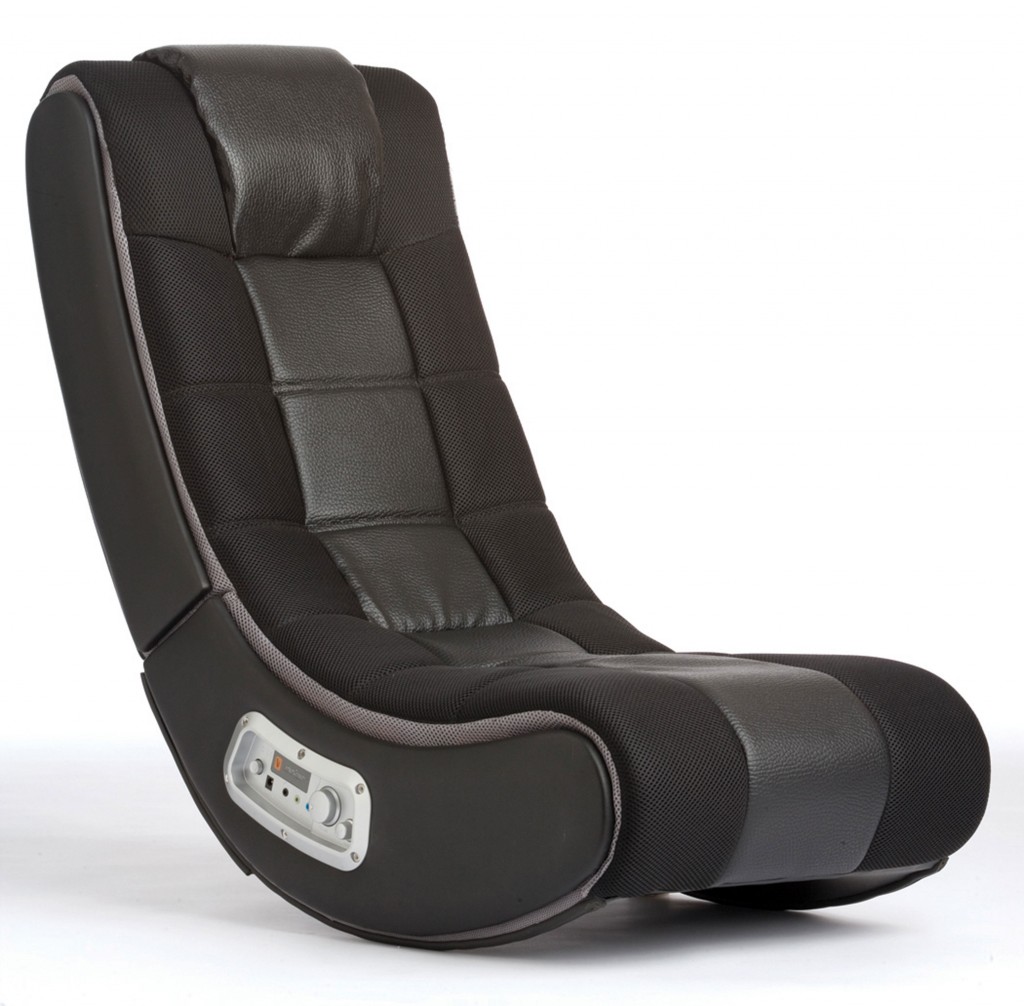 V Rocker SE Wireless main features:
Side control panel (volume control, bass control) with output jacks
2 speakers and powerful subwoofer
Provides great support for your back
Wireless audio transmission
Arozzi

A specific chair for gamers is usually pretty expensive. If you want to buy a gaming chair but don't have 300-400 dollars to get a DXRacer or Maxnomic, Swedish company Arozzi has some good alternatives for you. The company was founded in 2013, and since then they were producing quality gaming chairs that feature ergonomic design and great comfort. Esports teams that use Arozzi seats: LGB esports, Team Orbit, Bad Monkey Gaming. [Official website]
Arozzi Torretta ($249.99)
The Toretta is one of Arozzi's more popular gaming chairs that is available in various colors: black, green, orange, red and even azure. Drawing inspiration from the world of motorsports, the Torretta not only looks like a cool seat in a racing car, but it also has various useful features. Firstly, you can adjust the height and rotation of the armrests. Of course, the gas-spring in thd chair allows you to adjust the height too, and you can tilt back the seat and lock it if you want to rest a bit. Thanks to its metal frame construction, the Torretta is a very sturdy gaming chair that can easily last for years.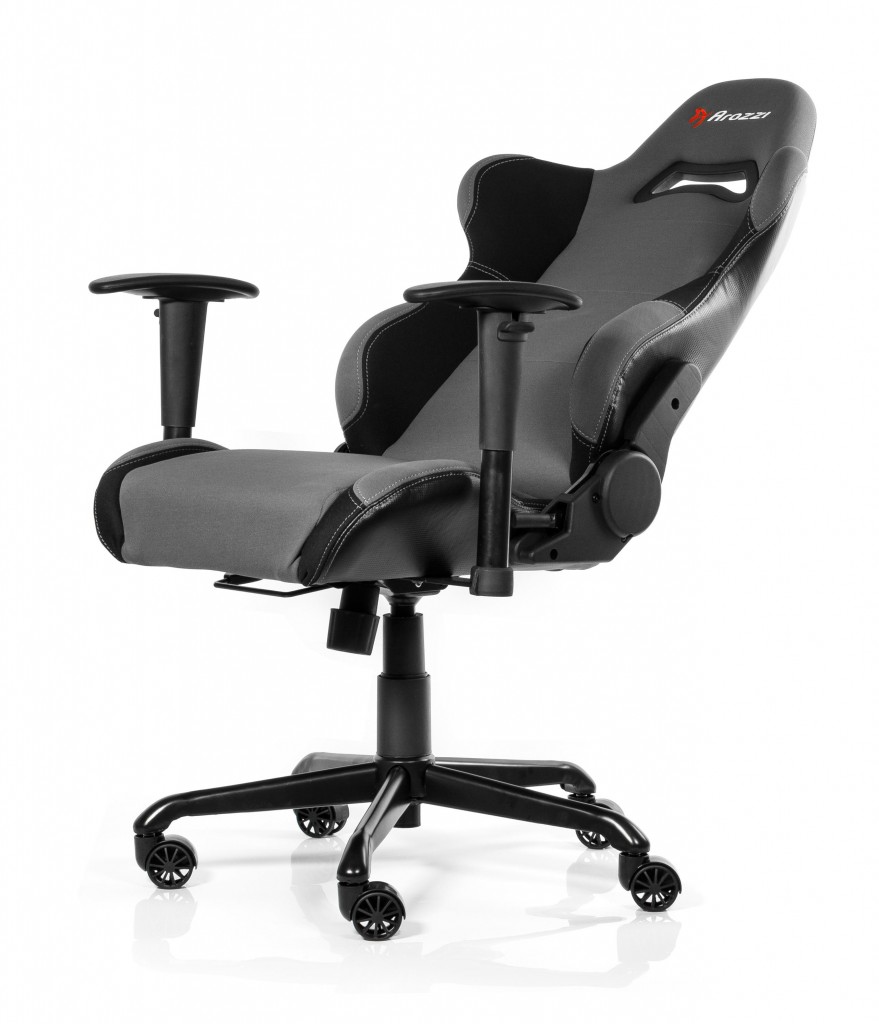 Arozzi Torretta main features:
Sturdy metal frame
Thick padded backrest
Adjustable height and armrest
Nylon wheels and class-4 gaslift (durable for up to 120 kg)
GT Omega Racing

GT Omega Racing is far from a new challenger in the gamer chair department: the company specializes in high quality seats for racing simulators since 2008, so they have quite a lot of experience. Beside their pro cockpits, they also make some of the best gaming chairs that are great for both long play sessions and office work. GT Omega Racing has many different products you can choose from, and all of them feature ergonomic design and high quality materials. The company is also proud of their great aftercare support, so you can count on them if you experience any problem with the seats. [Official website]
GT Omega PRO Racing Office Chair ($259.95)
Featuring synthetic leather, the GT Omega PRO Racing Office Chair offers great comfort and a stylish look. Like most gaming seats, this one is also inspired by motorsports, but it also resembles the classic office chairs. It's not surprising since this was made for both gaming and office work. But what features does this gamer chair have? Firstly, it has a 90 to 150 degrees adjuster, a tilt locking mechanism, height adjustable armrest and gas-spring cylinder. In order to increase the level of comfort, the product comes with a lumbar cushion and headrest pillow which are great and useful accessories.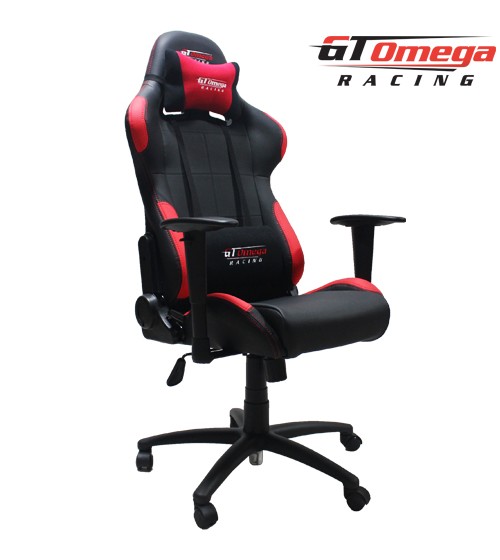 GT Omega PRO Racing Office Chair main features:
Adjustable angle up to 150 degrees
Durable up to 120 kg
Adjustable armrest and height
Aluminium base
AK Racing

Ergonomics, design and functionality: these are the keywords at AK Racing, a manufacturer of high quality gaming chairs since 2014. While the company is relatively new, that doesn't mean they don't have the experience to make seats with high level of comfort and durability. In fact, it's the opposite: their product lineup consists of great seats for both casual and professional gamers. The company worked with talented eSports teams like Team Dignitas and they also sponsor one of Finland's best Counter-Strike streamer, Joona "natu" Leppänen. Another cool thing about AK Racing is that they offer various accessories for their chairs like extra armrest, wheels and hydraulic gas lift. You can easily assemble their chairs thanks to the online assembly guide on their website, and you can also contact them in email via their website. [Official website]
AK Racing Player (€289.00)
What is AK Racing's best gaming chair? It's difficult to answer that question, but there are some very strong candidates. For example there is the AK Racing Player that is available in orange, black, green, pink, red and white, so there are quite a few options. The whole surface of the seat is made from high quality, extremely durable materials, and the same can be said for the wheels and the metal frame. Of course, the AK Racing Player has all the basic features that you can expect from a high quality computer chair, including the adjustable backrest, height and armrest. The seat is great for heavier people as well: the class-4 gaslift supports up to 150kg, so plus-sized people don't have to worry about breaking it.
AK Racing Player main features:
High quality and durable surface
Class-4 gaslift (supports up to 150 kg)
Adjustable height and backrest
Metal frame and durable wheels
BraZen

When you think about a chair for gamers, you probably think of DXRacer, Maxnomic or some other company that makes seats that look like they came from a racing car. It's true that most gaming specific computer chairs look like this, but there are other possibilities as well. Brazen proves this by releasing high quality gaming seats with built-in sound systems. Their products are pretty similar to X Rocker's lineup, so if you're looking for a comfortable computer chair with speakers, this could be another great alternative for you. While their lineup isn't too big, their products are definitely worth checking out. [Official website]
BraZen Stag 2.1 Surround Sound Gaming Chair (£129.95)
The BraZen Stag is a pedestal computer chair for gamers equipped with 2.1 surround sound speakers. Not only it provides great audio while you're playing your favorite games, but these speakers are also perfect for watching movies or listening to music. According to BraZen, you can connect the chair to almost any gadget with an audio up, including the previous and new generation of consoles, televisions, mucis players, and of course, smart phones.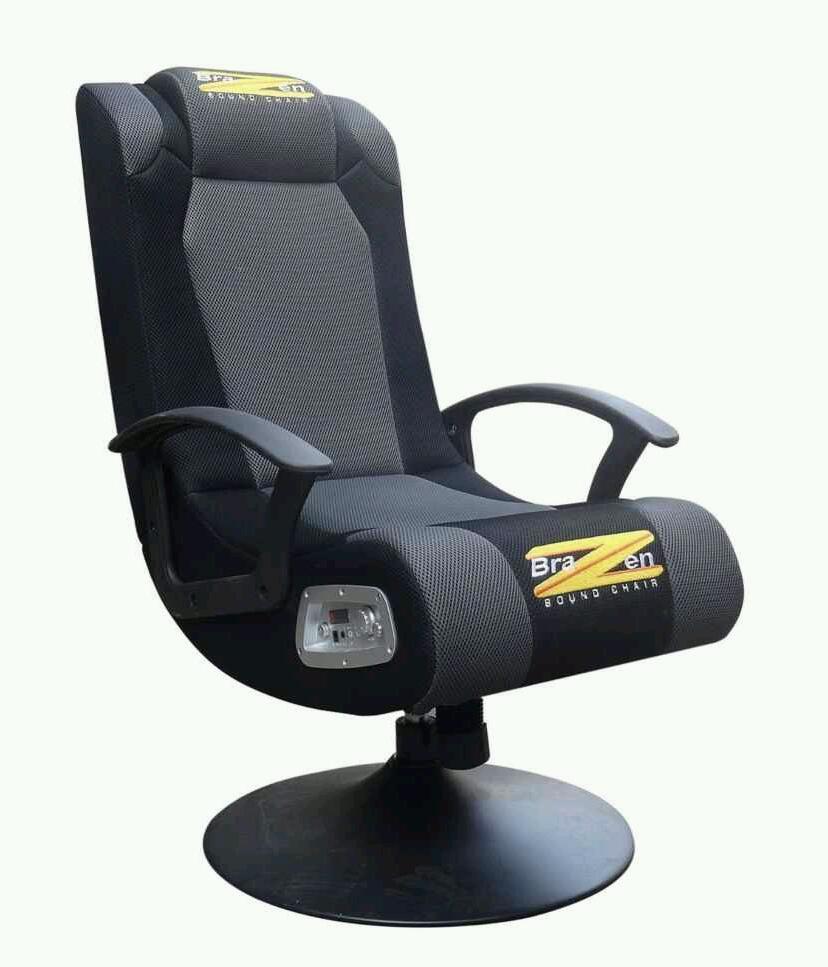 BraZen Stag 2.1 Surround Sound Gaming Chair main features:
Built-in 2.1 surround sound speakers
Connectable to devices with audio out
Powerful subwoofer
Fixed plastic armrests
PlaySeat

PlaySeat offers many different seats, but they mainly focus on solutions for hardcore racing game fans. Many of their products are complete sets for racing games, and these are one of the best choices if you want to enhance your virtual driving experience. However, as the popularity of gaming specific computer chairs rises, PlaySeat also started to produce their own seats in that department as well. They have products for office use, gaming and even for flight simulators. Many different professional racers used PlaySeat products, including Sebastian Vettel, Mark Webber and Sebastien Buemi. [Official website]
Playseat Office Seat ($499.00)
Don't let its name fool you: it may be not the best gaming chair out there, but the PlaySeat Office Seat is a great choice if you want to use a comfortable chair for both work and gaming – it's a clever middle way approach between the two. It's a very strong and sturdy product, because each part of the chair is made from high quality materials, including the legs and wheels, steel frame, backrest and armrest. According to PlaySeat, people up to 112 kg should be able to use it without any problems.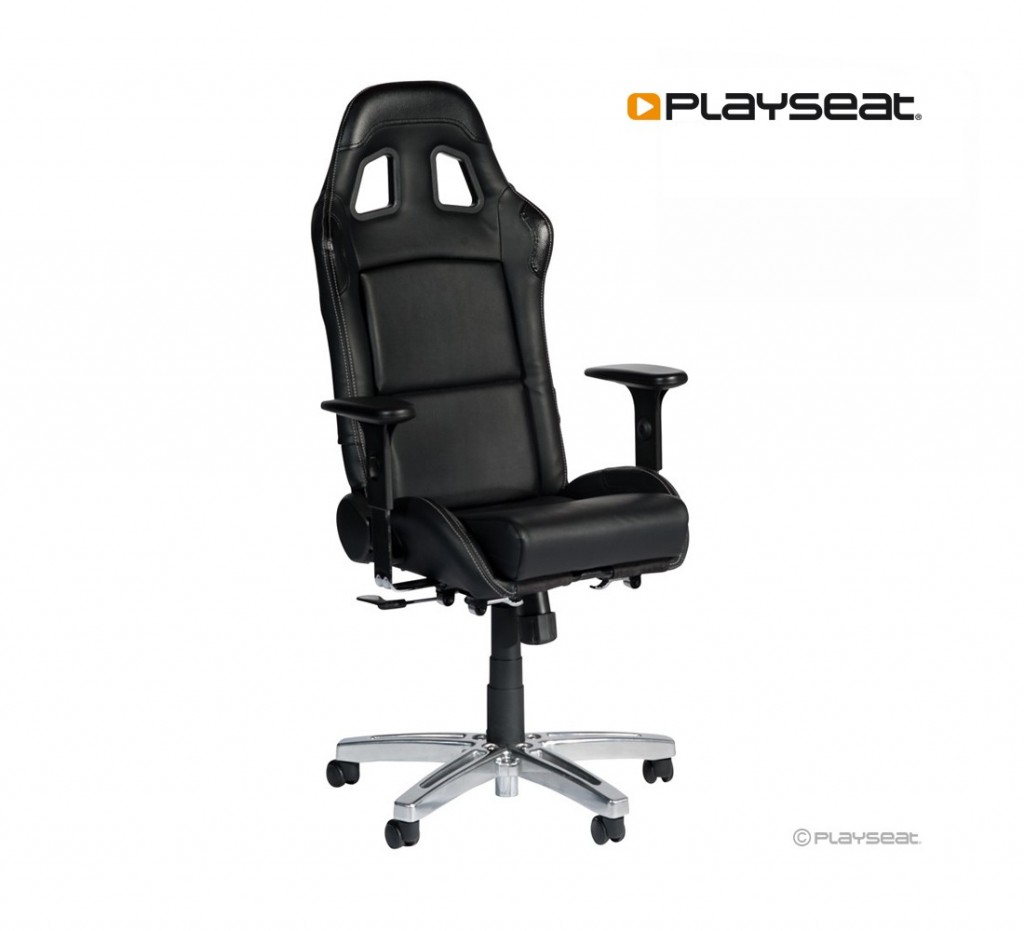 Playseat Office Seat main features:
Gas-spring lift system
Premium build quality
Adjustable height
Supports up to 112 kg
Vertagear

Vertagear makes very elegant computer chairs that focus on the needs of gamers. The company's goal is not only to make useful, but also desirable gaming seats that ensure good posture while you play. They put a great emphasis on ergonomic design as well as adjustability, so every gamer can find his own preferred setting. While Vertagear doesn't have too many different chairs yet, it's definitely worth checking out their products. [Official website]
Vertagear SL-4000 (£214.99)
Bringing a high level of comfort and adjustability, the Vertagear SL-4000 is an amazing choice if you do long gaming marathons on the regular. The exterior of the seat is made from premium quality PVC leather which is water and stain resistant. Thanks to the high density padding, you won't have any complaints about the comfort. In order to maximize your comfort, you can adjust the armrest in a lot of ways, including the height and the width. The same goes for the backrest which is adjustable up to 170 degrees. Basically, you can even use it as a bed.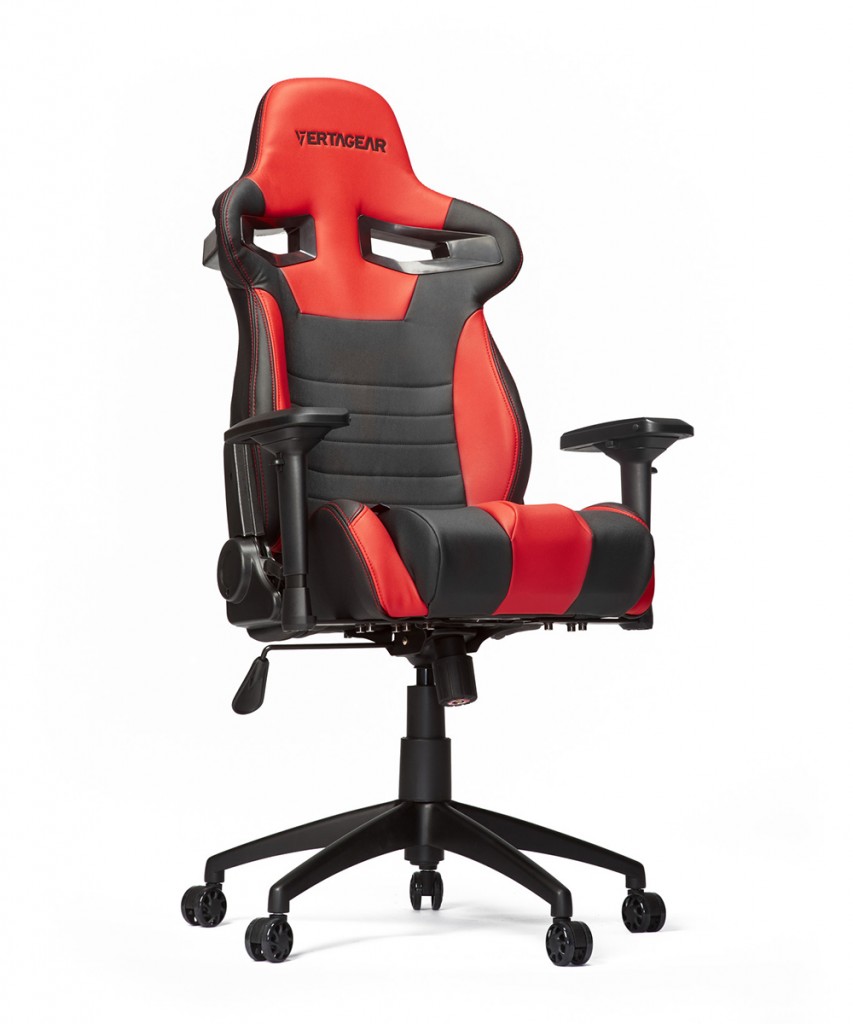 Vertagear SL-4000 main features:
High density padding and elegant exterior
Water and stain resistant PVC leather
Adjustable tilt, height and armrests
Extra cushions as accessories
Summary
The best gaming chair can be a lot of things depending on your preferences, but as you can see, there are many options to choose from. While there are a lot of expensive gaming chairs, you can find many cheaper alternatives that also provide great comfort and helps you sit properly in front of a computer. Most gamer chairs are adjustable in many ways, so you can always find your own comfortable setting. However, before you decide on a product, be sure to think about how much money you want to spend on a gamer chair, how important is it to you, and last but not least, which one is ideal for your physique.
Image credit: ESL Facebook