WE don't know about you, but among our acquaintances there are a lot of people who's crazy about Spiderman. And this is not a huge surprise: he's still one of the coolest and funniest superheroes of all time. Whenever WE see him defeating a bunch of criminals it's just memorable, whether it happens in a movie, comic or cartoon. Started as a shy high school student, Peter Parker faced many dangerous villains after a radioactive spider bit him. Not only that, but a lot of great Spiderman toys were made, which the kids absolutely love. If your child is also a huge Spiderman fan like us, you will definitely like these gift ideas.
Spiderman Toys between $5 and $10
Marvel Ultimate Spiderman Hero Mask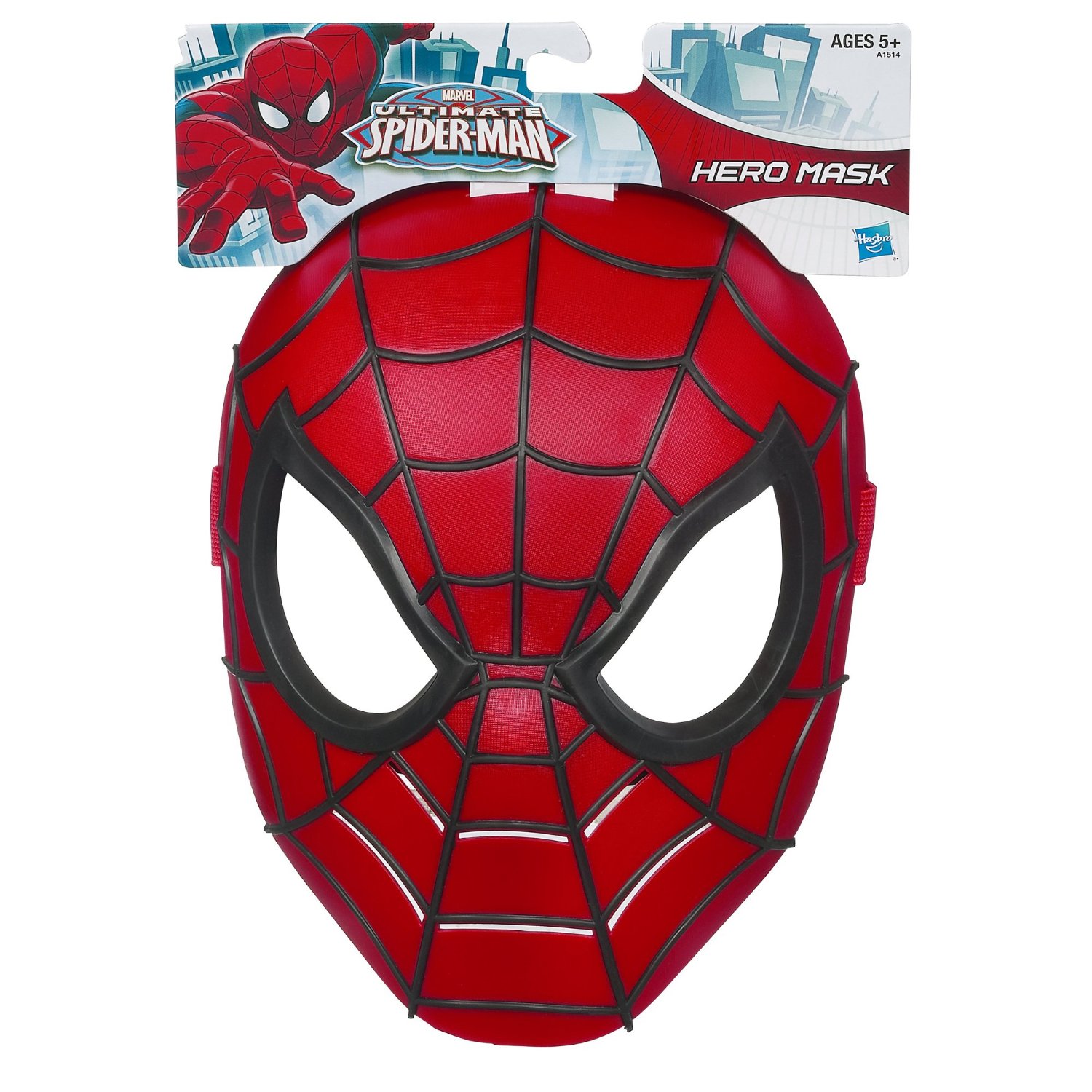 Every big Spidey fan needs his own Spiderman mask, whether he's an adult or a kid. Of course, this one is more suited for the latter. It's as easily wearable as it gets: based on the design of Ultimate Spider-Man, the mask is really comfortable, and also has adjustable straps, so it's perfect for children who want to wear it while playing with their friends.
Mega Bloks Stealth Spiderman Pocket Racer
Although Spiderman has the ability to swing around the city with high speed, a fast car always comes handy even for him. With this cool set, you can sit Spidey in a nice racer car, which even has a web-weapon! Pretty cool, right? This toy contains 35 pieces, so the kids can build it in no time: the only thing left to do is enjoying it!
Spider Strike Web Wing Spiderman Figure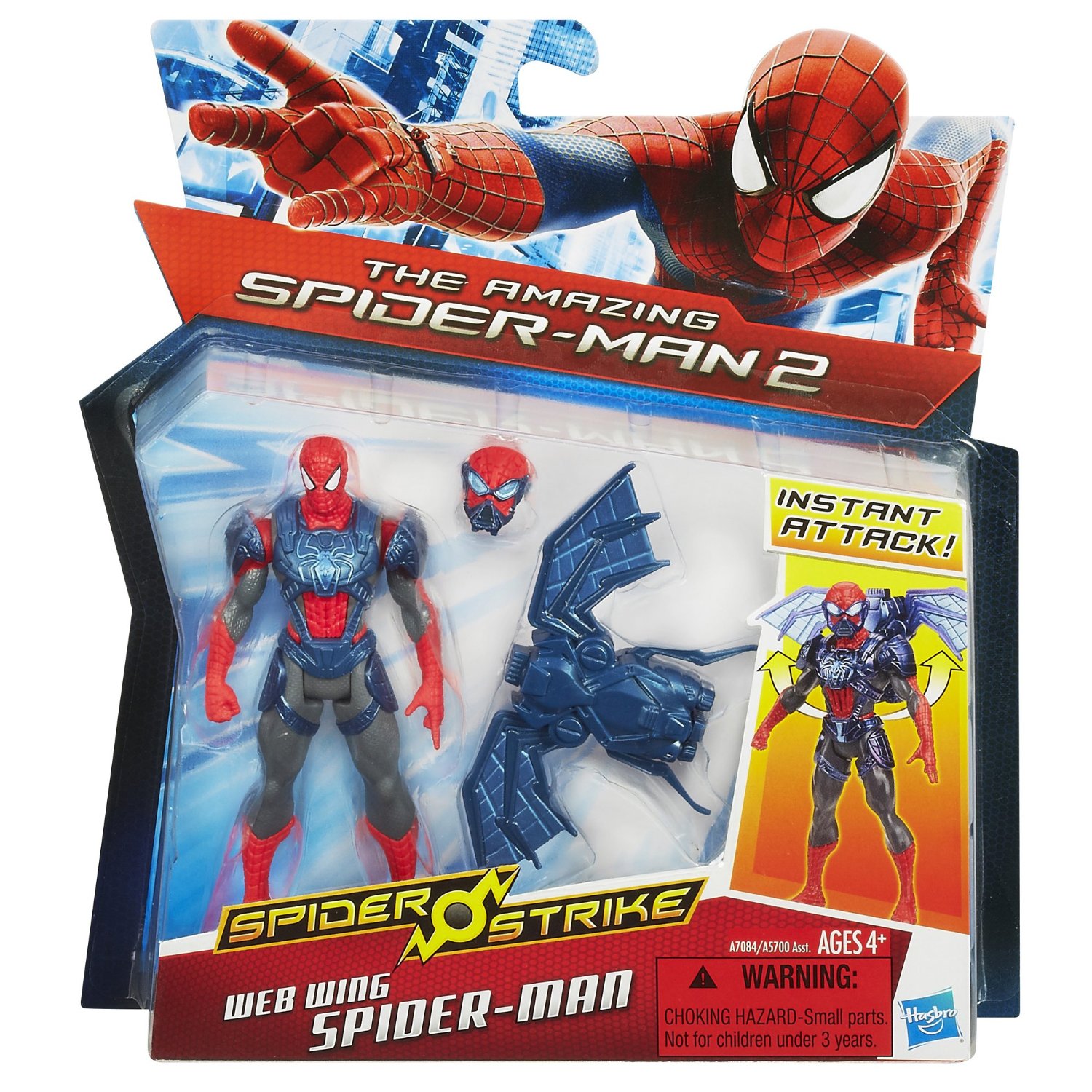 Usually, Spiderman relies on his abilities rather than gadgets, but there are times when he needs a little extra help. This set comes with a Spiderman figure, but what really makes this package interesting is the accessory. The backpack connects to Spiderman's back, and it can deploy dual web wings at any time for an instant attack. Spiderman always looked cool, but this extra makes him even more cooler!
Marvel Super Hero Mashers Spiderman Figure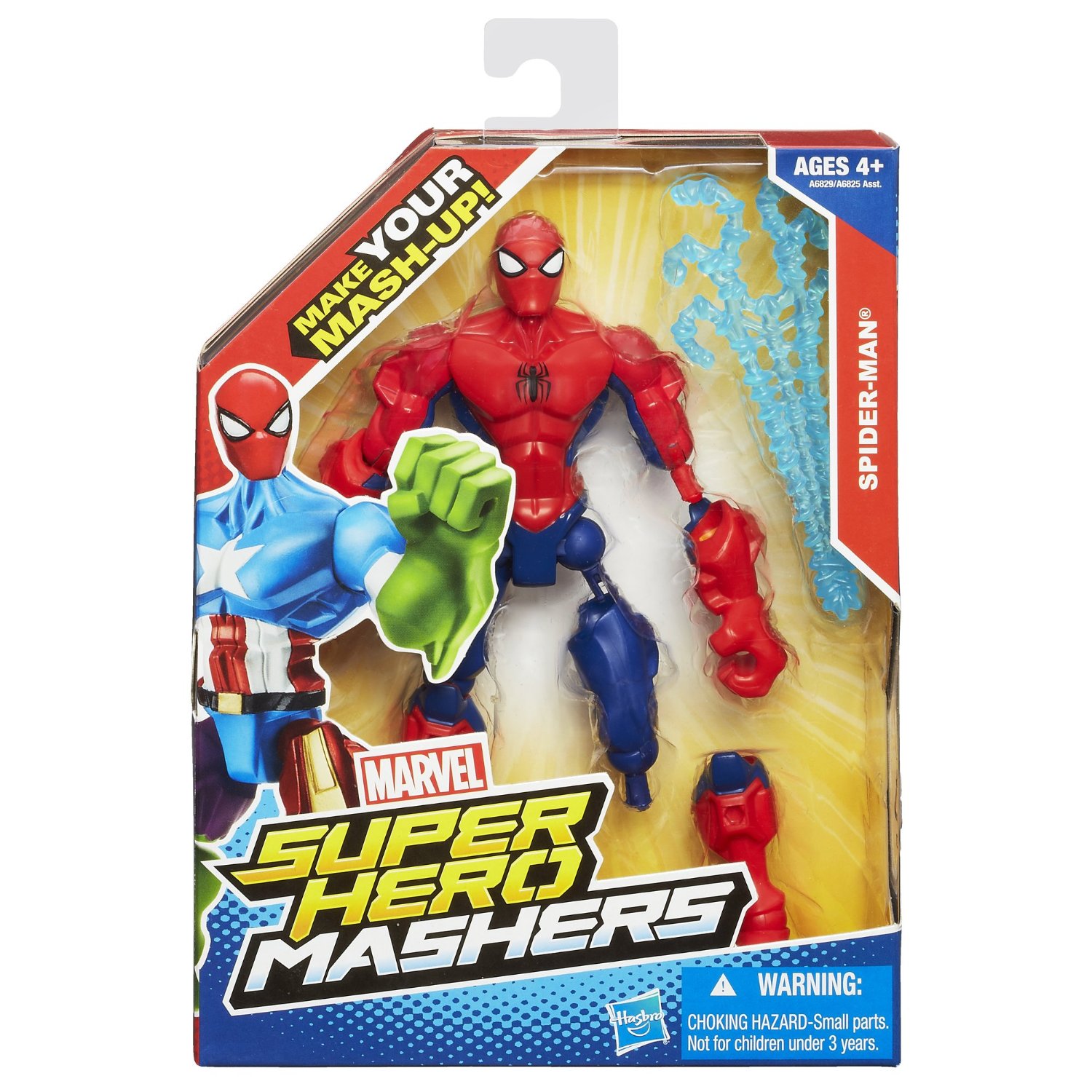 If you're looking for more Spiderman figures between $5 and $10, this one is also worth a look. The coolest thing about this figure is that you can freely change its part with other figures from the Super Hero Mashers series. Want Captain America in Spidey's suits, or Spiderman with Thor's hammer? You got it! It's really great for kids who like experimenting.
Playskool Heroes Marvel Spiderman Adventures Figure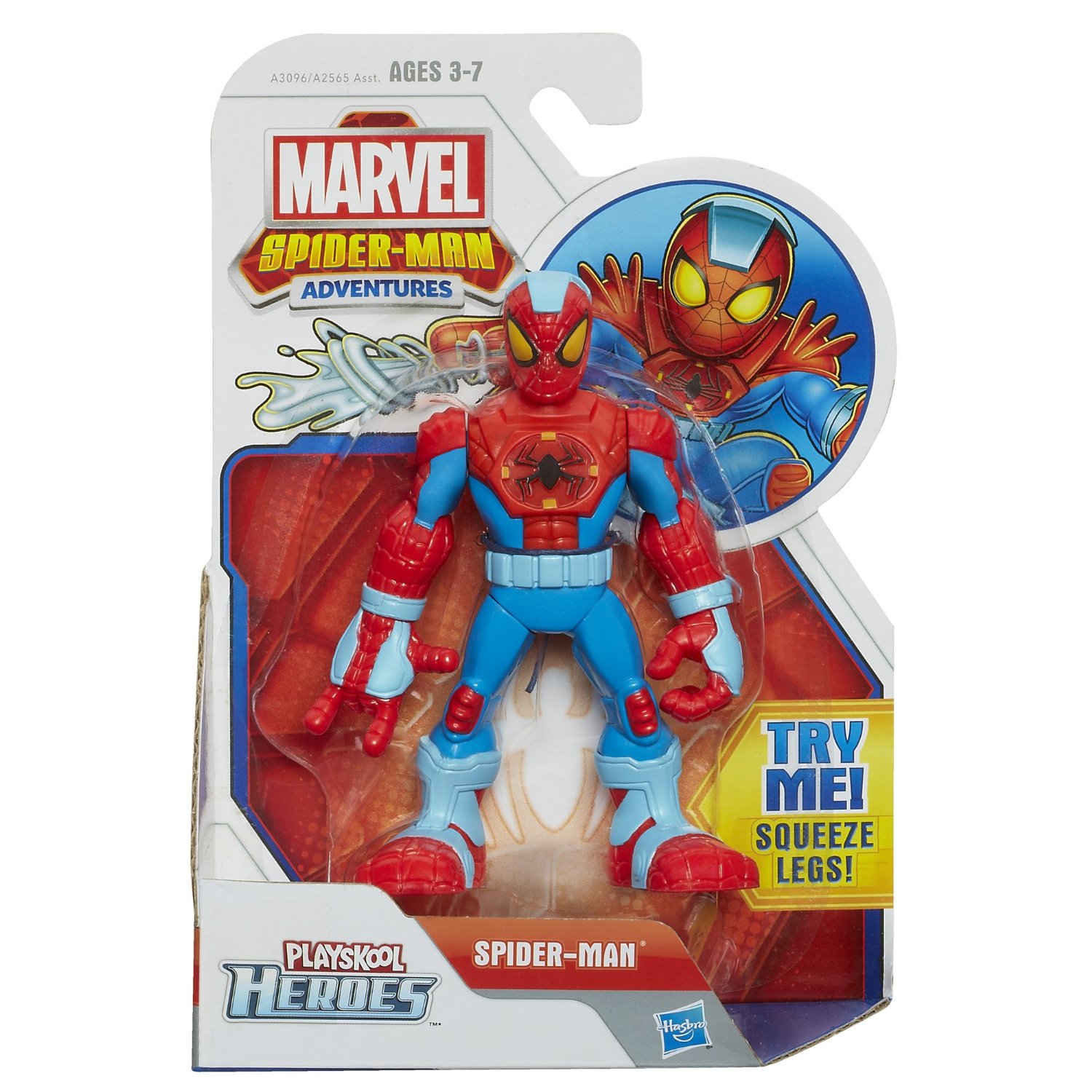 Here's another cool Spiderman toy, which is sized for kids with little hands. Playskool's Spiderman figure has a really cool design, and a few nice features as well. If the kids squeeze its legs, the figure's hand goes up like, so it looks like Spidey is shooting webs. If your child has any Action Gear figures, here's some extra good news for you: this Spiderman figure is compatible with accessories from other Action Gear toys.
Spiderman Toys between $10 and $20
The Amazing Spider-Man 2 Motorized Spider Force Web Blaster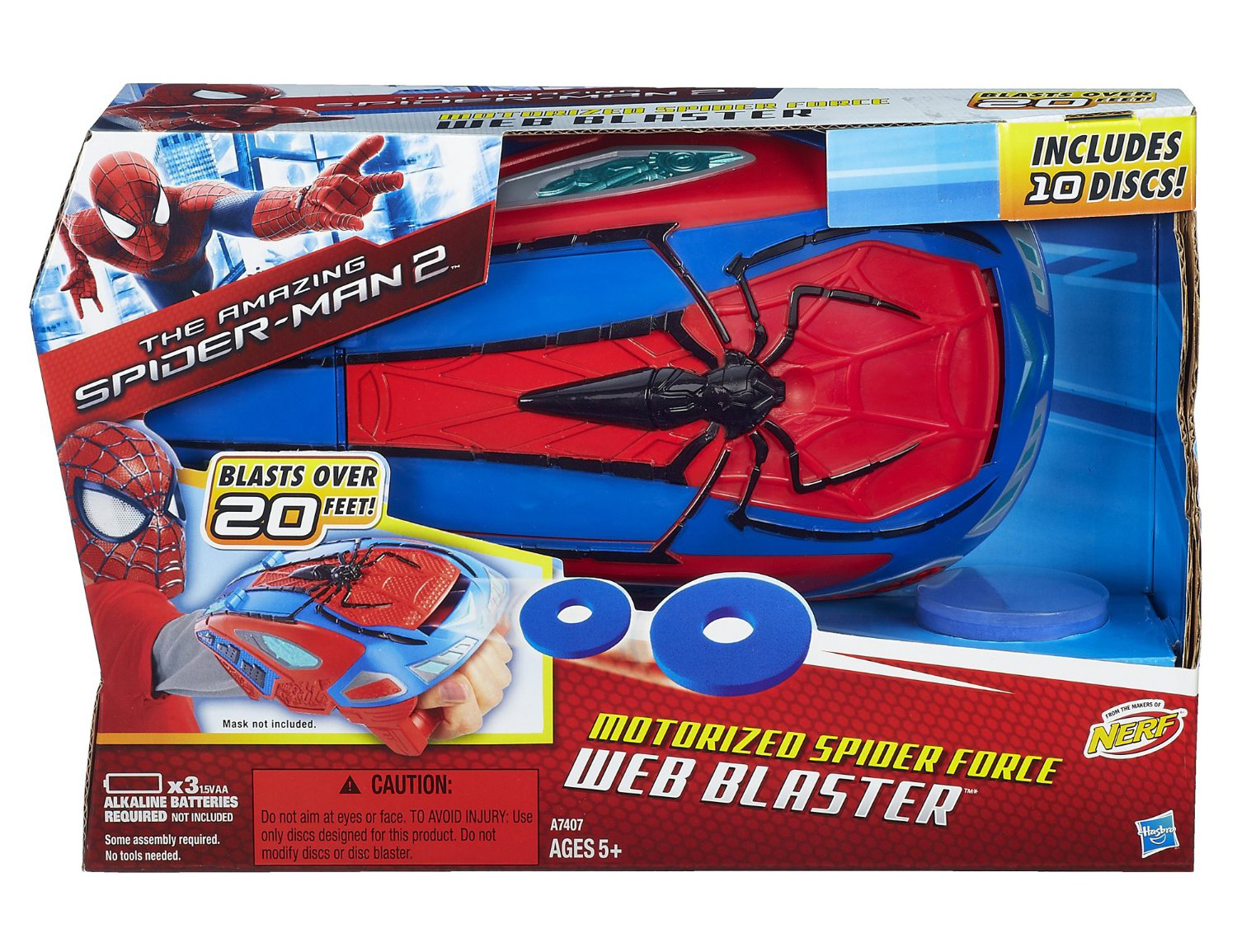 Have your child ever wanted to shoot webs like Spiderman? With these force web blaster, he can finally do it. It's really easy to attach to the wrist, so the fun begins right after the unboxing. The blaster also has its own storage, so you can load the disc in advanced, and just shoot one after the another. It comes with 10 discs, and it blasts over 20 feet, which is pretty impressive for a toy like this.
The Amazing Spider-Man Zoom N Go Spider Cycle Vehicle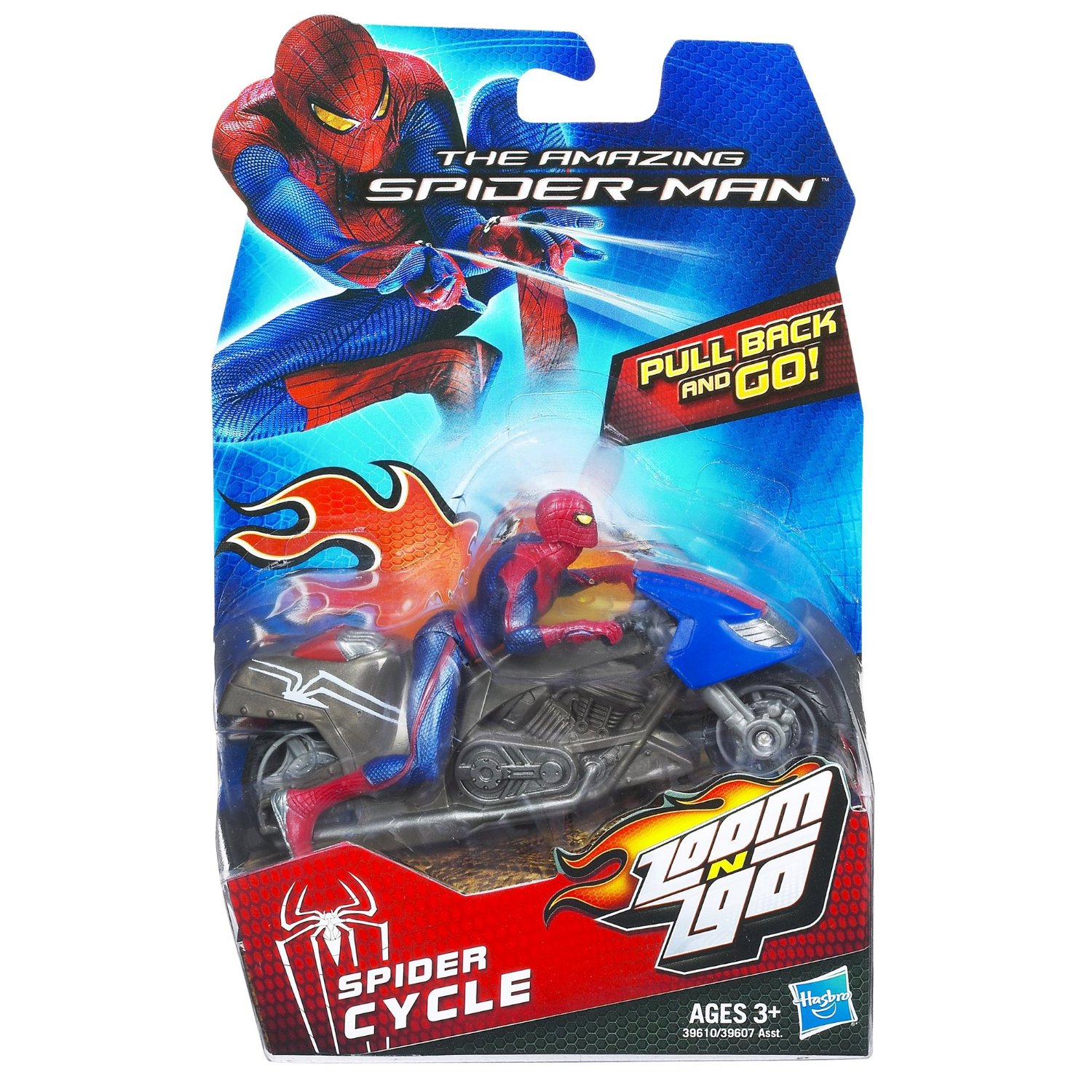 Spiderman with a bike? If you think your kid will love this combination (and why wouldn't he?), here is a perfect gift idea. Now Spiderman can chase criminals even on two wheels, so it got even harder for them to escape. The set includes a Spiderman figure and the Zoom N Go Spider Cycle Vehicle, but the children can also use other figures. The color of the bike matches Spidey's costume, so they look great together.
Web-Slinging Spider-Man Figure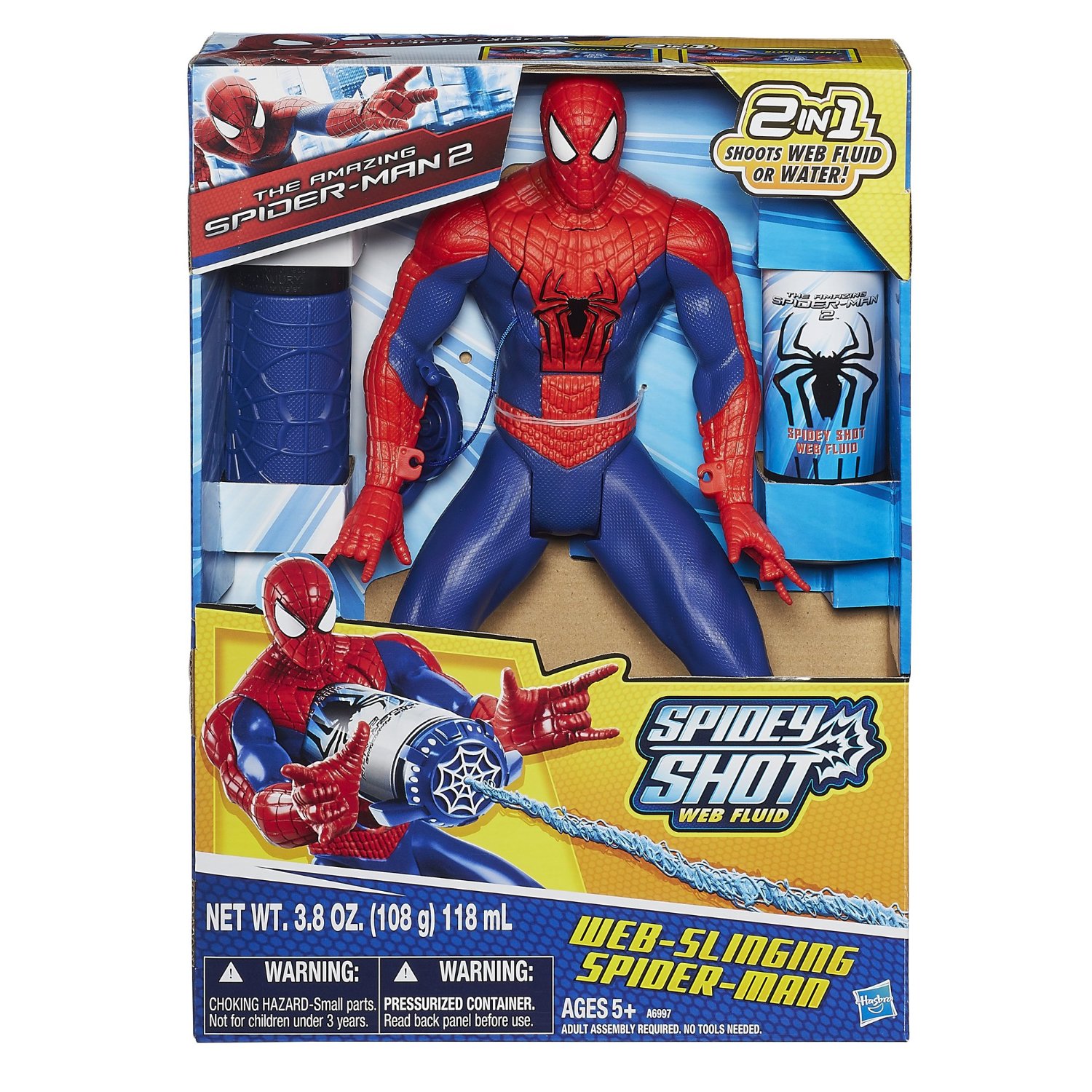 When the regular web shooters simply aren't enough to fight bad guys, it's time for some extra force! This time Spidey equips a new, bigger gadget, which fires webs. The set includes a quite big, cool-looking Spiderman figure, and a can of web fluid for the blaster gadget. After the web fluid runs out, the blaster can be refilled easily with water, so the kids can continue shooting with it.
LEGO Super Heroes Spider-Cycle Chase 76004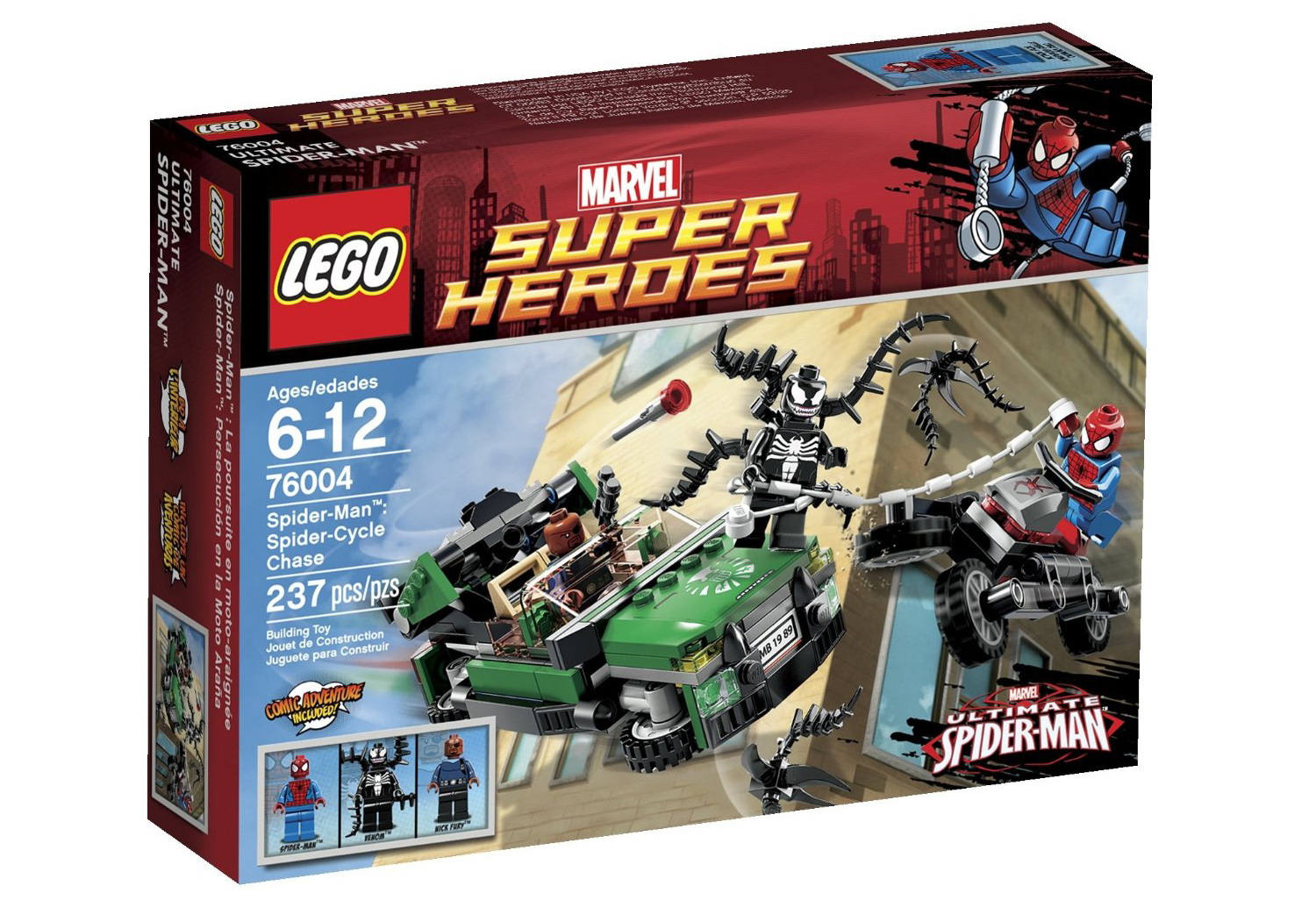 Which kid doesn't love LEGO? WE don't know anyone, and if a LEGO set is Spiderman-themed, then it's even better! The Spider-Cycle Chase set features various minifigures, including Spiderman himself, Venom and Nick Fury with a gun. However, the coolest part of the package is the green S.H.I.E.L.D. flying car, which has folding wheels and hidden flick missile. The set contains 237 LEGO pieces.
Titan Hero Series Spiderman Figure with Web Copter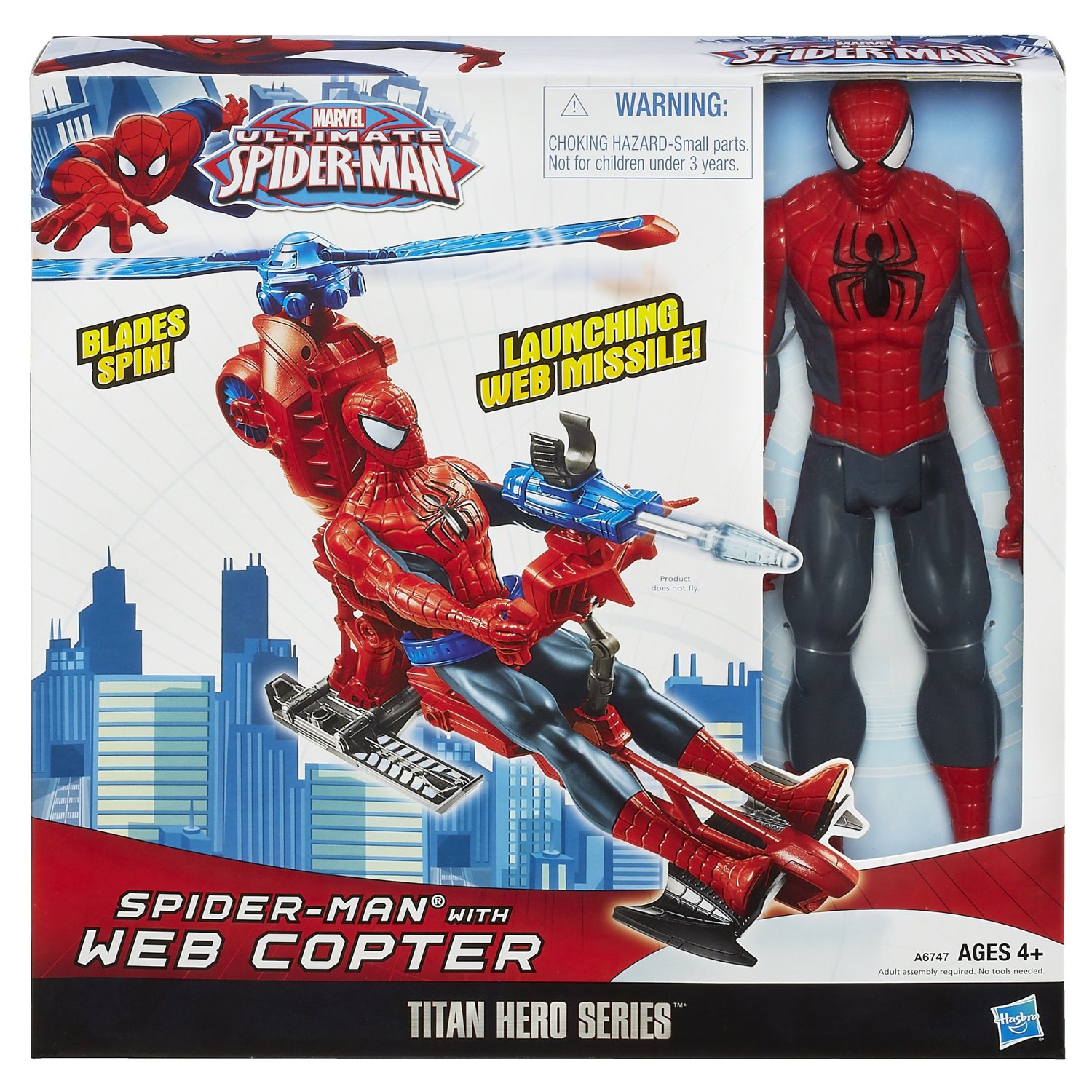 Thanks to his abilites, Spiderman never had any problem with getting on top of Skyscrapers, but with this set, he can even fly! Beside the 12 inches tall Spiderman figure, the set even has special Web Copter. Of course, Spidey fits in it perfectly, so it become even easier for him to stay in the air. In case of trouble, the Web Copter is armed with a web missile launcher too, which attaches to the figure's arm.
Spiderman Toys between $20 and $30
Spiderman Rapid-Fire Web Shooter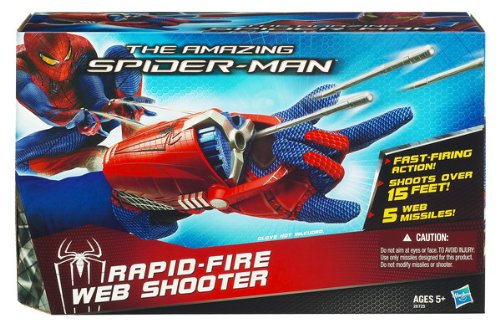 Which Spiderman fan wouldn't want to shoot webs like Spidey, right? WE know we want, and if your child is the same like us, then take a look at this great gift idea. With this attachable blaster, the kids can shoot webs in rapid-fire mode, so they don't have to reload it after each shot. It's pretty satisfying, not to mention it shoots 15 feet!
Marvel Ultimate Spider-Man S.H.I.E.L.D. Battle Racer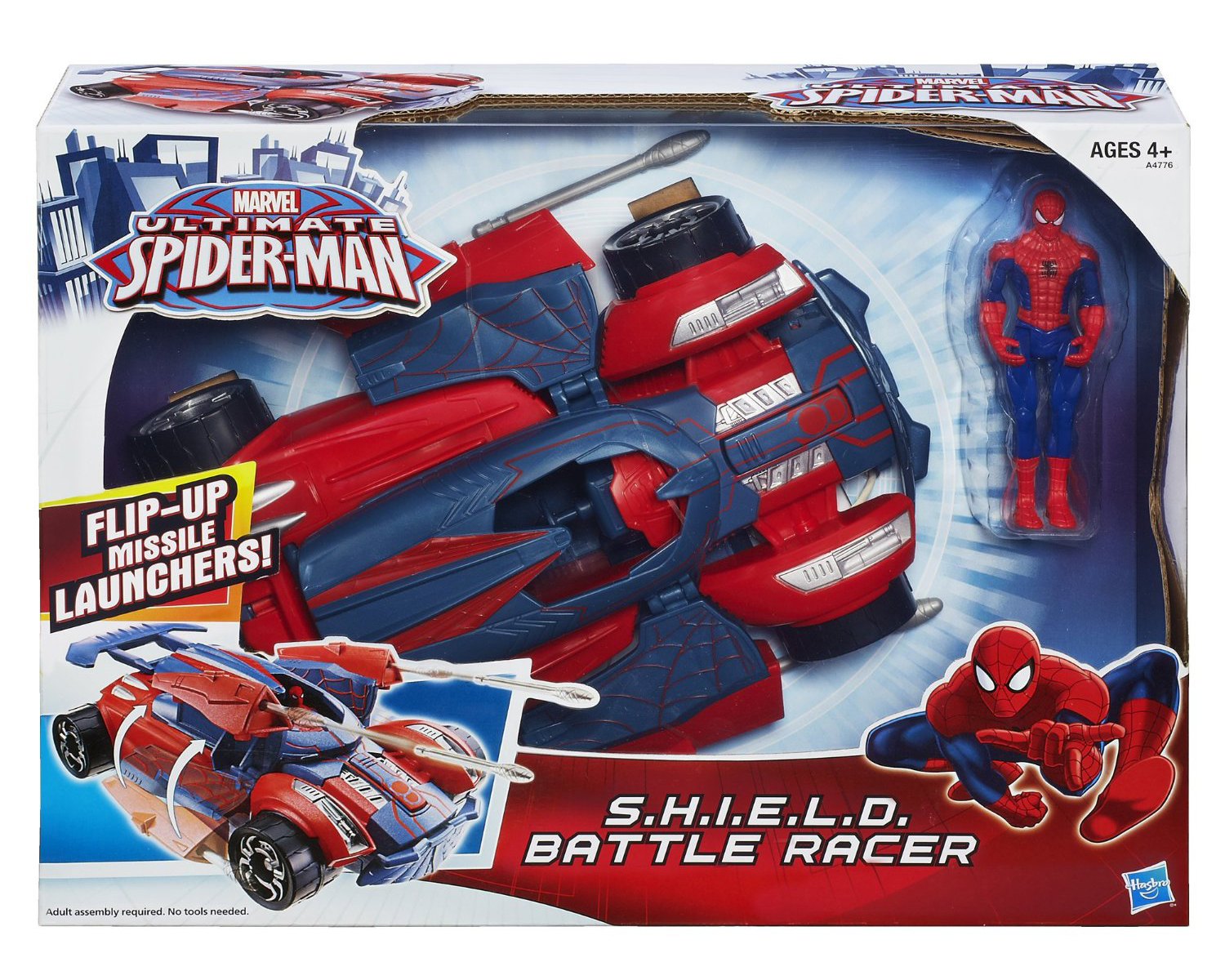 Hey bad guys, just try to run away from this bad boy! The set comes with its own Spiderman toy, but the main attraction is the cool looking battle racer, which is equipped for the sole purpose of fighting against crime. You can put the Spidey figure in the cockpit, but that's not the best thing about it: the battle racer has flip-up missile launchers on both sides. Of course, the set even includes two rockets for the launchers.
Marvel Avengers All Star 6 Inch Action Figure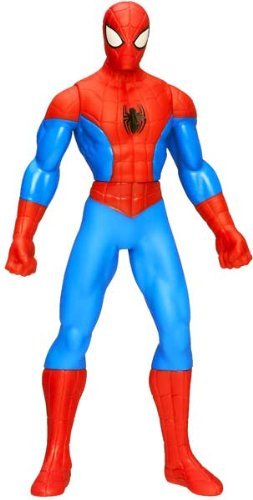 If you are looking just for a Spiderman figure without any added extras, here's a great one for $21. It has the basic Spiderman design which most people know and love. It's an officially licensed product with moveable arms and upper body. It's 6 inches high: while not the biggest one out there, it's really ideal for playing.
The Amazing Spiderman Zoom n Go Turbo Cruiser Vehicle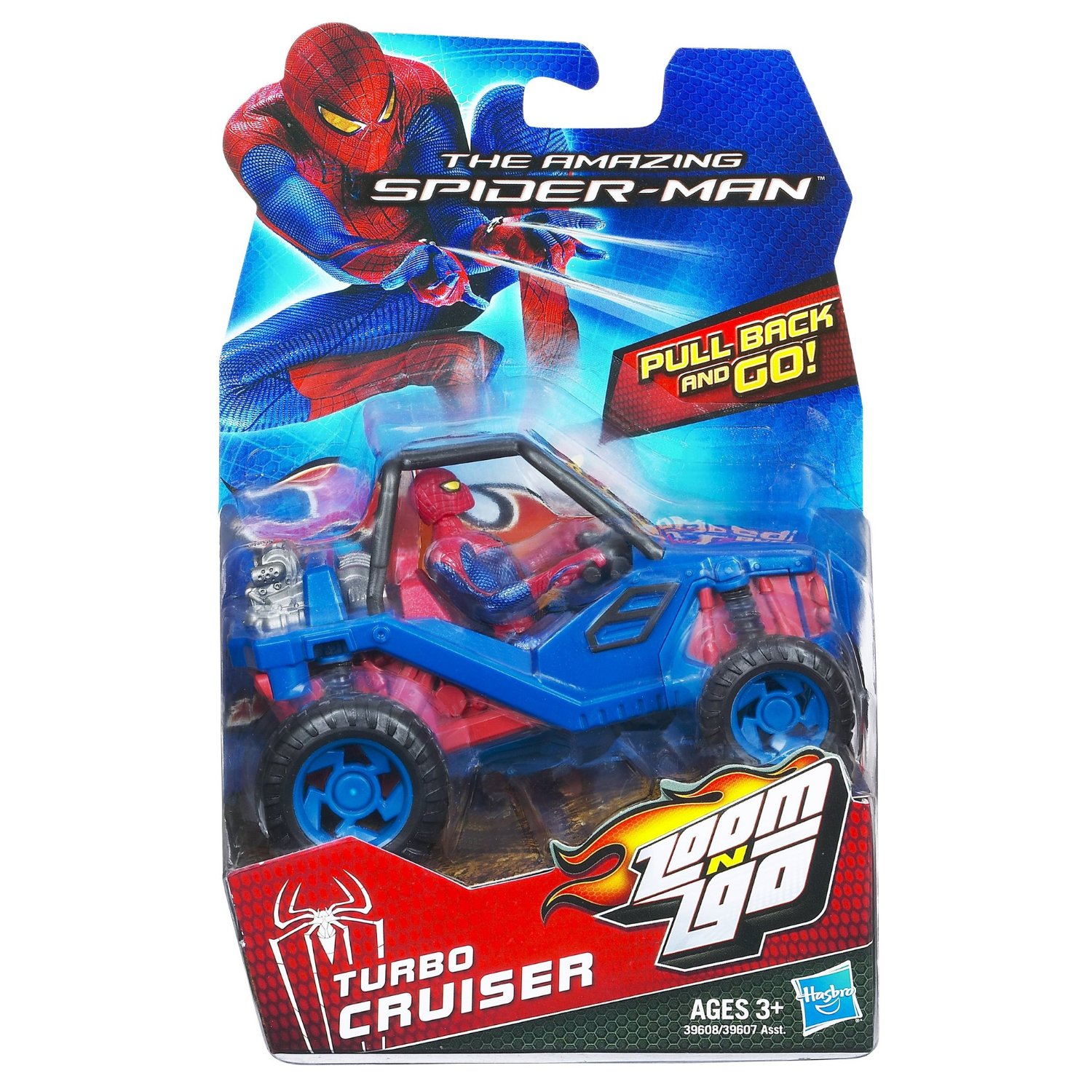 Spiderman with vehicles is a rather popular thing when it comes to Spiderman toys. Here's another great example of that phenomenon, which features a Spidey figure and a buggy-like car called the "Turbo Cruiser". With the help of this machine, Spiderman can easily race after his enemies, so they don't have the slightest chance to escape. The vehicle comes in blue and red, so it perfectly matches Spiderman's costume.
Spiderman Toys between $30 and $40
Marvel Universe Series 4 Future Foundation Spiderman Figure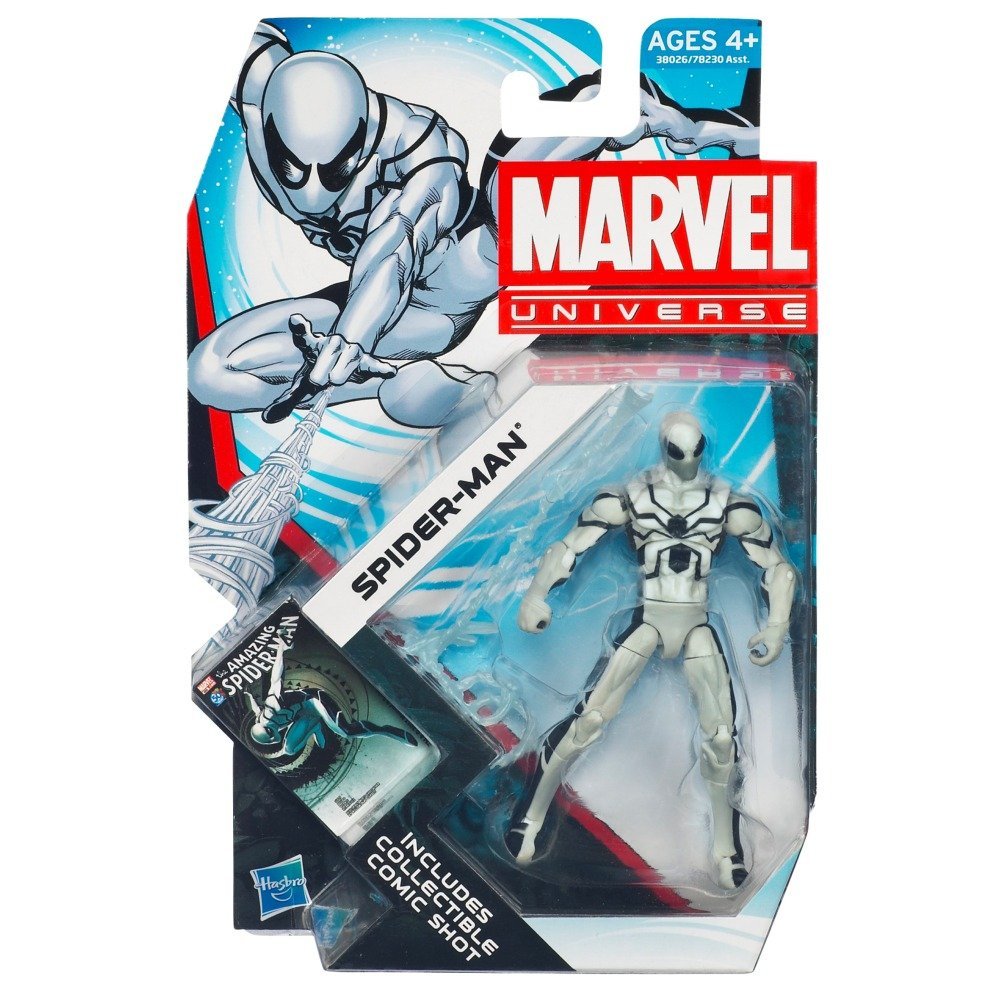 As the prices are going up, more unique Spiderman toys appear. For one, here is an extraordinary, white Spiderman figure, which comes straight from the future! In the comics, this Spiderman costume can never get dirty, since it's made of "Unstable Molecules", which prevents smudge from getting on the outfit (a dream of every mom). This is definitely a cool idea for kids who want a bit more unique Spidey toy, which is different from the average versions.
Unmasked Spiderman Action Figure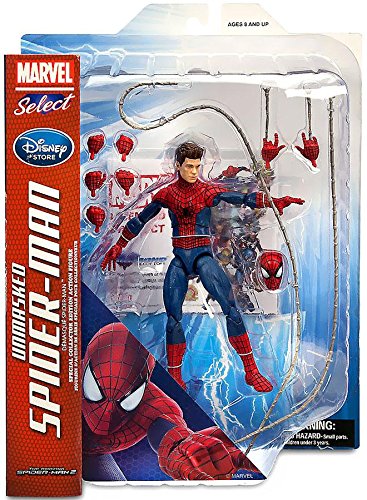 This detailed figure is fully poseable, and this is not the only cool thing about it. It comes with an unmasked Spiderman figure with likeness to actor Andrew Garfield, who played Spidey in the Amazing Spider-Man movies. However, the kids can instantly put a mask on him if they want, since the set even includes a masked Spiderman head, and changable body parts as well.
LEGO Super Heroes Daily Bugle Showdown 76005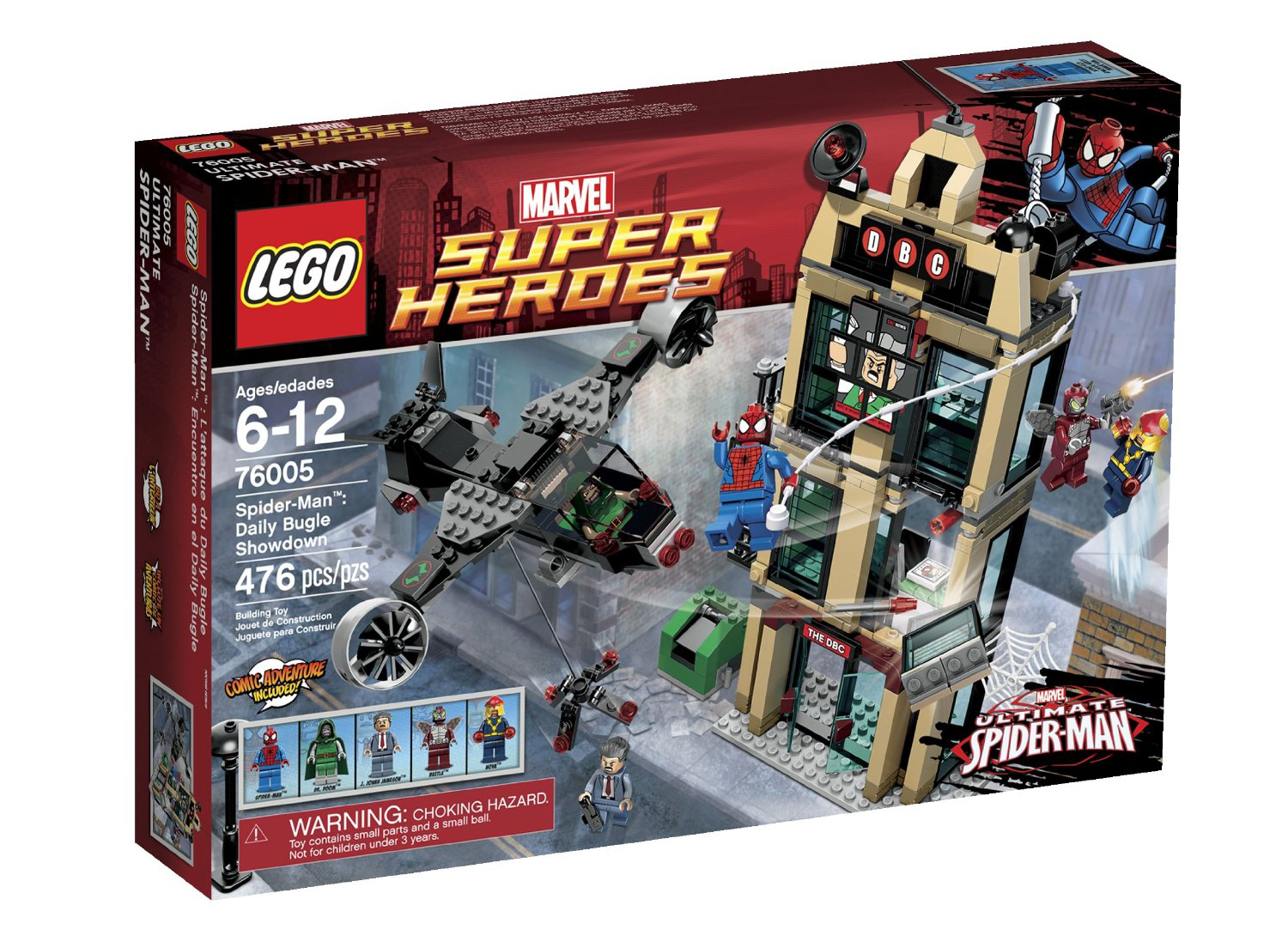 It would be a shame to leave out LEGOs from this guide, because there are tons of great Spiderman sets. One great example is the Daily Bugle Showdown from the LEGO Super Heroes series, which features 5 minifigures: Spiderman, Dr. Doom, Beetle, J. Jonah Jameson and Nova. However, it has a lot of other great things as well, like the Daily Bugle tower with rooftop trapdoor, sign and window explosion functions. When the kids finished it, they can build Dr. Doom's jet as well, which has an opening cockpit, anchor hook line and dual flick missiles. This is a great set for children who loves building, but easily gets bored if there is only one huge thing to build.
Spiderman Toys between $40 and $50
The Amazing Motorized Web Shooting SpiderMan Figure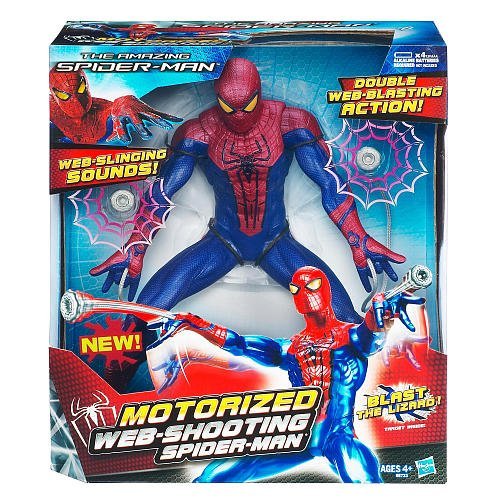 This is a very good-looking Spiderman figure, which even comes with a few extras, so it's great for playing. It has motorized web shooters in bot of his hands: in order to use them, the kids just have to flip the power switch on Spidey's back, and use the left and right buttons to shoot. One great little addition is that Spiderman moves his head when it shoots. The webs instantly go back to Spiderman hands, so the kids don't have to worry about running out of ammo or buying new webs.
Spider-Man Vs. Villains Showdown Pack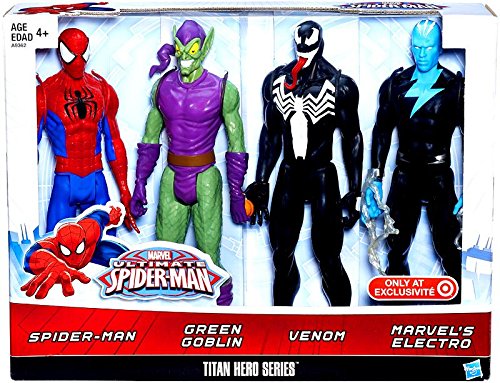 Although Spiderman is our favorite, WE have to admit: he needs villains, otherwise things would get boring really fast. And not just any kinds of villains, but really interesting and dangerous ones who can give Spidey a challenge. In this set, Spiderman is not alone: three of his biggest enemies, Venom, Green Goblin and Electro joined to make things more interesting. It's the perfect package for kids who want to experience an exciting fight between Peter Parker and the scariest bad guys. It's a much faster way to collect Spiderman toys, since the Showdown Pack has 4 figures.
The Amazing Spiderman 2 Prestige Boys Costume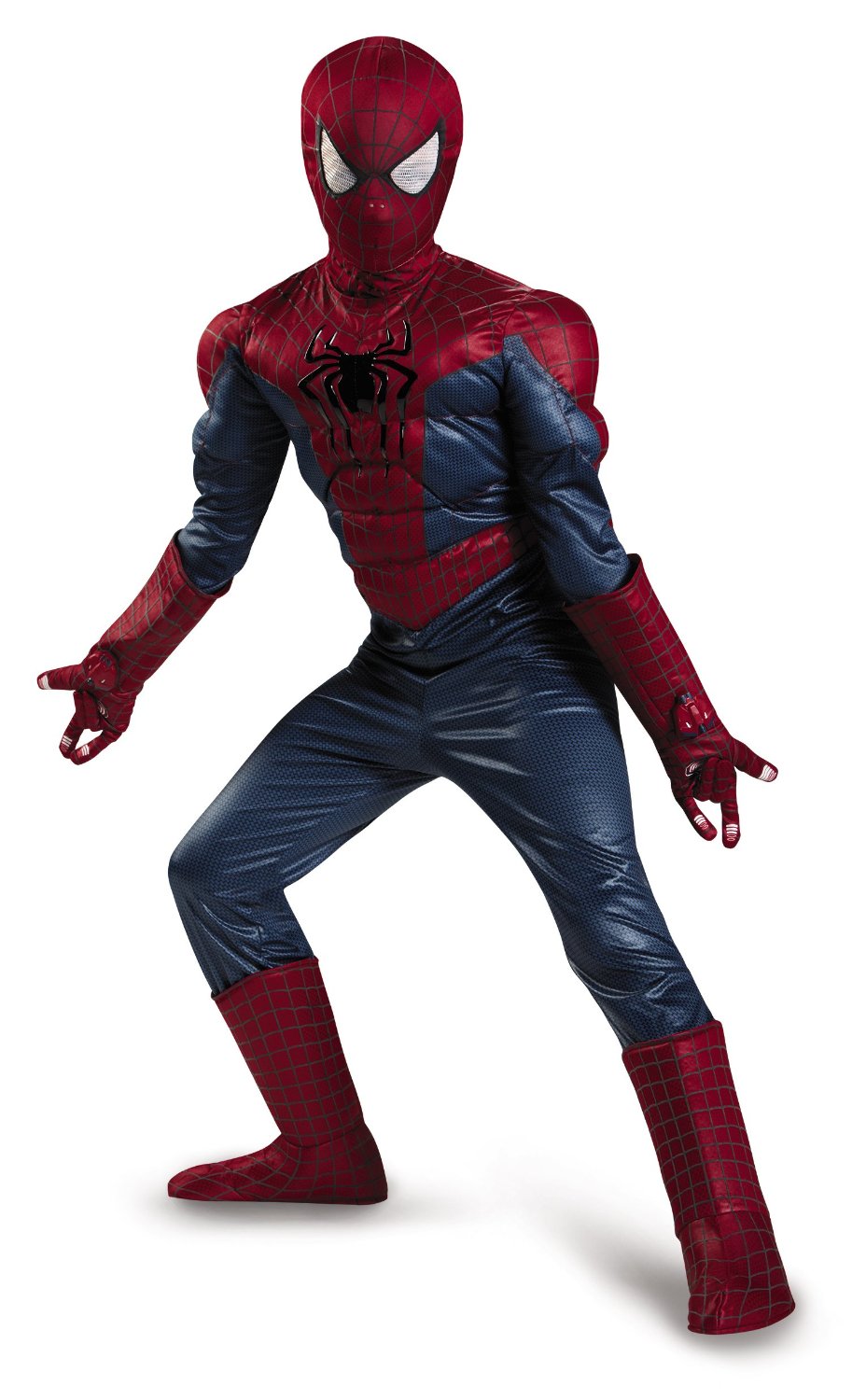 WE think it's time for us to show a full Spiderman costume, which is ideal for Halloween or times when the kids are roleplaying. With this polyester costume the children can really feel like they are Spidey himself. The design is based on the "Amazing Spider-Man 2" movie, so it has a bit darker colors, which gives the outfit a more serious feeling. This is an an official Marvel licensed costume, so if you are looking for a Spiderman outfit between $40 and $50, it's a great choice.
Which are your favorite Spiderman toys and why? We would love to hear your opinion, so tell us in the comments!