34. DC Collectibles The Dark Knight Returns: Superman Vs. Batman Collectible
While it's not exclusively a Batman statue, this collectible really deserves your attention if you like Frank Miller's classic, The Dark Knight Returns. Featuring Frank Miller's Batman and Superman, this statue depicts the epic battle between the two heroes. Fortunately, the character designs stay true to the original work, which makes this collectible really valuable for the fans of the comic. It was sculpted by Derek Miller and the statue is approximately 11 inches tall. However, it isn't exactly cheap: currently you can get it from amazon for a whopping $309. While there are definitely more expensive statues out there, this one is really pricey.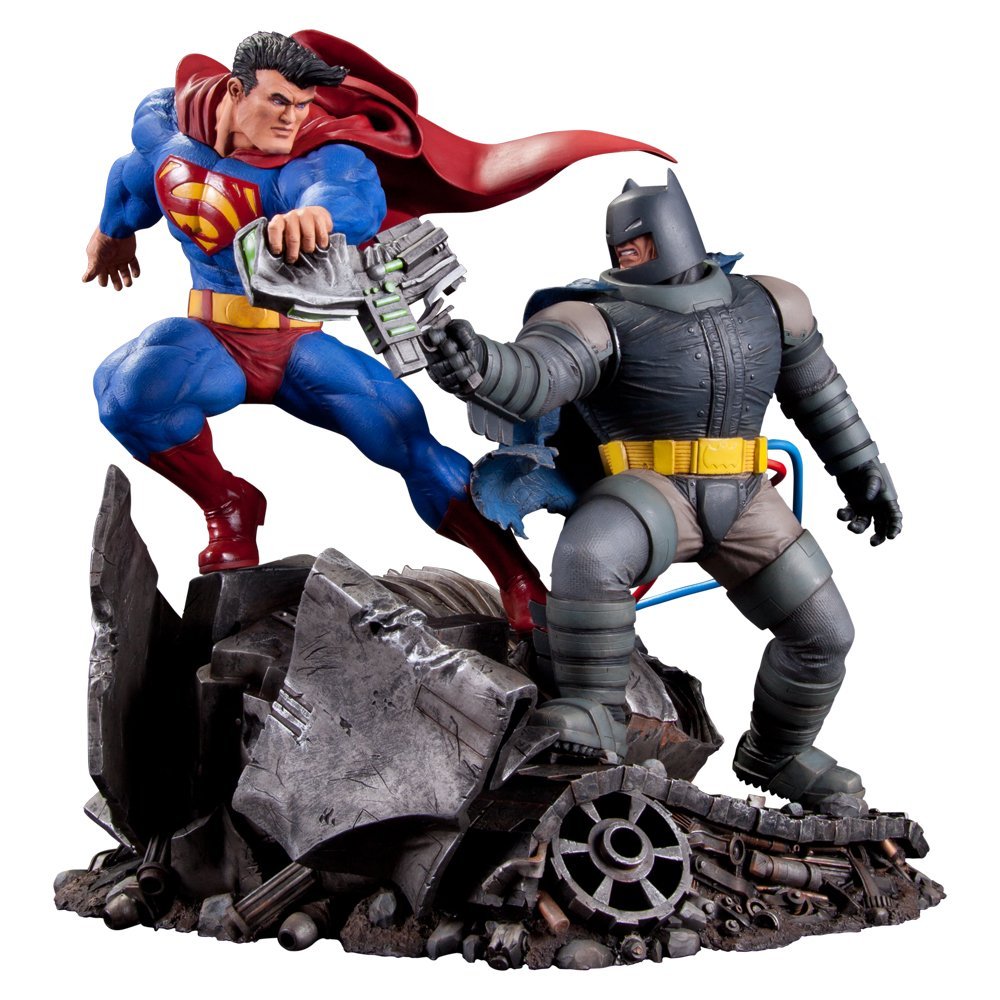 35. DC Collectibles Black and White: Second Edition Batman Statue by Greg Capullo
If you like the Batman comics more than the movies, here's a great Batman statue for you from the Black and White series, based on the artwork of Greg Capullo. This 5.75 inches tall, limited edition figure was sculpted by the talented Jonathan Matthews. The statue depicts a very comic-booky Batman but it's not too far fetched from reality. It's a good middle road for those who want a more classic Batman collectible but don't like the designs from the movies. This Batman statue will be released on October 14, 2015, so you still have some time to decide if you want it or not. However, as we mentioned before, this collectible will be limited, so if you want it, make sure you pre-order it from Amazon for $83.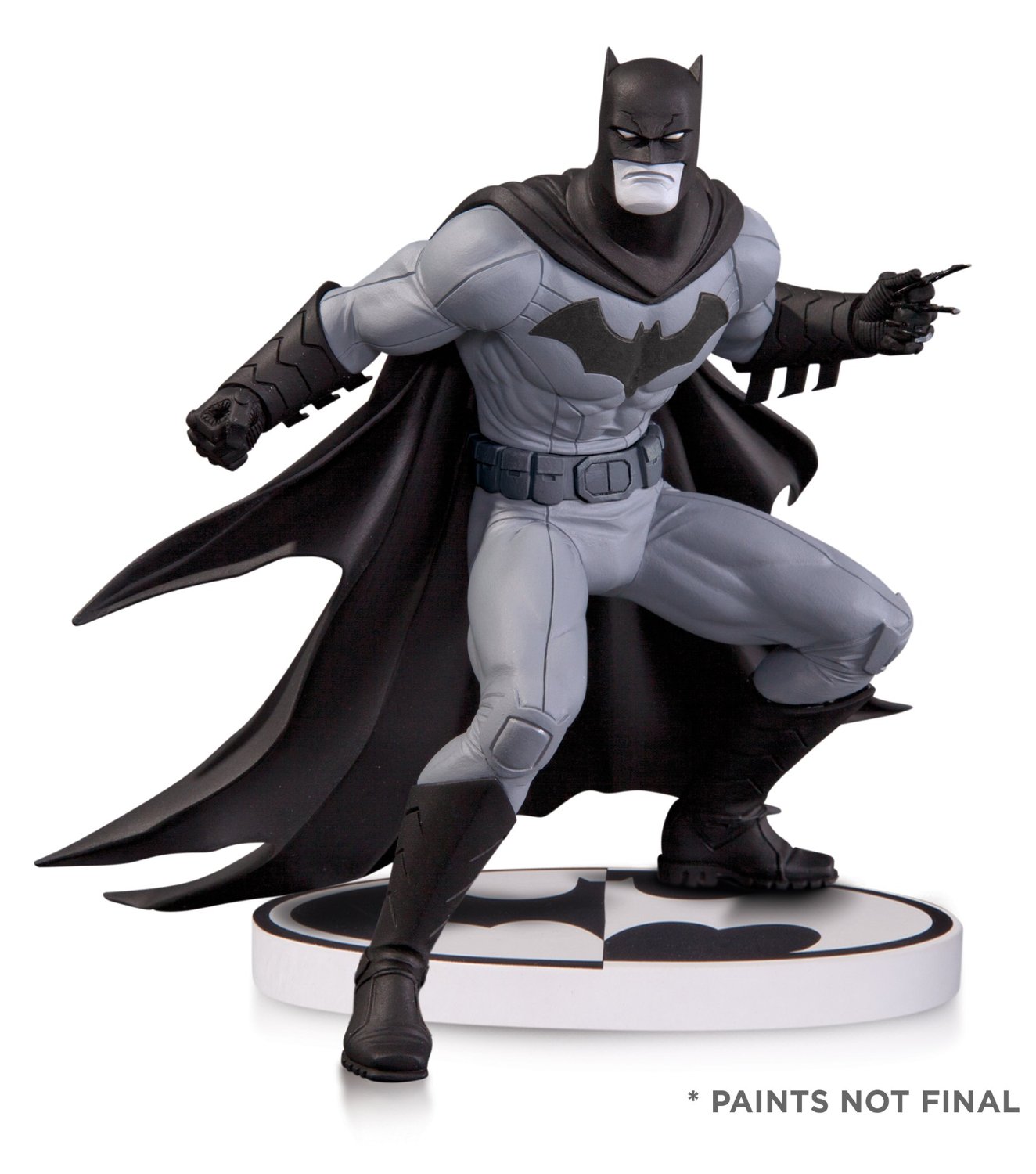 36. Taito DC Comics Batman High Stage Figure
This officially licensed Taito Batman statue is 6 inches tall, so it's definitely not the biggest collectible out there. However, it's still a great figure, especially if you like the blue cape and black suit combination on the Dark Knight. Made of high quality PVC, this Batman statue even has a stand with a cool looking gargoyle. As the Dark Knight rests one of his legs against it, it really captures the mood of the comics. This collectible is also a good choice for those who don't want to spend a lot of money, since it only costs $50 on Amazon.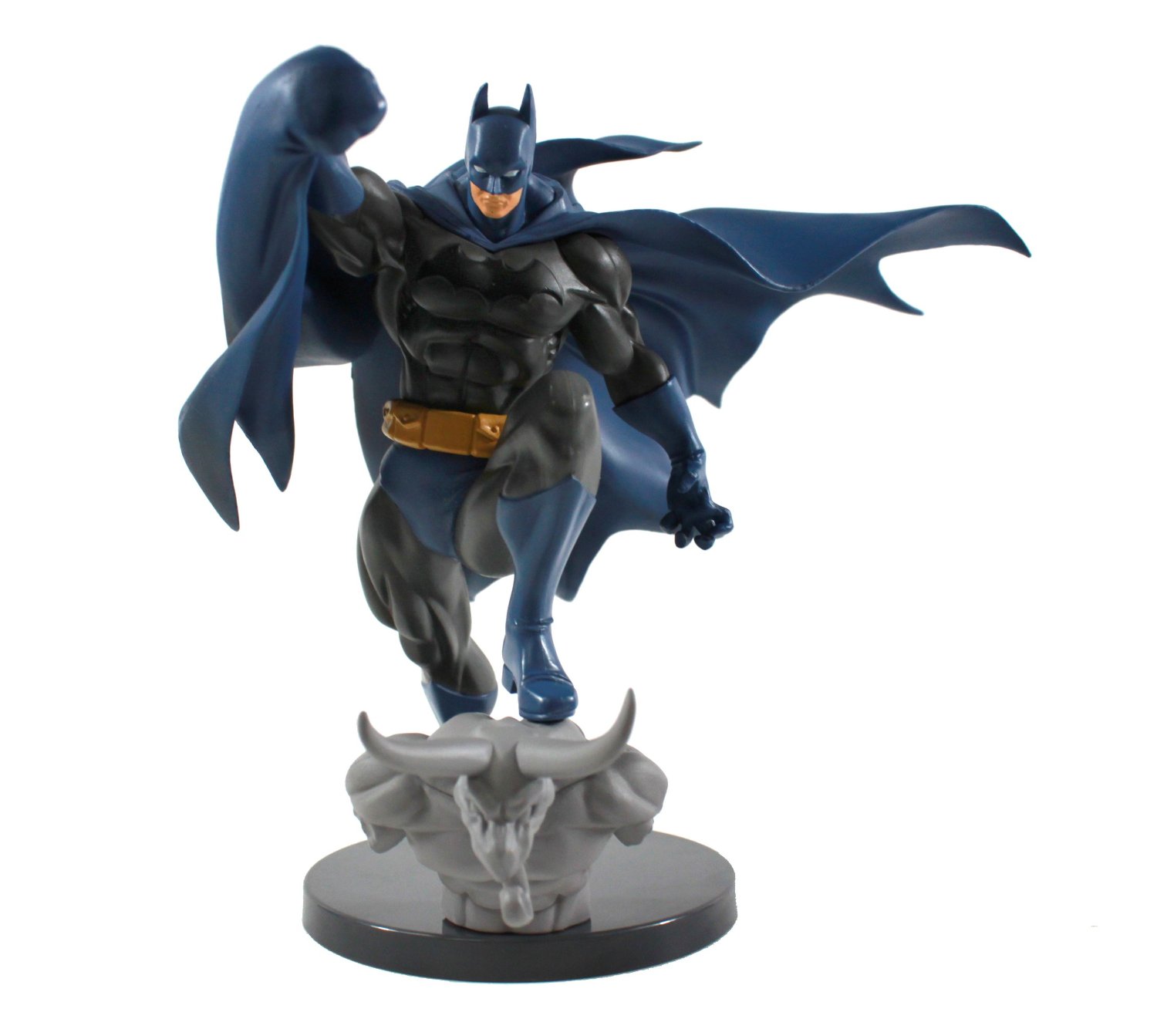 37. Black & White Batman Statue by Eduardo Risso
The Black & White series is easily one of our favorites, and for a good reason: while it's obviously not diverse in the color department, the statues itself are really unique. Each one has its own style and characteristics, despite the fact that all of them come in black and white. This Batman statue, which based on the design of Eduardo Risso, is not an exception. Not every Batman fan will like this collectible, but you can't deny the uniqueness of it. Batman is looking very intimidating and you can tell that this version is tougher and older. It's only available in limited quantities, but you can still get it for $67.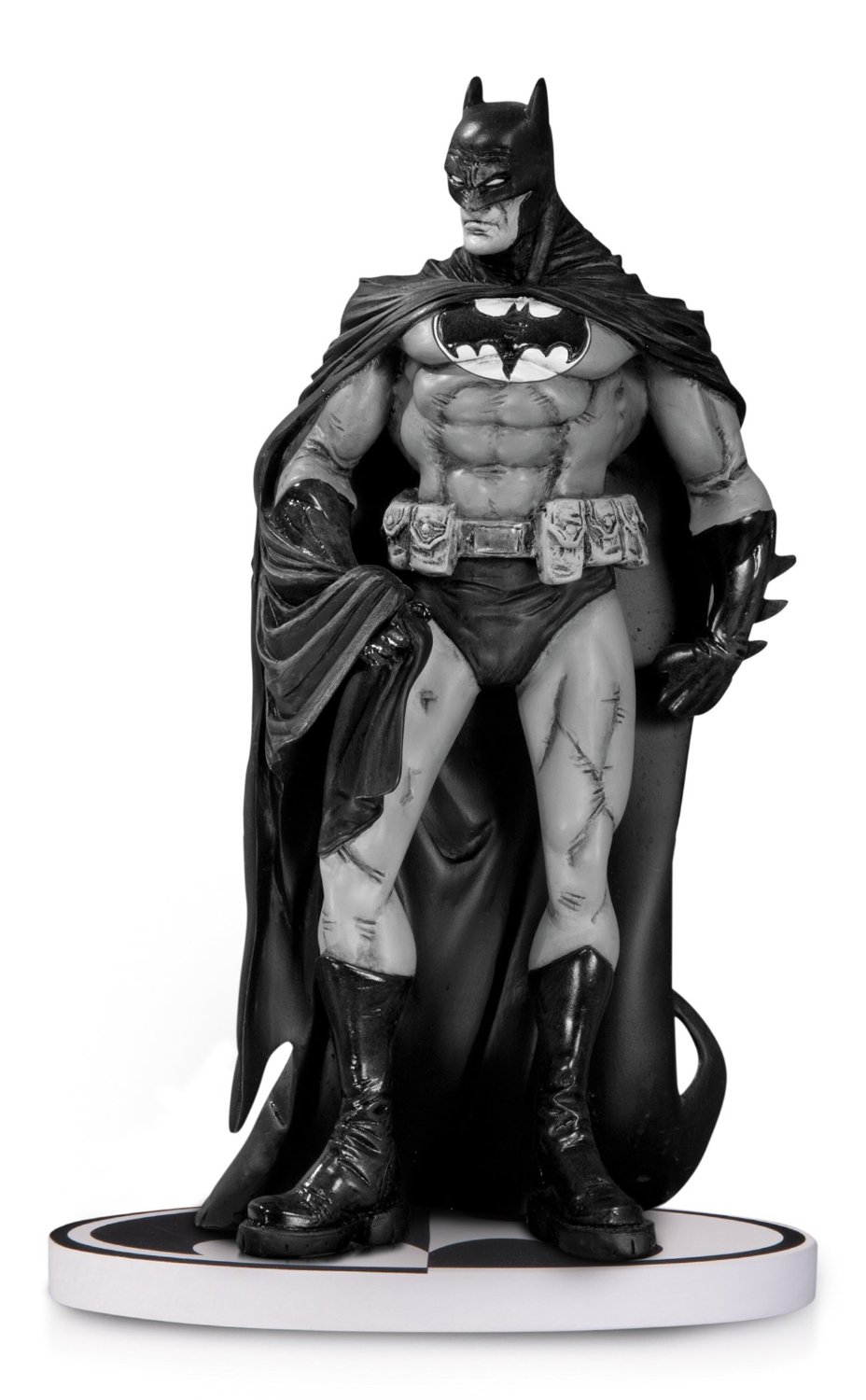 38. DC Collectibles Batman Metallic Mini Figure
WE love this Batman figure for two reasons: mainly because it's based on the art of Jim Lee, and the other reason is the classic pose. WE just can't get bored of Batman standing on top of a gargoyle statue. It's a scene that you can see many times in the comics and it captures the gothic feeling of the universe perfectly. Sculpted by Tim Bruckner, this Batman statue features a cool-looking, shiny metallic suit, black cape and the good old yellow utlity belt. Do you like it too? Get it while you can for $72.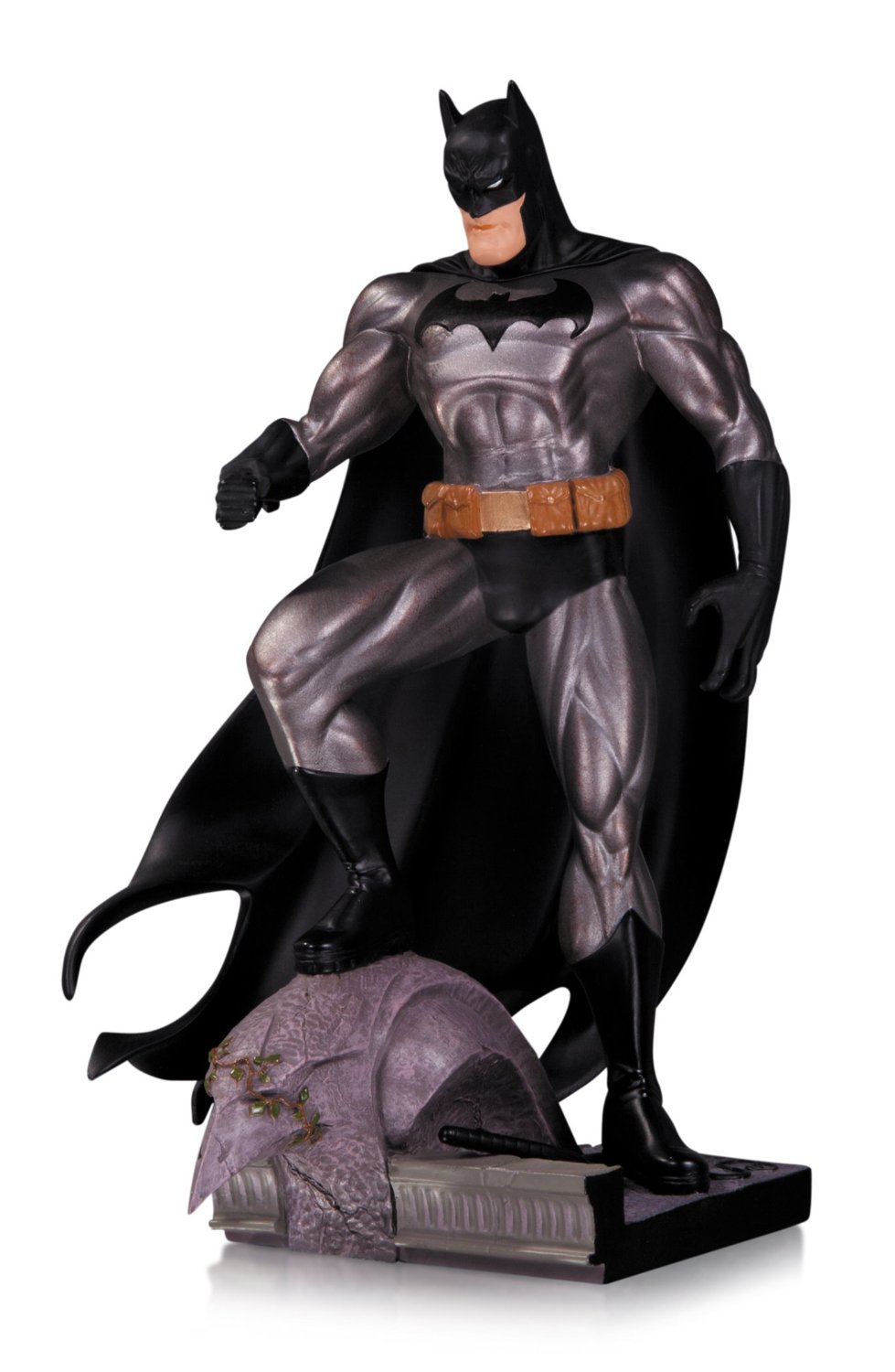 39. The Animated Series Batman Resin Bust Statue
Are you a fan of the Batman Animated Series? Then you will love this collectible which is a bit different from the rest of the statues in this post. As you can see, this is not a figure but a bust statue, which features the classic Batman from the cartoon series. Fortunately, it remains faithful to the show's distinctive style. Even though the Animated Series is more than 20 years old, this Batman design is still amazing. Batman had many amazing suits over the years, but nothing beats the good old grey and black combo with the yellow bat symbol. You can buy this 6 inches tall bust statue for $60.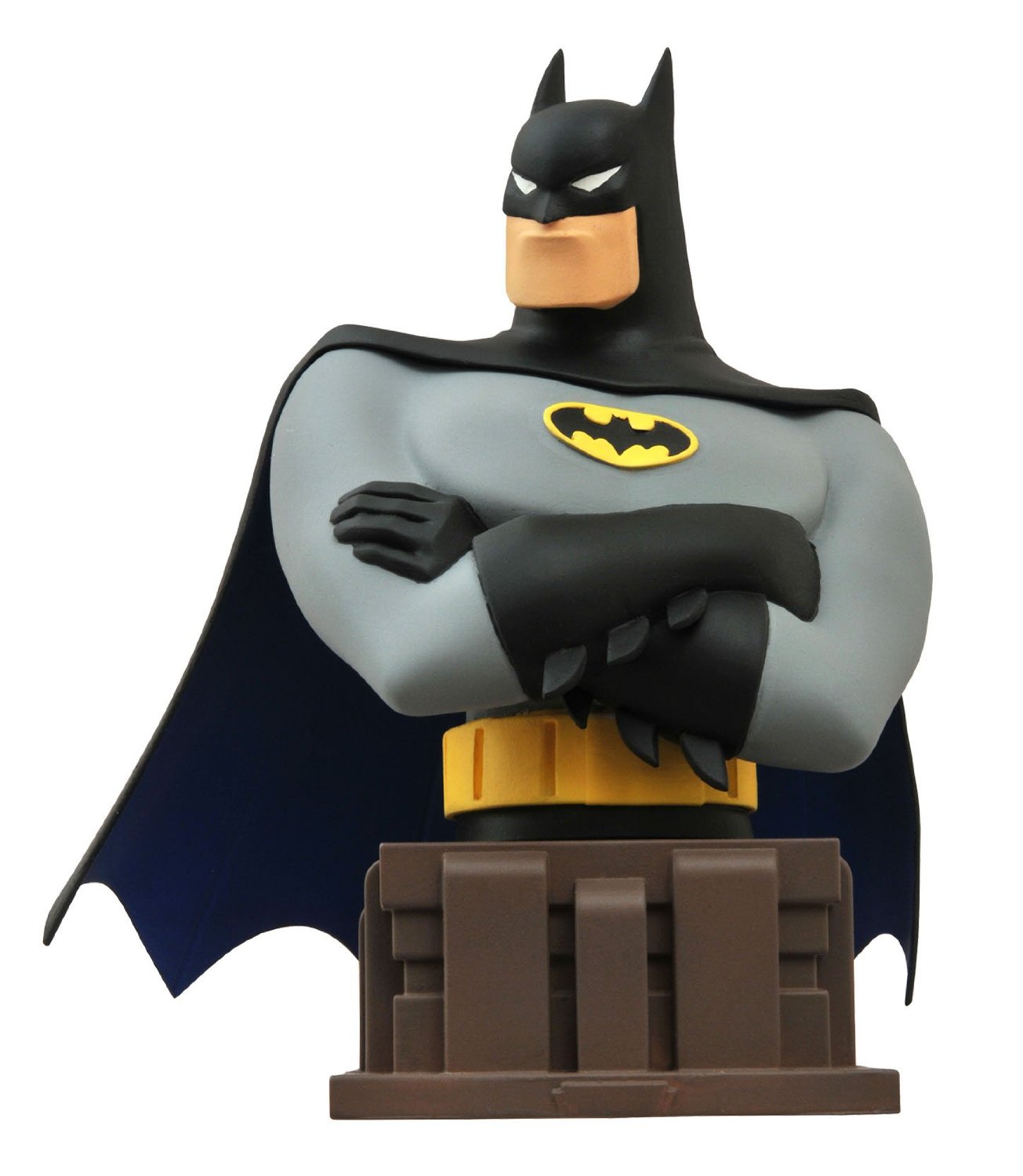 40. DC Collectibles Comics Icons: Batman Statue
Now let's check out a bit bigger, approximately 10 inches tall Batman statue which looks more modern, but it also resembles the classic design of the Dark Knight. While the statue itself is made of plastic, the sculptor, Gentle Giant Studios used cloth for the cape, which is a really cool addition that makes the statue more unique. Not a lot of Batman collectibles use materials other than plastic, and even when they do, they usually cost a lot more than most statues. However, this one has a pretty good price: you can get it for $74.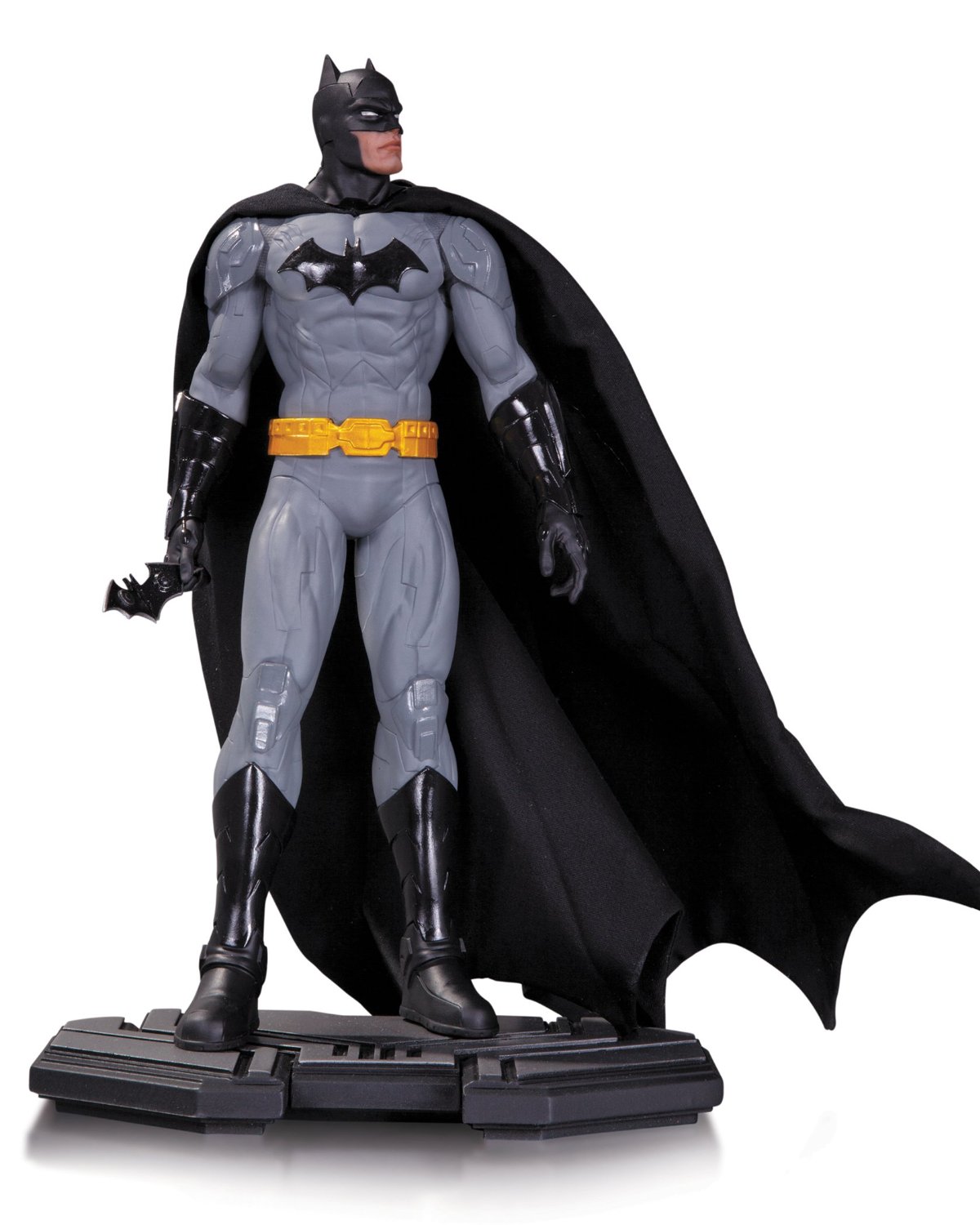 41. Bandai Tamashii Nations S.H.Figuarts Injustice Batman Figure
Batman has many different costumes over the years: some of them featured grey, blue and even yellow colors. However, nowadays you can see him mostly in black, and this statue is one of those versions. If you like the darker designs of Batman, this statue is definitely for you. It also features interchangeable hands and various gadgets like batarangs, grapple gun and bat grenades. The design is based on Injustice, the popular fighting game that features many heroes and villains from the DC Comics universe. You can currently get this Batman stature for $50.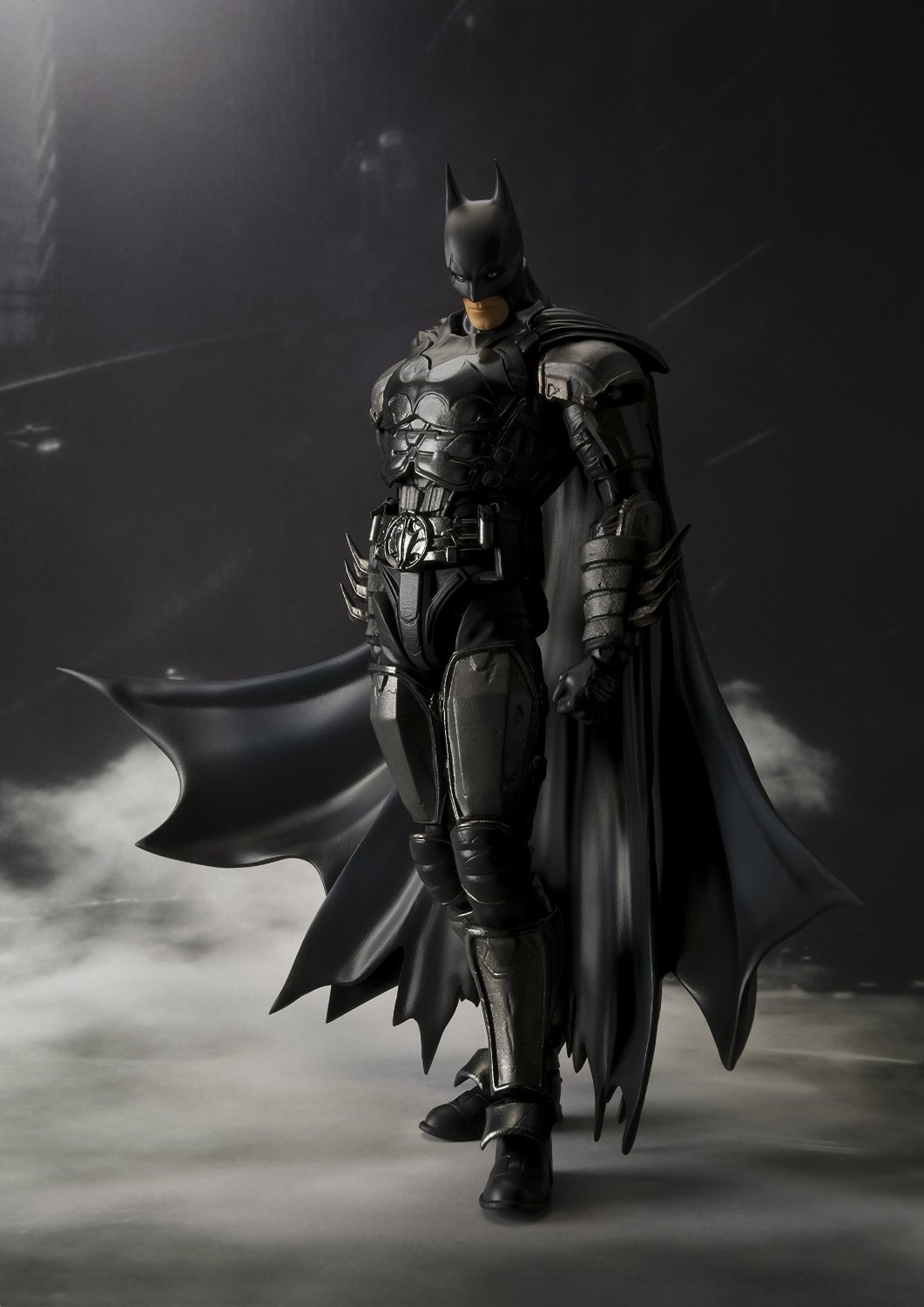 42. Batman: Dark Crusader Statue by Alex Ross
If you're into comics, you have probably heard of Alex Ross. He is a famous American artist who created several amazing designs for super heroes, including Batman. This Dark Crusader collectible is based on his artwork, which alone makes this item pretty cool and badass. Not only that, but it also captures Ross' style perfectly, which is not easy when you transition from 2D to 3D. It's a classic version of Batman which is no surprising, since the original artwork is from the 90s. Want to get your hands on this amazing statue? Get it while you can for $130.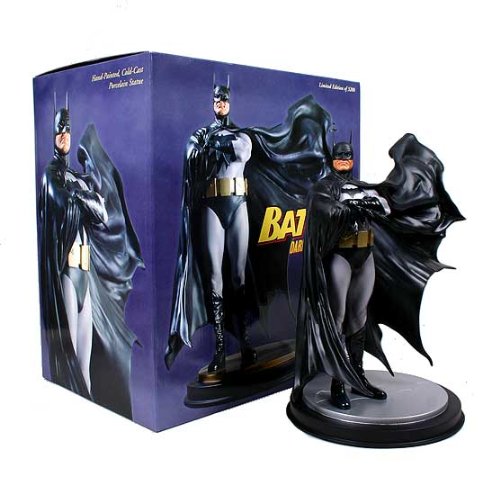 43. Black & White The New 52 Batman Statue by Jim Lee
Here is another great collectible from the amazing Black & White series. This time it's a much more modern version of Batman with various visual enhancements on his suit. The monochromatic color scheme goes really well with this "sci-fi like" design which is from The New 52 comics. The collectible looks alive thanks to its posture and cape: it's almost like the Batman is ready to leave the stand he's on. It definitely not the cheapest Batman statue out there with its $200 price tag, but it's worth it if you like the more modern versions of the Dark Knight.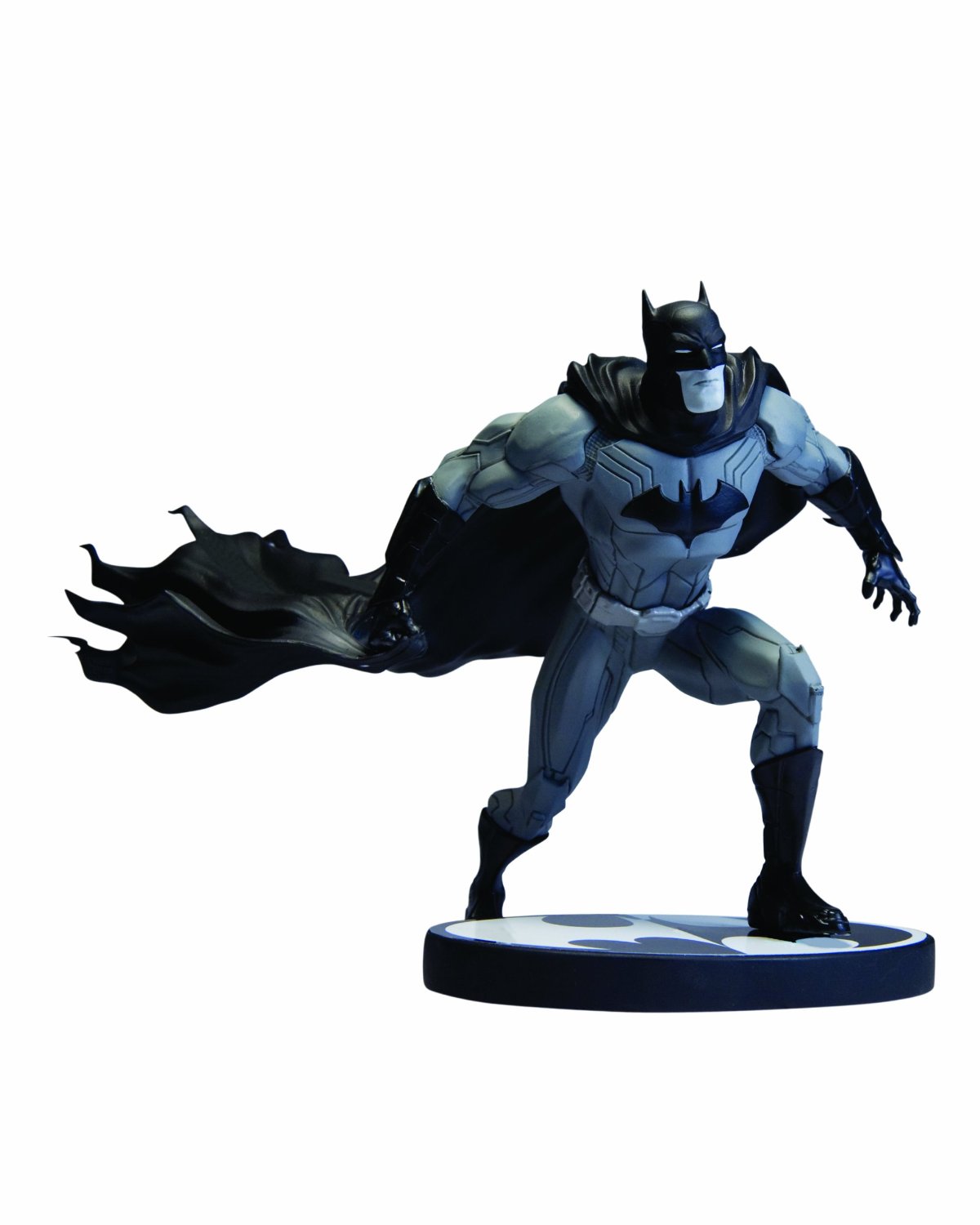 44. Eaglemoss DC Chess Figure: Bat Signal Batman
WE recently found this amazing collectible which quickly became one of our favorites. There isn't many Batman statues where you can see him sitting atop the bat signal lamp, so this alone makes this collectible pretty unique. The design of Batman is also great, featuring the classic grey suit, black cape and the yellow utility belt. It's a great addition to any Batman collection, and you also get a special magazine for collectors. If you really want to get this collectible, make sure your wallet is ready, because it costs $200.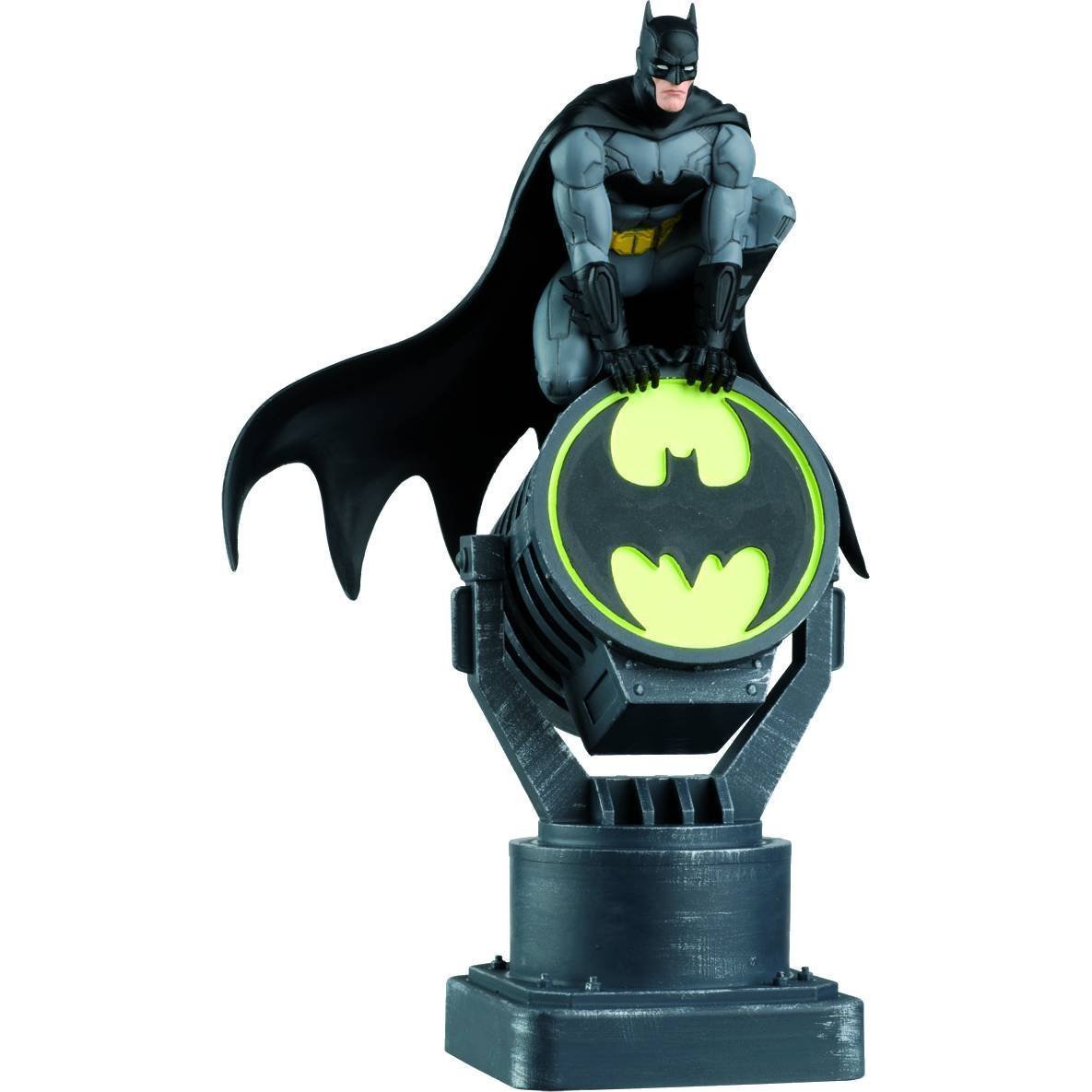 45. Infinite Crisis: Nightmare Batman Statue
If you browsed through this post or you're really into the Batman universe, you already know that sometimes, the Dark Knight can appear in forms that resemble monsters. The Zombie Batman statue and the Simon Bisley Batman figure were already pretty scary, but when it comes to extreme designs, the Nightmare Batman Statue definitely takes the cake. WE think it doesn't need any explanation: you really wouldn't want to get an autograph from this Batman. However, you can't miss this collectible if you like the horror themed Batman statues. It's a limited edition collectible but you can still get it for $125.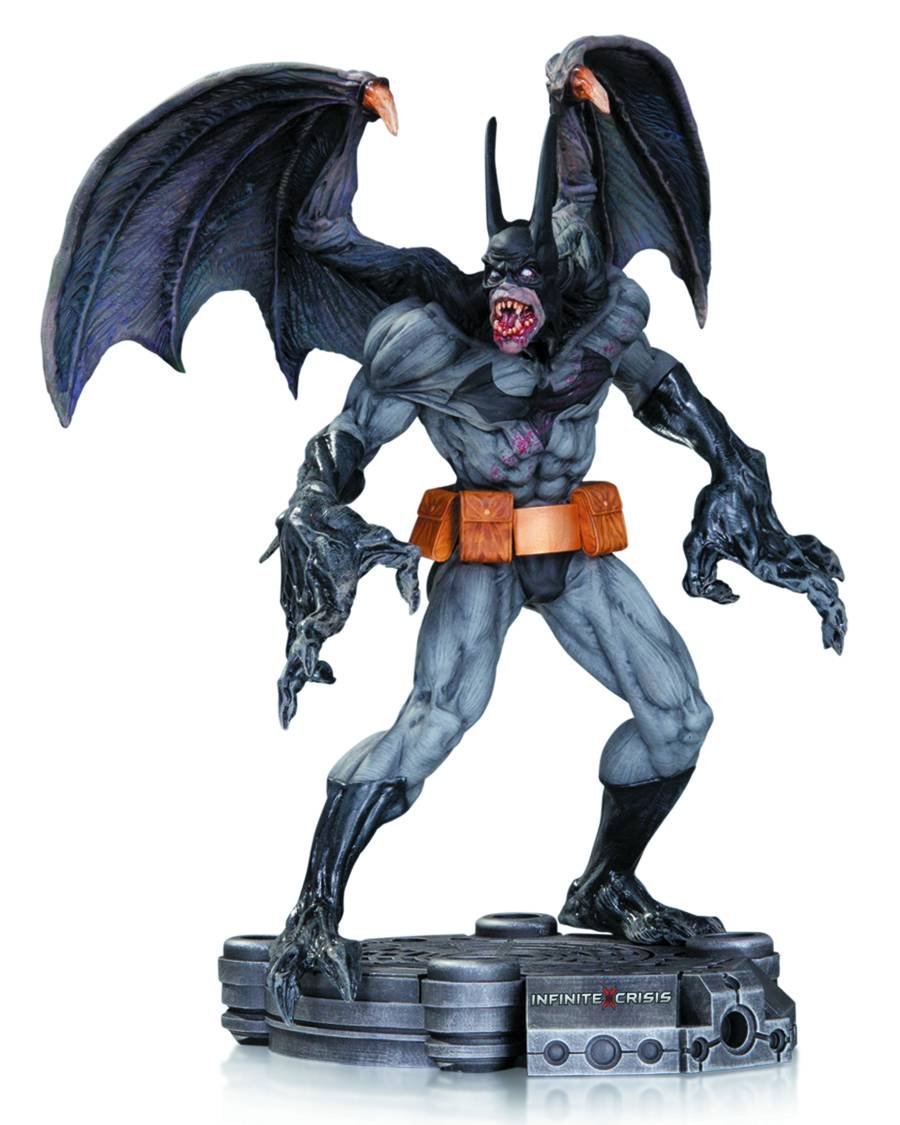 46. Batman DC Variant Static Art Mini-Statue
Batman just got a whole lot cuter thanks to this mini Dark Knight statue. Even though there are many unique Batman collectibles in this post, this one is really different from the rest of the lineup. It's a funny yet cool take on Batman who's almost always depicted as an intimidating and dark character. The reason WE really like this collectible is the fact that Batman still manages to look badass but his design is very funny. It's definitely a mix we didn't expect to turn out this good. You can get this 6-inch statuette for $47.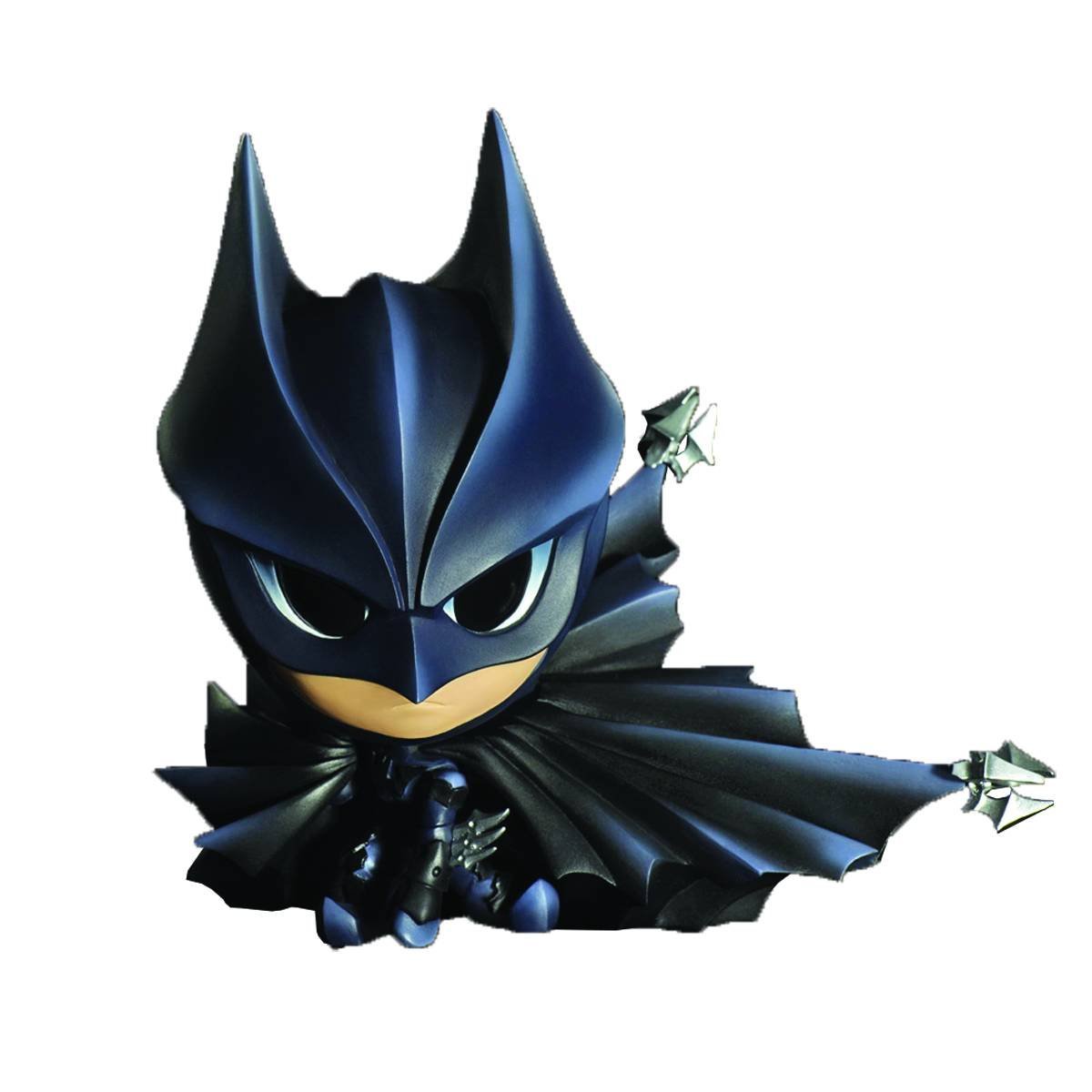 47. Black & White Batman Figure by Brian Bolland
Brian Bolland is an amazing Batman artist who's probably best known for The Killing Joke, a short Batman graphic novel from 1988. This statue from the Black & White series is based on his design, so this alone makes this collectible valuable to the fans of Brian Bolland's work. As far as the design goes, this Batman statue tries to stay as classic as possible with the simple black cape, grey suit and the good old utility belt.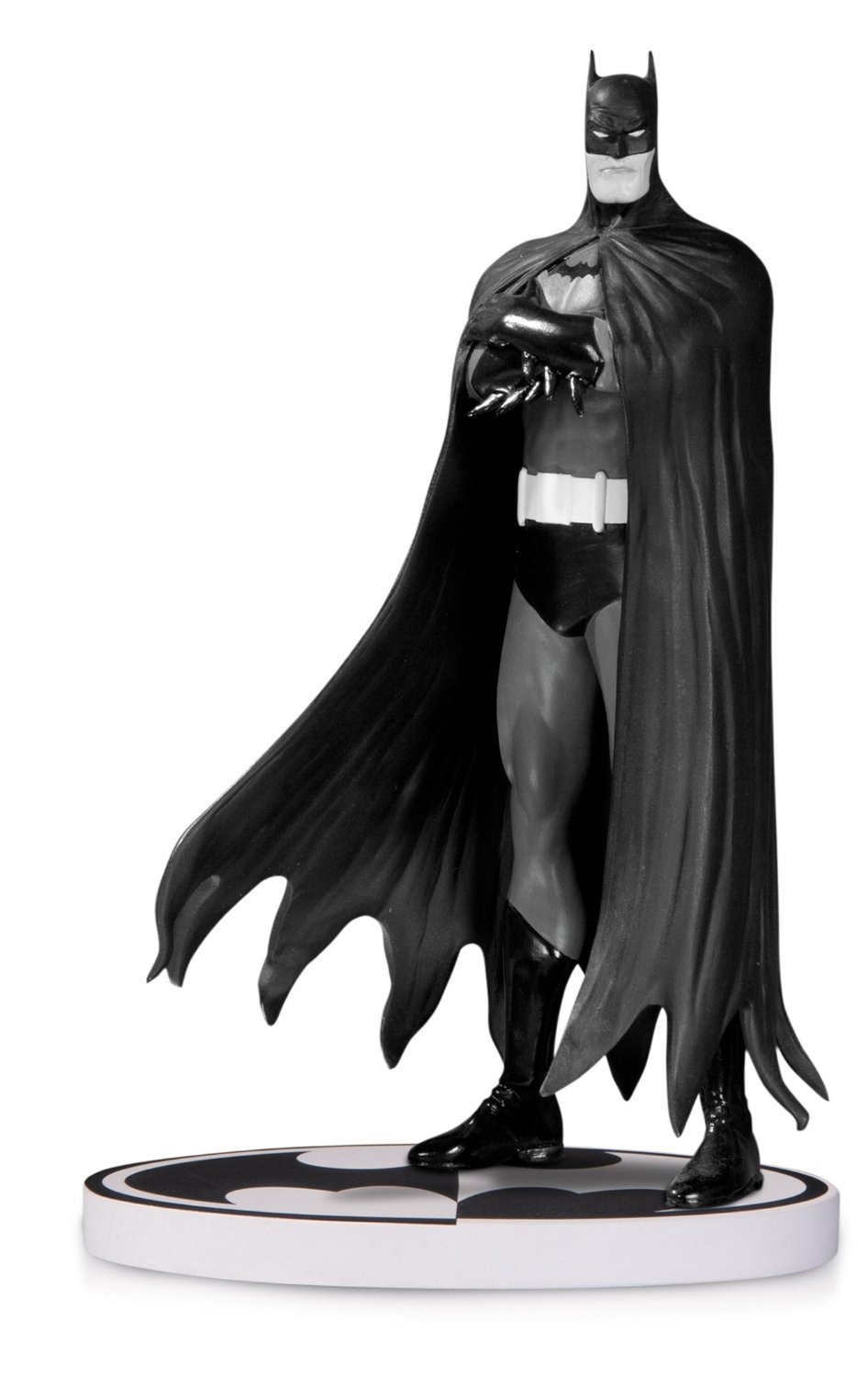 48. Kotobukiya: The Dark Knight Returns Batman Statue
It's always fascinating to see statues where Batman beats the hell out of Joker. This collectible by Kotobukiya is perfect for those who love seeing the fights between these two iconic characters. The designs are based on the art of Frank Miller's The Dark Knight Returns, so this statue has a very unique style. Because of that, not everybody will like it, but for the fans of Miller's Batman, this $241 collectible is a must have.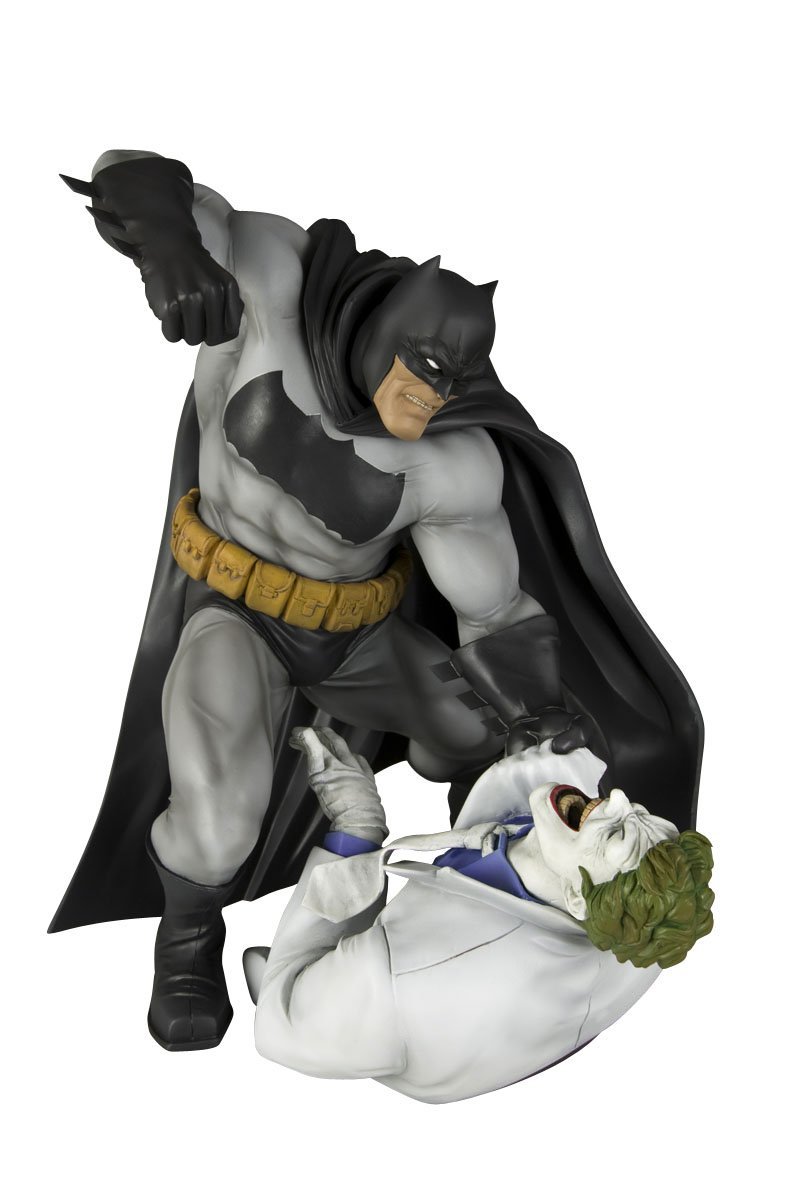 49. Batman Beyond Deluxe Collector Figure
Fans of Batman Beyond can also find some amazing collectibles, like this 1:6 scale figure. The thing that makes this statue interesting is the cloth costume. WE don't have a problem with full plastic figures, but it always nice to see other materials every now and then. The design stays true to the style of the acclaimed Batman Beyond series, where Batman has a more futuristic look. The collectible also comes with its own red glider wings! If you're a big fan of Batman Beyond, this $100 figure is a great choice for you.
50. Super Friends! Batman Collectible
Batman had many different and cool designs over the years that WE love, but sometimes it can be really refreshing to return to the roots, where everything was much more simple. Batman didn't have bulletproof Kevlar armor, many different high tech gadgets and vehicles. There was only Bruce Wayne and his classic costume, featuring the good old yellow and black bat symbol, the blue cape and the grey suit. This is a combination that WE always love looking at, and while there are many modern iterations of the Dark Knight, this classic design is still amazing. If you also want a classic Batman statue in your collection, this $80 collectible is for you.
BONUS: A custom statue you cannot buy
This gigantic, custom statue is based on the cover of the 670th issue of Batman, which was designed by Tony Daniel. Check it out!
Last updated on August 15, 2016.
Tell us, which one would you like to see the most in your collection?
The article continues on the next page...